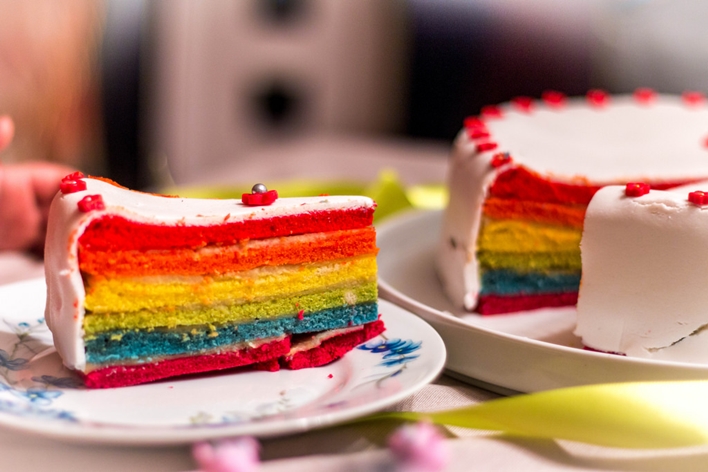 Rainbow cakes were a rage across social media timelines all through the year. Source: Thierry Leclerc, Flickr
When we think of cakes, the mind throws up an image of a round pastry of bread, decorated with icing, chocolate, or copious amount of cream. At least, that's the kind of cakes we've grown up having at birthdays, anniversaries, or simply when we're craving for something decadent (nevermind the guilt that follows soon after). Of late, bakers and confectioners are turning the very definition of cakes and pastries on its head, and creating fantastical interpretations that range from a smattering of stars, a rainbow that you can eat, or just creating fondant that goes beyond the simple single-coloured variants. The rainbow trend began with the simple layered cake and soon, other multi-hued creations followed. The rainbow cake is, not surprisingly, one of the biggest food trends of the year. The same goes for Galaxy cakes, which recently started trending and bring the beauty of the cosmos on your plate. How do they make such things? By deftly mixing coloured icing. As novices who are better at eating cakes than making (or frosting) them, these fancy cakes are equal parts fascinating and visually appealing. Here are some of the prettiest cakes we found on Pinterest that takes foodporn to new levels and will have you drooling in no time.
Galaxy cakes


So sure this tastes as good as it looks

We could stare at this out-of-the-world tiered delight all day long

Who'd want to eat a cake that looks this good?
Rainbow Cake

If this doesn't make you happy, we don't know what will

Buttercream icing never looked this good

Pretty swirls that we can only dream of creating

Making a classic layered cake look really really great
Marble Cake

Move over regular frosted wedding cakes

The rose just adds to the appeal