Photograph by Paul/Flickr
Those who have an appetitie for fiery Andhra mutton, Chettinad chicken and Naga chilli pork or any other dish that is cooked using both ginger and chillies may have reason for cheer. The combination may lower the risk of cancer, says a new study, done by the American Chemical Studies' (ACS) Journal of Agricultural and Food Chemistry.
Chilli contains capsaicin, which when added to ginger, which contains 6-gingerol, a pungent compound, helped stave off lung cancer in mice, according to the study. Although capsaicin, which brings heat to chillies, is a compound that has been known to increase the risk of stomach cancer, 6-gingerol is the compound that counters the harmful effects of capsaicin. Both 6-gingerol and capsaicin bind to the same cellular receptor that is linked to tumour growth and researchers who worked on this study are investigating this further.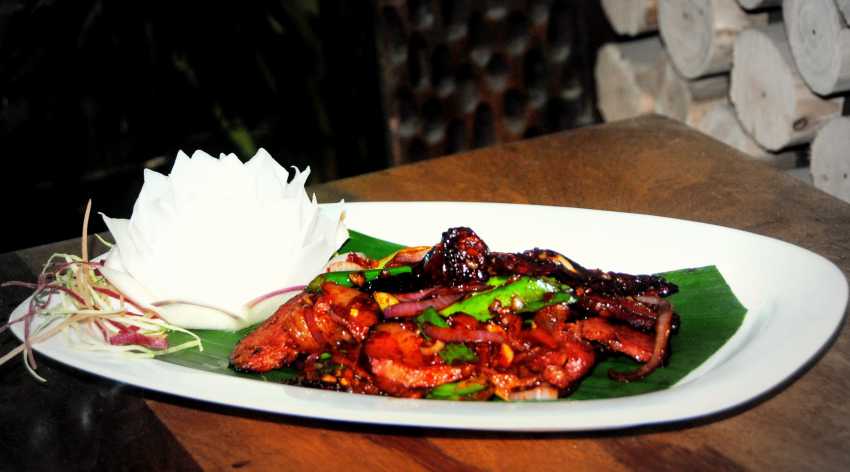 Smoked pork with Naga chillies
During the course of the study, the mice that had been fed only capsaicin developed lung carcinomas  while only half of the mice that were fed 6-gingerol did. About 20 percent of the mice given both compounds developed cancer, indicating that 6-gingerol reversed the cancer-promoting effect of capsaicin.
ACS began the publication of chemical research with the Journal of the American Chemical Society in 1879. Today, ACS publishes 50 peer-reviewed journals with articles related to a broad spectrum of scientific disciplines. The breadth and scope of ACS Publications journals is unparalleled, stretching across chemistry, physics, and biology. Every year, over 100,000 authors and their research teams from the community of scientists worldwide submit their work for consideration in these journals, and the work done in the ACS journals is held in high regard.