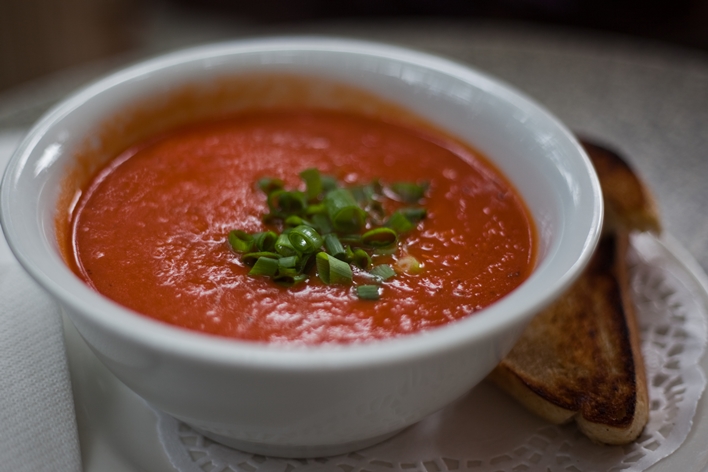 Perfect for winters, tomato soups are easy to make. Image source: Jing Hong/Flickr
Soups are a great option if you're looking to eat healthy or want an easy-fix meal at the end of a long, tiring day. All you need are a few basic ingredients, fragrant seasonings and simple chopping skills to make yourself some hearty, comforting soup. They're also an excellent option if you're planning your meals for the week and are the kind to cook in bulk. This simple tomato and red pepper soup is packed with fibre, vitamins, alpha and beta carotenes as well as antioxidants to make for a delicious, healthful meal.
Ingredients:
Serves 4
1 medium sized onion, diced
1kg tomatoes, coarsely pureed
4 cloves garlic, finely chopped or minced
300 gm red peppers
¼ tsp dried basil
1 cup milk
2 tbsp all-purpose flour
2 cups vegetable stock
2 tbsp butter
A pinch of dried thyme
2 tsp freshly ground black pepper
Salt to taste
Method:
Wash bell peppers and pat dry. Roast on medium heat, directly over the flame, till the skin begins to char and the flesh becomes soft. Set aside for use later.
In a large vessel, add onion, garlic and butter. Sauté for five minutes over medium heat, or until onions turn transparent
Add in the flour and cook for 1-2 minutes, stirring continuously. The flour will combine with butter and onions, forming a paste and will coat the bottom of the vessel. Remove from heat as soon as this flour begins showing a light golden colour.
Blend together crushed tomatoes, roasted red peppers and butter-flour paste until smooth. Transfer contents back to the cooking pot.
Add in the vegetable stock, basil, thyme, pepper to the soup and stir well. Simmer over medium flame. Use a spoon to dissolve flour stuck to the base of the pot while stirring.
As soon as the soup starts simmering, turn off the heat. Add in the milk for a creamy, rich flavour. Taste for salt and adjust according to the salt content of the stock.
Note:
You can also use chicken stock for added flavour.
If you're opting for store-bought stock, make sure it does not contain any MSG.
When making stock at home (from boiled chicken or veggies), its best to add a small quantity of salt, and adjust with additional quantity, depending on the volume being cooked
Ensure that you allow the soup to cool well and transfer it in an appropriate container for freezing. If stored right, most soups last for a maximum of 7 days in the freezer. Storing in single serving size containers, that are also microwave safe would be ideal as you only need to thaw a serving and reheat as needed.
Recipe source: budgetbytes.com