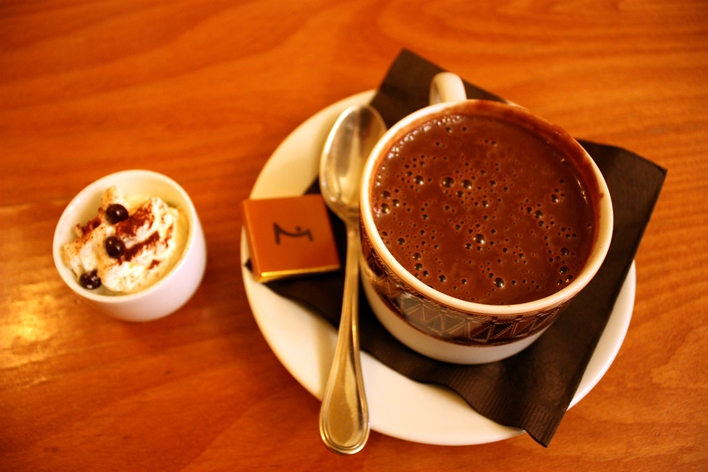 Image source:  Jocelyn & Cathy/Flickr
There's something about warm, comforting liquids and cool temperatures that just feels right. If the weather has you craving for something a bit more decadent than your regular caffeinated cuppa, we suggest you give hot chocolate a try. Health nuts, if you're frowning, it'd help to remember that chocolate is actually good for you, especially if it is unprocessed, with little to no sugar. Dark chocolate, especially is packed with antioxidants that are great for the body, skin and overall wellbeing.
We aren't talking about the overpriced hot chocolate served at fancy cafés and bistros in your city. Making a cup or two of hot chocolate at home isn't all that difficult and barely takes a couple of minutes to prepare. Just make sure your pantry is stocked with some good quality chocolate (something tells us, it already is) and you're good to go. Perfect for a lazy Sunday or as a hot drink that you can sip on, as you're curled up with your book and a warm blanket with your book at the end of a long day at work.
Ingredients
Serves 4
3 tablespoons cocoa powder, plus a little extra for serving
3 cups milk
170g semisweet dark chocolate, finely chopped
3 tablespoons brown sugar
Method:
In a saucepan, take 3/4th cup of water and simmer over medium-high heat. Add in the cocoa powder and whisk well, ensuring to dissolve all lumps. Add milk next and let it simmer.
Whisk in chocolate and sugar, cook well. Whisk for about 5 minutes, until it forms a smooth, creamy texture and all the chocolate has melted.
Pour out the hot chocolate in mugs. Top with a small amount of whipped cream and dust with cocoa powder for added flourish.
Note:
Make sure to use high quality chocolate in the recipe.
You may also add in a pinch of freshly ground cinnamon powder along with the chocolate, for a slightly spicy, warm kick.
Recipe source: www.bonappetit.com