Even though I enjoy cooking and will be found in the kitchen on most weekends (when I'm not binge-watching a TV series), there are days where I just want to get something delicious, without slaving in the kitchen for too long (read weekdays, post work). Thankfully, I have three recipes that come to my rescue, save me a lot of time and money and make me just as happy as an elaborate meal would.
Banana French Toast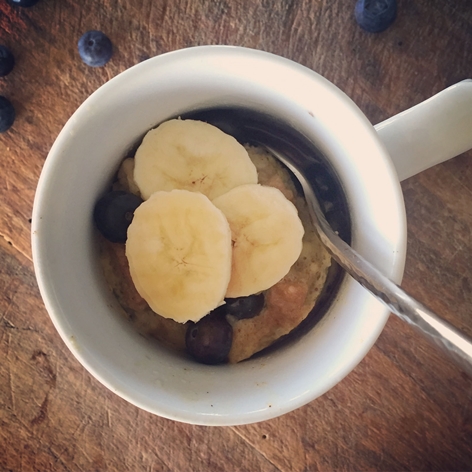 Source: Meal Makeover Moms/Flickr
There's hardly anyone who doesn't enjoy French toast. It's delicious, very difficult to mess up (novice cooks, we're looking at you) and can fill you up quite well. Plus there's the fact that it's extremely quick to make. But what if we told you, there's a faster way to make it? Since you're all ears, here's how it's done.
You'll need: 2 slices whole wheat bread, cut into cubes, 1 egg, 4 tbspn milk (dairy or non-dairy source for vegans), 2 tbspn caster sugar, 2 tspn cinnamon powder, 3-4 drops vanilla extract, 1/2 banana, sliced, maple syrup.
Directions: In a microwave-safe coffee mug, layer half the bread cubes and top with half the banana slices. Repeat process with remaining bread and banana slices for second layer.
In a bowl, whisk egg, milk, cinnamon, sugar and vanilla together. Pour over the bread and banana in the mug. Microwave for 2 minutes on the highest setting. Drizzle maple syrup and despite how tempting it looks, wait for a while, it's going to be extremely hot.
Ps: If you too are a fan of breakfast for lunch or dinner, let this one become your cinnamon-scented saviour.
Quiche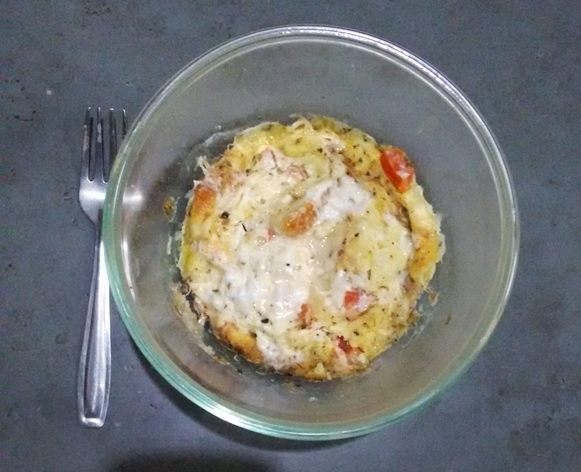 An easy-peasy recipe, this quiche is for days when I crave eggs but am tired of the same old omelet or scrambled variants. With cheese, peppers and a hint of spice, this quick-bake quiche is a perfect match when you want to curl up with a book after a long day at work.

You'll need: 1 egg, 1 slice of whole wheat bread, 1 cup grated cheese, 1 tbspn unsalted butter, 3 tspn milk, salt to taste, a pinch of black pepper powder, 1 small diced tomato, 1/2 cup diced bell peppers, some oregano.
Directions: In a microwave safe cup/bowl combine egg, butter, salt, pepper, oregano. Add milk and whisk well. Fold in the cheese, add diced tomatoes and peppers. Roughly tear up bread slice and add to the mixture. Microwave at highest heat setting for 2-3 minutes. Serve hot.
Note: For a slightly larger serving, simply double up all the quantities.
Chocolate Cake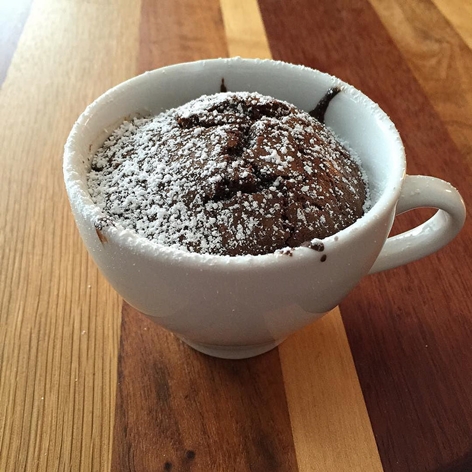 Source: Jill Runstrom/Flickr
There's something extremely indulgent yet comforting about making chocolate cake in a mug. This one's a late-night favourite, since the ingredients are basic (a bar of any regular milk chocolate will do) and there's hardly any need to measure them out in exact, specific quantities. Plus the added bonus of very easy clean-up – a mug, a fork and a spoon are all you need to sate your dessert cravings.
You'll need: 30g butter, 6 squares of milk chocolate, 1 egg, 2tbsp caster sugar, 1/2tsp vanilla extract, 41/2 tbsp flour, 1/2tspn baking powder.
Directions: Melt the butter and chocolate in a microwave-safe mug, for 30-40 seconds at high heat. Beat mixture until smooth, allow it to cool slightly. Whisk in egg, sugar, vanilla extract, flour and baking powder (in that order). Microwave for 3 minutes at highest power setting. Allow to cool for a minute before you stick your spoon in it.

Pro tip: For a cake that's a little more decadent, add in some instant coffee along with the melted chocolate-butter mixture and throw in some walnuts for extra goodness.