Biryani with seeraga samba at the iconic Ponram Restaurant in Dindigul. For many in Tamil Nadu, there is no biryani without seeraga samba. Photograph: Ponram Restaurant/Facebook
I still remember my first Dindigul biryani experiences from the aughts. For long this town in southern Tamil Nadu was synonymous with locks (just like Aligarh is), but over the last decade or so it's become the self-proclaimed biryani capital of Tamil Nadu. I'd heard about some fascinating accounts about the flavoursome biryanis that a clutch of 'Biryani hotels'(yes, people still call restaurants hotels on these parts) were dishing out. After my first meal at Ponram, I realised what the fuss was all about. Aside from the locally sourced lamb and cooking methods that hadn't changed much in almost a century, there was one big difference – Seeraga Samba rice.
Basmati rice and biryani might be inseparable across India, but ask anyone in Tamil Nadu about their quintessential biryani ingredient and chances are you will hear 'Seeraga Samba'. For many home cooks and chefs this is Tamil Nadu's version of biryani rice; of course, this Samba has no connection with the Brazilian dance moves. The rice takes its name from Jeera (Seeragam in Tamil), because the small (much smaller than other rice varieties) ovular grains share an uncanny resemblance to jeera, while Samba refers to the season (typically August to January) when this rice is grown.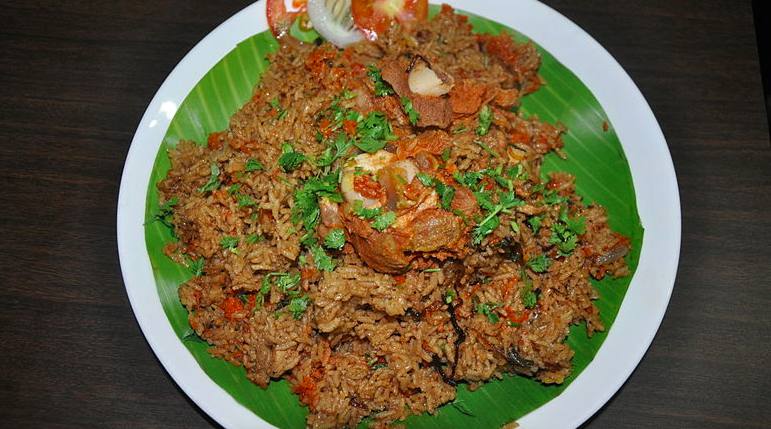 Mutton biryani with Seeraga Samba. The rice takes its name from jeera (seeragam in Tamil), while 'samba' refers to the season (typically August to January) when it is grown. Wikimedia Commons
One visit to Dindigul was all I need to switch allegiances from basmati to Seeraga Samba. It wasn't easy to find in Chennai's supermarkets; I sourced this rice from traditional 'rice merchants' about a decade ago. Thankfully that's changed, Seeraga Samba is available in quite a few supermarkets in Chennai and Bengaluru. And yet its easier to find Basmati rice in these supermarkets. Cooking for me is not just about the flavours but also textures. I love how Seeraga Samba retains its texture much like Arborio rice (an essential Italian risotto ingredient) and does not thicken into lumps – al dente comes to mind! It's less fluffy, too, and absorbs the flavour of the masala instead of lending the dish a strong flavour the way Basmati rice does. I still make the occasional biryani with Basmati, but it's become a 'Plan B' rice on occasions I can't source Seeraga Samba.
Praveen Anand, executive chef, The Intercontinental Chennai, is a big fan of this rice varietal. He believes the rice's low yield (per acre) is the main reason why it's not cultivated that much. Seeraga Samba is also known as Jeerasal and Khaima arisi. According to Praveen, the rice's ability to absorb large quantities of water without turning mushy makes it ideal for biryani aside from its unique fragrance that he compares to cumin.
It might have a lower yield than most modern rice varietals but Seeraga Samba fetches a higher price than all other varieties of rice grown in Tamil Nadu. That's one of the reasons it has survived even as scores and scores of indigenous rice varieties have disappeared from the landscape. Some experts suggest that there were close to 400,000 varieties of rice grown in Tamil Nadu; modern farming and techniques have seen this number shrink dramatically. The rice plantations in Tamil Nadu's Cauvery delta are among the oldest in the world and are steeped in history and legends. Uppiliyapuram is part of this belt and has acquired an unrivalled reputation for its Seeraga samba crop. Kolli Hills, Kumbakonam and Lalgudi are other areas where this prized rice is also cultivated. The other famous 'Samba' rice variety that has survived is Mapillai Samba. Many villages still have a Mapillai Kallu (The bridegroom's stone). Years ago, prospective grooms had to lift the stone to impress the village's women folk. The Mapillai Samba rice, rich in minerals and nutrients, is supposed to have given these prospective bridegrooms a shot of extra energy for their mission.
Dindigul might claim to be Tamil Nadu's biryani capital, but halfway between Chennai and Bengaluru is Ambur, another town that has acquired a hallowed reputation for its biryani. The Ambur Biryani can trace its origins to the Nawab of Arcot's kitchens. Quite a few local biryani cooks such as Mukaram believe that it's their unique dum style of cooking – the korma and the rice are cooked separately before being brought together — that differentiates Ambur biryani. But most legendary local restaurants such as 'Star Briyani' swear by their magic ingredient – Seeraga Samba rice. In terms of preparation and flavours Tamil Nadu's two most iconic biryanis are worlds apart but there's one common thread – Seeraga Samba.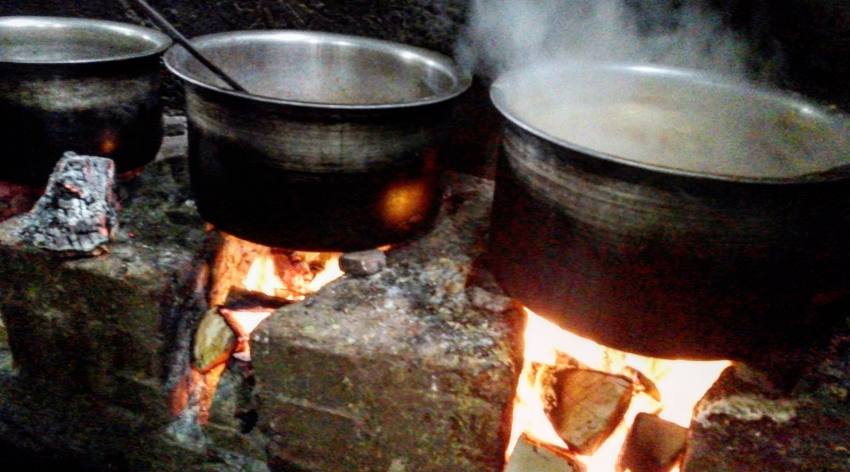 A few eateries in Dindigul still use firewood to cook their biryanis. Photograph: Ashwin Rajagolapan