Bengalis don't eat both rice and breads during meals like the rest of the country. While most families choose to consume rice for lunch and dinner, modern Bengali families generally have rice for lunch and light breads for dinner. Chapaatis (phulkas) have been borrowed from North Indian cuisine by Bengali families, as all Bengali breads are primarily celebratory, served during religious functions and Sunday breakfasts. Bengali breads only use maida or refined flour and hence the health quotient takes a major dip, making them "weekend" options for most families these days. Bengali breads are served with vegetarian courses and meat courses and not with fish, prawns or other seafood.
Luchi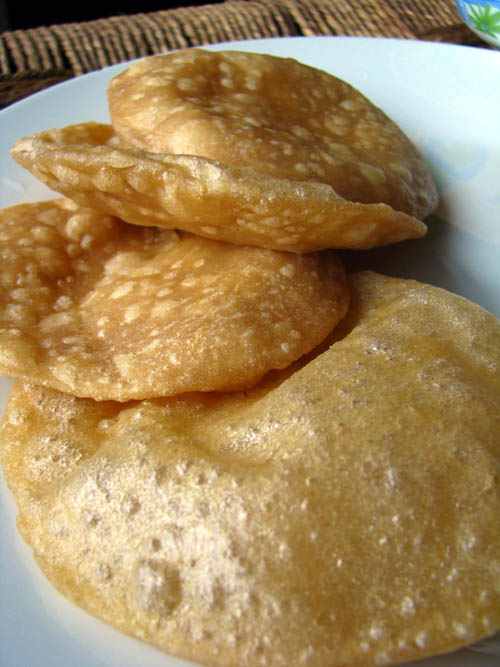 Wikimedia Commons
It is not possible to find a Bengali who is not irrevocably in love with luchi. Every Bengali kid has fond memories of tapping a hole into the crispy crust of a beautiful big round white luchi. Refined flour is made into a dough with oil or ghee (which is always the fancier option), rolled out and deep fried. Slightly bigger than pooris, the luchi is the hero of any Bengali meal. According to any grandmother's rule book, a luchi has to be perfectly round and puffed (most new brides across generations have faced rebuke for their luchis not being tumescent enough), which is, even today, a marked sign of culinary prowess in the Bengali kitchen. Is there a cheat code then? Of course. While the perfect round shape requires practicing rolling technique much like chapaatis, to puff a luchi up, delicate patting of the bread while it is being fried in very hot oil does the trick. A versatile bread, the luchi can be served with the vegetarian course (it is classically paired with the aloor dom and chholar dal) or as a royal punch with the mutton kosha for the meat course. It can be humbly served with stir fried veggies for a weekend breakfast or relished with a long deep fried slice of brinjal as the first course during a wedding feast. The combinations are endless.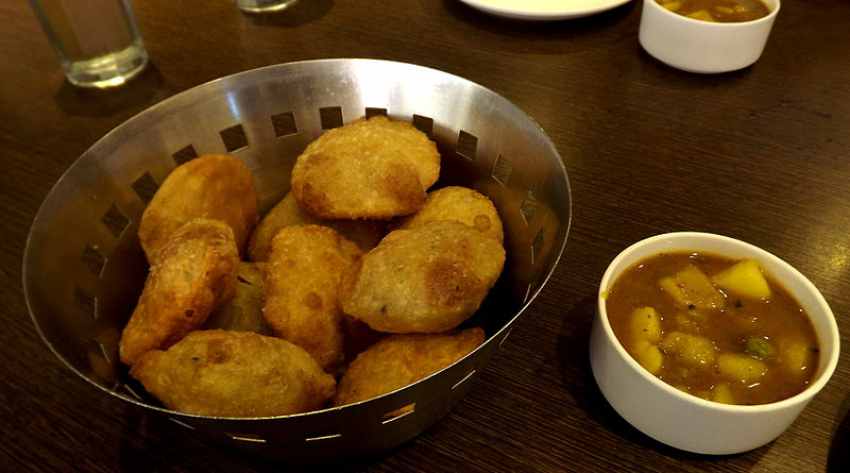 Kochuris are served with vegetarian dishes only. Wikimedia Commons
What's in a kochuri?
Taking the luchi a notch higher are the kochuris. Maida doughs are stuffed with various fillings, rolled out and deep fried for fancier occasions. Kochuris are heavier breads and can have a variety of fillings, including asafoetida, various ground lentils fried with spices and also green peas. The challenge of course lies in the fact that the bread should not burst while deep frying them. Kochuris are served with vegetarian dishes only; the spicy asafoetida and dal (mostly urad) kochuris served with mildly spiced dry sides of seasonal veggies while the winter special green peas kochuri, which has a slightly sweeter filling of mashed green peas and ground spices, is served with a spicy dish of stir fried baby potatoes. Kochuris are traditionally served during ceremonial feasts as the first course.
Packing a snack
While Bengali snacking might be well known for its mutton rolls and fish chops, khaasta kochuri and radhaballabhi are the common man's go-to light bites either as a late breakfast or a quick evening snack. Served mostly in sweet shops or at roadside stalls, khaasta kochuri (khaasta means crunchy) is a small round deep fried dumpling stuffed with a spicy lentil mash while radhaballabhis are much like dal kochuris but softer and less crunchy coatings. Food stalls and carts serve radhaballabhis with a light chholar dal, or a thin potato broth in dried-and-stitched sal leaf plates while fancier sweet shops serve a side of spicy potato gravy and chilli chutney.
The paratha story
Bengalis love their shallow fried parathas, which is either used to wrap up rolls, or dunked into greasy chicken gravies. But, unlike the rest of the country, Bengali parathas are also made with maida and are lighter and less doughy than its North Indian versions. While lachha parathas (the Awadhi version of the Malabari Parota) are also very popular, thanks to the heavy Lucknowi influence, the dhakai paratha has an interesting twist. Originating from Dhaka in today's Bangladesh, the dhakai paratha was a marriage of layered paratha making styles of the Musalman khansamas and the crispy luchis of the Hindu cooks. Hence, original dhakai parathas are said to be bigger than Indian lunch plates, crispy and flaky and consisting almost 25-30 layers. The Mughlai Paratha is another kind of paratha that is still very popular with Bengalis. Quite like the Parsi keema baida roti, the Mughlai Paratha is a thick crispy paratha stuffed with egg and mutton kheema and served with a potato curry and spicy raita.