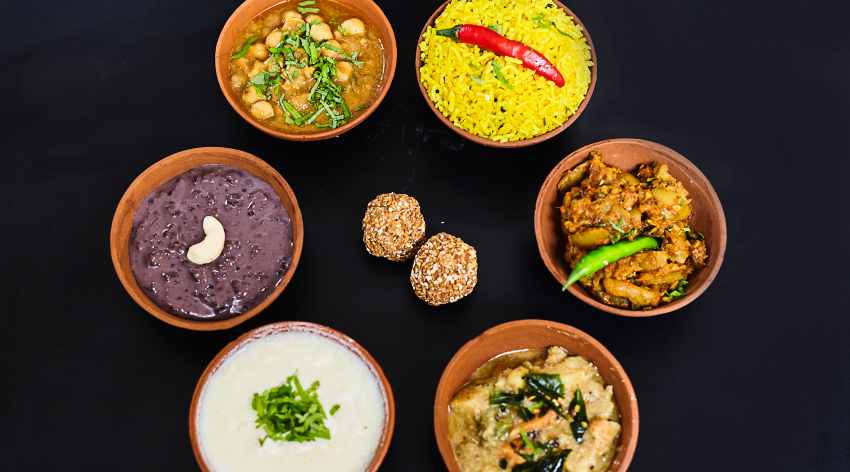 The brunch will include till wale aloo, pumpkin hummus and a
kabab made out of Kerala Nendran bananas
Living in India, especially up north or the west, you can't but ignore the Navratras, the nine-day festival that is dedicated to the goddess Durga. If you are a foodie, you'll also notice restaurants amping up their vegetarian fare, and catering to the dietary restrictions that is part of the Navratra festival, which this year starts from tomorrow. Several restaurants in Delhi and Gurgaon are offering special Navratra thalis, and among them is Devang House, at the Ashoka Hotel, in Delhi. Food lovers should pay special attention to a Navratra brunch that takes place this Sunday (October 2) and a vegan Navratra cooking class that will be held next weekend.
"If you stay in Delhi, or anywhere in northern India, the Navratras became a part of your life during these nine days," says Priyam Kumar, executive chef at the cafe at Devang House. "And a lot of young people are getting interested in the culinary aspect of the festival."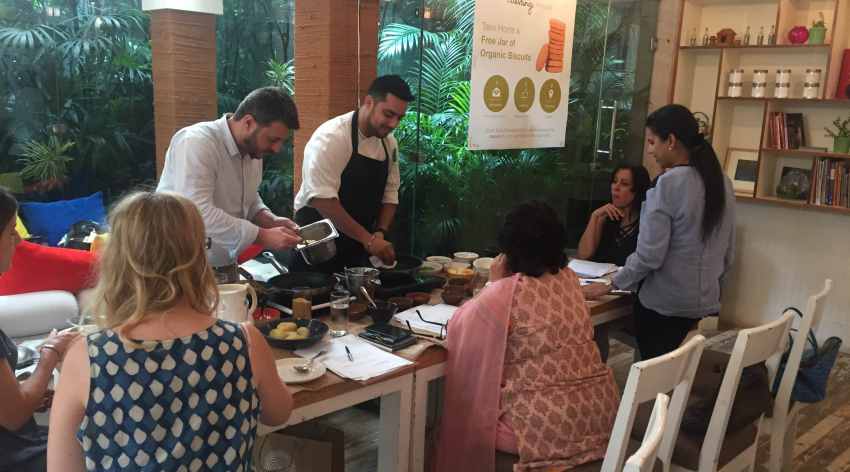 Chef Priyam Kumar's vegan Navratra cooking class will be held next Saturday at Devang House
Kumar and his team have worked on a special menu for the Navratra brunch, and it will include Sweet Potato and Chickpea Salad With Star fruit, a kabab made out of the Kerala 'Nendran' banana that will be served with a tomato-turmeric chutney, pumpkin hummus with buckwheat pita and, among others, Till Wale Aloo Aur Singhade ki Poori. "A lot of the food that will be served at the brunch, and that will be part of the cooking class will interest young homemakers, professionals and students. We have, for example, a vada pav, in which the filling is made of yam; and a kheer that is made of makhana. All of it is completely organic and of course healthy, and plated in such a way to make them more engaging," says Kumar. The Sunday brunch will consist of a five-course menu, a vegetarian food tasting and a cooking demo of regional dishes.
Where: Devang House, Amatrra, The Ashok Hotel, 50-B, Diplomatic Enclave,
Chanakyapuri, New Delhi
When: Sunday, October 2, and Saturday, October 8
Cost
: Rs 1,000 (for the brunch, entry is free)
Call
: 9560764151, or register online at:
https://www.devang.house/collections/events/products/the-organic-brunch-pop-up-6
https://www.devang.house/collections/events/products/vegan-indian-cooking-1