When it comes to pastries, the French variants most certainly stand out. Made labouriously, these sweet-treats surely taste as good as they look. While our wishlist of must-try French desserts is quite extensive, there are a few classics that have made their way to the city. An abundance awaits beyond the mousse and macarons; we suggest you get ready with your spoons stat.
Crêpe Suzette
Traditionally, Crêpe Suzette is a dessert, which is made up of thin wheat flour (or buckwheat flour) pancakes with buerre Suzette sauce (caramelised sugar, butter, orange zest), topped with orange liquer, usually flambed at the table for a thick, richly caramelised flavour. One of the most popular desserts in France, savoury variants of this dish are equally popular.
La Folie Lab, Bandra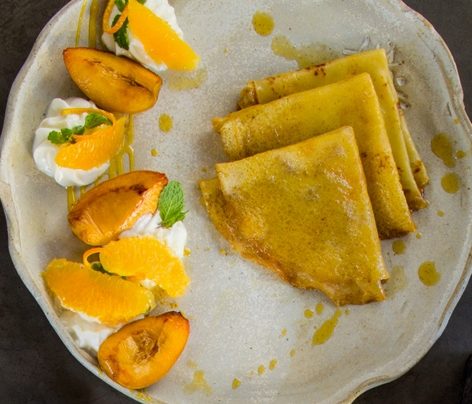 The serving at this Bandra eatery stays true to French tradition. Mini crepes are flambéed with Suzette sauce, served with citrus orange and grilled fruit salad and honey-tossed pistachios. Chantilly cream on the side makes the dish a hearty dessert that you can also order for breakfast.
Suzette Creperie and Cafe, Bandra
Bandra's cozy French eatery prides itself in serving delicious crepes that are the colour of gold. A popular breakfast item on the menu, the Sweet Breakfast includes four mini crepes with a choice of toppings like Nutella, caramel, honey or jam, served with yogurt, and a hot beverage of your choice. The eatery also allows you to DIY your savoury crepe by choosing from a list of pre-selected meats and veggies.
Opera Cake
The Sassy Teaspoon, Juhu and Bandra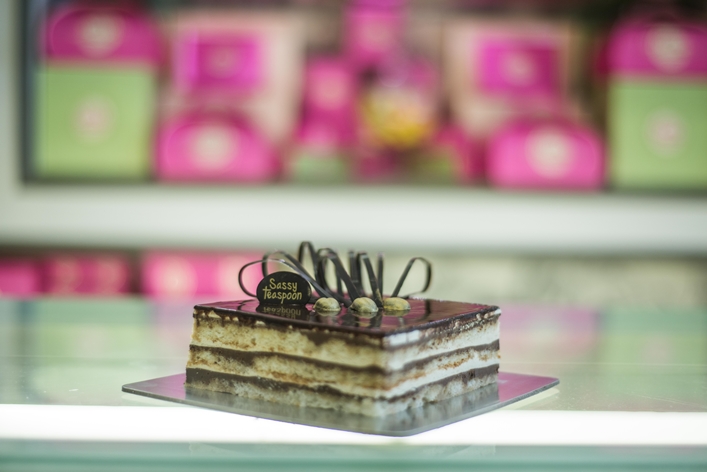 Photograph by Anurag Banerjee
Known as gâteau opéra in French, the cake is made using Jaconde (French for almond sponge cake) that has been soaked in coffee syrup with coffee buttercream and ganache for added richness. The Sassy Teaspoon pairs together layers of Jaconde sponge and coffee-flavoured ganache with delicate chocolate curls that preen at eager cameras.
Eclair
Made with a light pastry dough called choux, the eclair is an oblong icing-topped pastry filled with cream. The dough is baked until it is crisp and hollow inside, and is filled with flavoured custard on cooling. Some versions of the eclair substitute the filling with whipped cream as well as fruit-flavoured fillings.
Theobroma, all outlets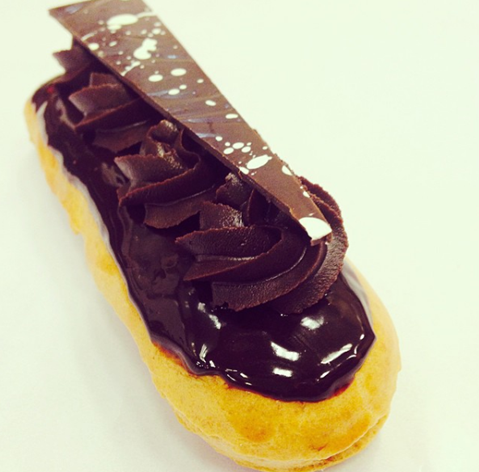 Like all of Theobroma's sweet goodies, the eclair here is an indulgent affair. A light, flaky choux pastry holds a filling of vanilla bean-flavoured mascarpone cheese that is creamy without being heavy. The dark ganache and chocolate icing on the top puts this pastry at the top of our favourites list.
The Rolling Pin, Lower Parel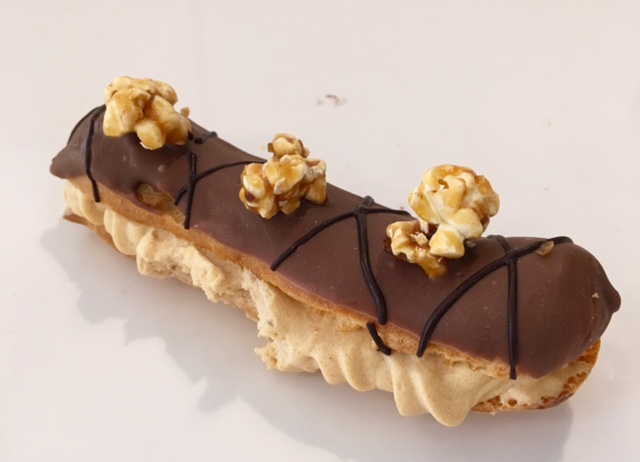 Hazelnut eclair at The Rolling Pin, Lower Parel
Lower Parel's wood accented boulangerie, patisserie and chocolaterie, has an astonishing selection of pastries and desserts. Their eclair section has variants like hazelnut eclairs that have hazelnut bits strewn in the filling for extra crunch, caramel eclairs as well as dark chocolate eclairs for those in search of a chocolate fix.
Profiteroles
Similar to the eclair in its preparation, profiteroles differ only in shape. These choux pastry balls are piped with different fillings and are usually decorated with ganache, caramel or powdered sugar.
Olive Bistro, Goregaon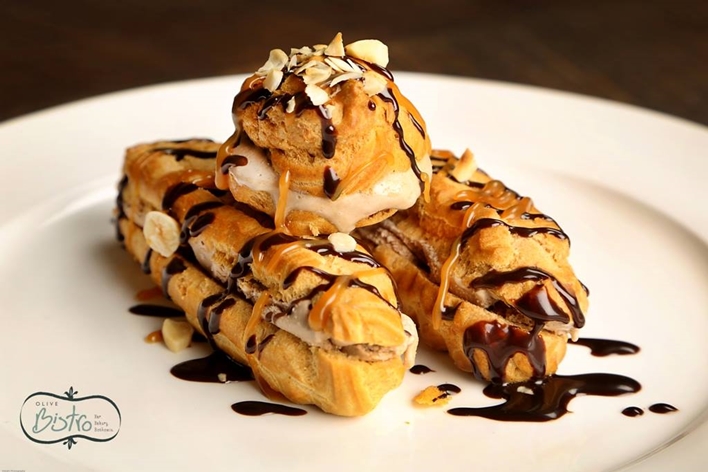 OB's Signature Profiteroles at Olive Bistro are top notch. The choux pastry balls are filled with house-made gelato ice cream and drizzled with hazelnut and chocolate sauce for a rich, delicious bite.
Caramel Carousel, Bandra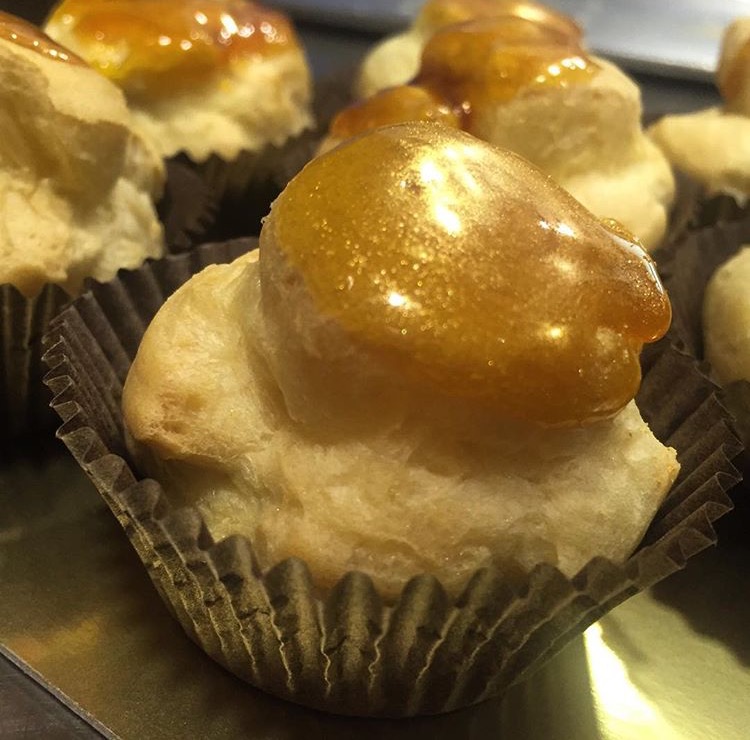 The signature salted caramel-filled profiteroles at Caramel Carousel
After completing her stint at London's Le Cordon Bleu, Alyssa Chesson decided to carve her niche in the bustling Mumbai food scene with profiteroles at her patisserie Caramel Carousel. While her vanilla, hazelnut and chocolate and signature salted caramel variants are crowd favourites, do try the more unique fillings like raspberry and lemon curd as well.
Mille-feuille
A classic French dessert, the name literally translates to a thousand leaves in reference to the many layers of flaky pastry that it is made up of. Traditional versions had three layers of puff pastry and two layers of thick pastry cream (milk, cream and egg yolk) with the a dusting of powdered sugar on top. Jam or whipped cream are also commonly used instead of the rich cream. Modern versions are usually topped with glazed icing. Savoury versions of the mille-feuille are also available.
Umame, Churchgate
The pan Asian fine dining restaurant does a delicious Filo Mille Feuille that's also Instagram-worthy. A light cream filling is made extremely moreish with the mixed berry compote and a honey balsamic glaze.
English Vinglish, Juhu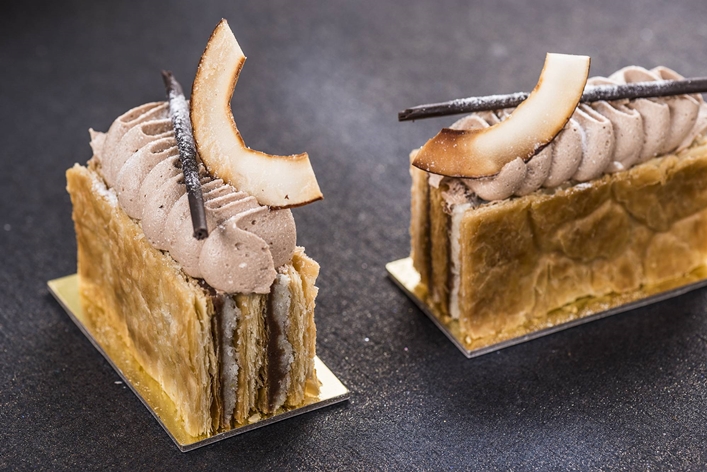 Chef Ranveer Brar's dessert boutique in Juhu marries desi sensibilities with French technique. The Khopra Pakh Millefeuille has is a combination of house-made khopra pakh (coconut barfi) with layers of milk chocolate ganache for a nutty, flaky bite.