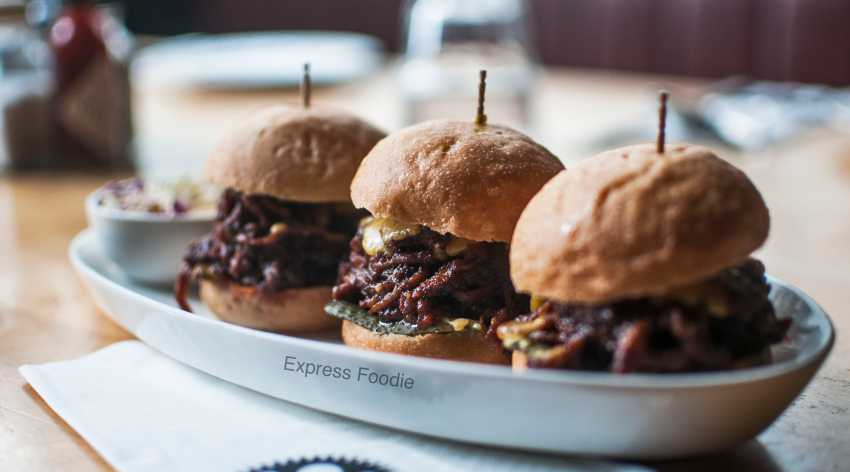 Pulled pork sliders at Brewbot. Photograph by Anurag Banerjee
From pulled pork sliders to vada-pao popcorn, Mumbai is never short of great pub eats that seem to be just made for Friday/Saturday nights. Here's our list of some of the city's meatiest, greasiest pub grub.
Beer cheese fries with Chipotle and BBQ chicken or Pulled pork at Brewbot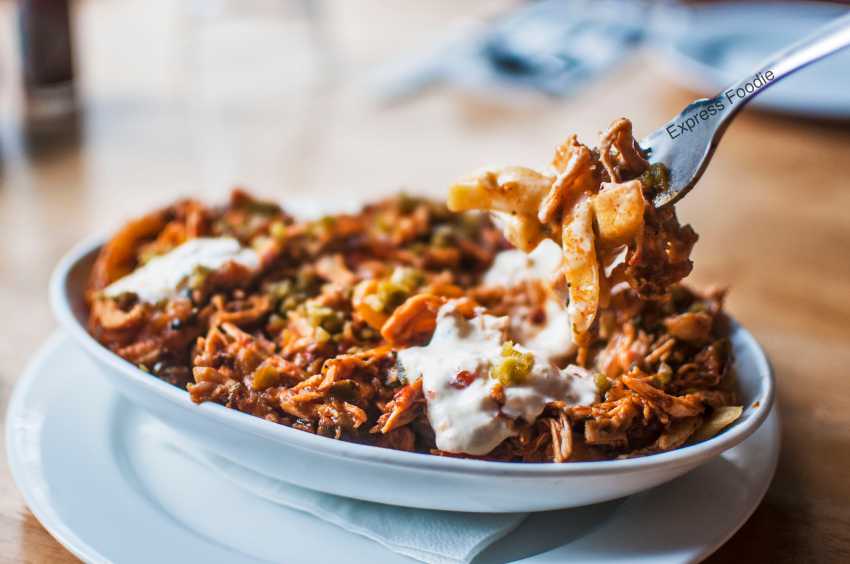 Fries, beer cheese sauce, pulled pork. Game on. Photograph by Anurag Banerjee
Yes, we do know this place for its brewery and beers, but if you scan the menu, some neat surprises come up. Like the sound of fries being tossed into a boozy beer cheese sauce? What if we tell you, you can choose to toss in chunks of chipotle chicken, classic BBQ grilled chicken and/or pulled pork? There's some jalapeno sour cream to boot, but you're drooling already. The chicken pieces are juicy and tender, and the BBQ sauce is a fine balance of sweet and hot spice kick. Although, if you are anything like us, you'll stuff your face with succulent pork shreds.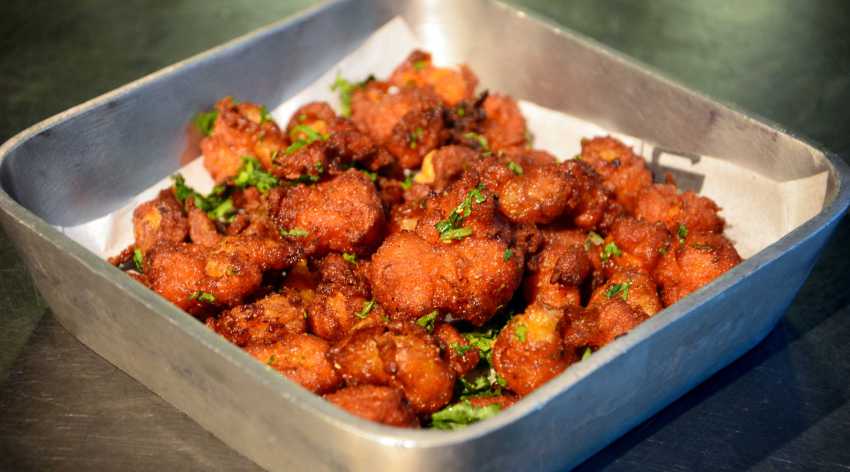 The Sriracha Jhinga Koliwada tastes as good as it sounds
LGBT Prawn skewers and Sriracha Jhinga Koliwada at Glocal Junction
This baby has two prawn dynamites on its menu. The LGBT prawns (yes, we know what you are thinking) are skewers of grilled prawns in an interesting lemongrass-basil-tamarind marinade that lends a light can't-stop-with-one flavour to the dish. Talking about easy bites, the sriracha and koliwada-style batter-fried shrimp popcorn — juicy prawns with a spicy kick and served with hot and cream sauces — is Friday/Saturday night gold.
Mexican lamb chilli poutine and Salchipapas at Social
If we see a poutine, we want it. Especially if it comes with grilled lamb, is dunked in a chilli Mexican sauce and copiously doused in cheese sauce. Also, the Salchipapas is manna for fries lovers like us – fries, topped with Thousand Island dressing, honey-mustard sausages and fried egg. What can we say? We like it dirty.
Fried calamari and Bombay keema pav at Please Don't Tell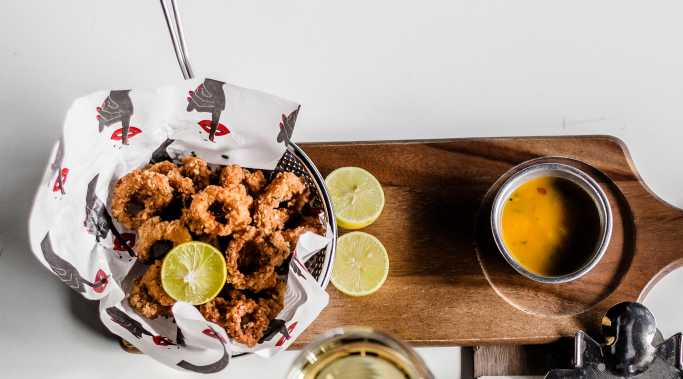 Deep-fried calamari are like onion rings but better, and, perhaps, healthier
We have a soft spot for deep-fried calamari. They are like onion rings but better. Unfortunately, very few places in the city get them right, and most pubs serve overcooked crumb-fried rings of rubber. Not PDT. Served with a spicy sweet mango salsa, they do a wonderful plate of fried calamari. Also, the Bombay keema pav is a must-have. It is street-style spicy, greasy, meaty goodness.
Chinese style braised Pork riblets at Harry's
Whoever came up with riblets should be made king. Of the world. Forever. We are major rib fans. We generally like them dunked disgustingly in hickory BBQ sauce and we feel like a Texan-whatever when we are done with a platter. Yes, we are purists when it comes to ribs. But Harry's does a beautiful Chinese style (char siu) braised pork riblets with a maple glaze with the right balance of hot spice and tangy flavours. And thankfully, the flavours are subtle and nuanced – not complying to that degenerate "Indian-Chinese" what-not this city tries to sell all the time. Chinese food is more than red Schezwan sauce and slimy soy gravies, people. Okay, shan't start that rant.
Beef bulgogi and Chicken tikka cigars at 145 Kala Ghoda
Cheval is gone, and it has been replaced by a teenybopper haven. While the décor might just be too Miley for us, the menu is quite attractive. The Korean-style hot-and-sweet-and-greasy beef bulgogi is delicious, and goes well with whisky cocktails. And those who are feeling a tad badass, try the gooey chicken tikka and cheese deep-fried cigar wraps that come in a wooden cigar case.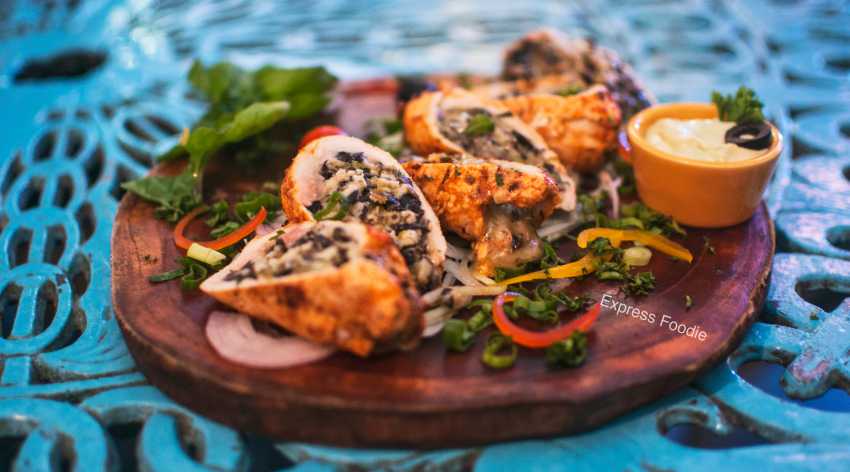 Grilled chicken tossed in chilli-mustard cream and served with a peanut and raw mango slaw.
Life is good at The Little Door. Photograph by Anurag Banerjee
Chicken kababs at The Little Door
The chicken kebabs are the stars of TLD's menu. Flattened chicken stuffed with jalapenos and mild cheese, grilled to perfection, tossed in chilli-mustard cream and served with a peanut and raw mango slaw, they make for fantastic finger food, the creamy cheesiness (or cheesy creaminess) playing the perfect foil to your poison.