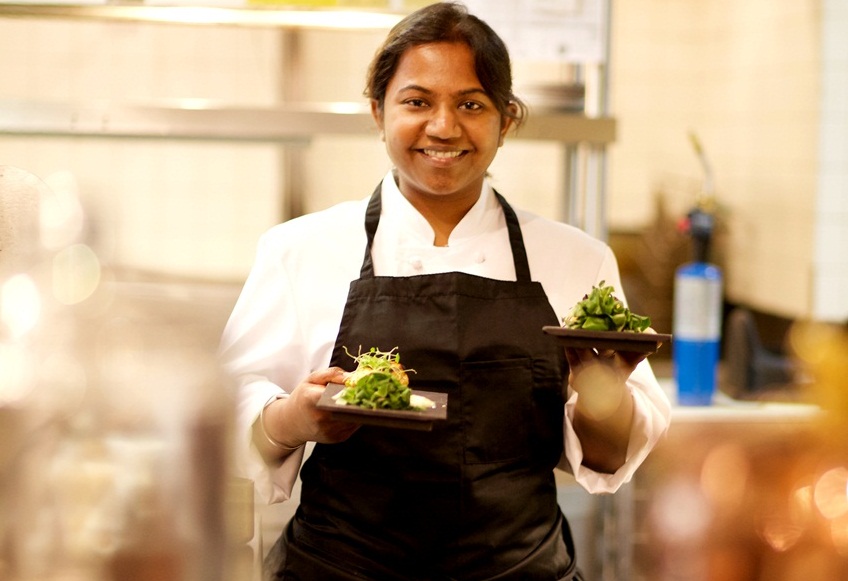 Aarthi Sampath, winner of Food Network's Chopped
Indian chef Aarthi Sampath, who recently won Food Network's reality show, Chopped, tells us that she grew up craving for ice cream, but wasn't allowed to eat it because she fell sick often. "That's why I have a serious sweet tooth and love making desserts," says the chef, who made a shahi tukra-inspired angel cake on Chopped, which won over the judges. "I grew up eating a lot of south Indian food and Maharashtrian meals because my amma's (mother's) cooking was influenced by Mumbai and our community. My affinity for coconut, seafood and curry leaves is natural." Most of her cooking, says Sampath, is inspired by her visits to her grandparents' home in Chennai. "Obviously my amma is the best cook. She makes the best fried fish, dal and pepper goat chops."
Having growing up on traditional Indian food, the 30-year-old chef remembers being completely fascinated by the food scene in New York. She moved to the city five years ago to intern at chef Vikas Khanna's Indian cuisine fine dining restaurant, Junoon, in Manhattan. "My first memories of the city are authentic street food tacos near Jackson Heights, yummy Chinese meals for under $5 in Flushing in Queens, waffles and churros outside Madison Square Park, and of course, the famous Papaya hot dogs and the sweet treats at Korea town bakeries," says Sampath, who is now the Chef de Cuisine at Khanna's Michelin star restaurant.
We asked Sampath to share her top 5 places to eat out in NYC. Here's her list
Bouley

Photograph by Ulterior Epicure/Flickr
For a fancy lunch. It has the best value tasting lunch menu. The very talented chef, David Bouley, has a fabulous five-course French tasting menu.
Johny's
It's on 24th st between 6th and 7th avenue. I'd pick this for breakfast. They have the best blueberry pancakes – so light and fluffy.
Ajisai
For Sushi. I love their American-style sushi rolls .
Junoon
Best Indian food in NYC. Period. Modern with ethnic flavors.
Buddha Bodhai
For their vegetarian dim sums. They've got delicious vegetarian Chinese food and the most delectable dim sums in the city.