Anil Kapoor keeps off solid food for the first three days of the week. Photograph by Varinder Chawla
The Bollywood star, who is back with Season 2 of 24, never seems to age, and says he looks better now than he ever did. How does he get it so right? Find out in this Express Foodie interview
Tell us about that one food experience you have really enjoyed?
There have been several. When the entire family is in Mumbai, we go out to dinner very often because we enjoy eating out and discovering new restaurants. And the family is not fussy: we eat anything, but we are very fond of Asian and Italian food. I love Japanese food, particularly teriyaki. My wife Sunita is a vegetarian. I particularly remember this one meal we ate at Umame, in Mumbai. I also enjoyed walking around the market in San Miguel, in Madrid, when I travelled to the city for the IIFA Awards. It has several stalls selling Spanish ingredients as well as wine and tapas bars.
You don't look your age. Doesn't what you eat have a lot to do with it?
What I eat and how I exercise. The two go hand-in-hand. I think I look better now than I ever did. I believe sugar is my biggest enemy so I avoid it. Also, I fear my wife, Sunita! So I ensure she sits next to me whenever possible, during dinner or on night outs. She ensures I don't eat what is not good for me.
What are your meals like?
Very boring, I must say. In fact, all my co-stars complain that I sleep too early and eat too little and too healthy. For the first three days of the week, I stay away from all solid food, and stick to juices, milk shakes and a solution that is packed with minerals and carbs. On the fourth day, I eat some light food, like a khichdi. For the rest of the three days, I gradually get back to eating normally. On those days, I have my breakfast pretty early and it generally consists of oats and banana, egg white omelettes, fresh juice, sometimes an idli or an egg and lettuce sandwich, and a strong cup of coffee. I like sandwiches and I stick to vegetable, chicken or a ham sandwich, usually made with multi-grain bread. I eat one or two rotis a day. My meals are largely grilled: grilled chicken, grilled fish, grilled vegetables. I can eat fish in any form, since it is very light and easy to digest.
I am very conscious of what I eat. For instance, if I eat a rice dish, I want to know what kind of rice it is and where it has come from. I eat a lot of red rice, with a simple moong or masoor dal. I am quite a frugal eater. I like samosas particularly its crisp upper crust, but not the filling. So I am little weird sometimes in my food choices. I stick to chicken and fish, and do not eat any red meat. My meals also include dairy, particularly yoghurt and paneer.  I don't drink much, maybe a milkshake sometimes.I would suggest that those who start their day early, or exercise, should eat a banana or two. It will give you energy and keep you full for a while until breakfast.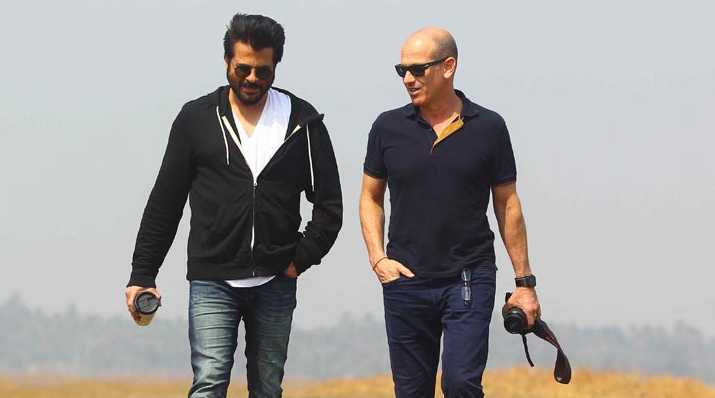 Kapoor with Howard Gordon, the writer of  '24: Season 2′. Photograph by Varinder Chawla
What do you eat on the sets?
If I am in Mumbai, I carry food from home. Sometimes, on outdoor locations, we have cooks who rustle up healthy meals. At other times, I eat from the plates of my co-stars or crew, so I eat little and share their meals!
Do you ever indulge?
I indulge only on vacation. And if I want to indulge when I'm in India, there can be nothing better than a Gujarati thali. I love to feed people, so I generally get a dabba of the best food possible from home for my co-stars and crew, or have people come over for dinner once in a while.
Which are your favourite restaurants?
There are some beautiful restaurants in Mayfair, London, where I have bought a house. The Bar at Dorchester, however, is my favourite place for an evening meal.
What's your favourite meal?
Baingan ka bharta with rotis and mooli parathas!  These two dishes remind me of my childhood because my mother cooked them really well.