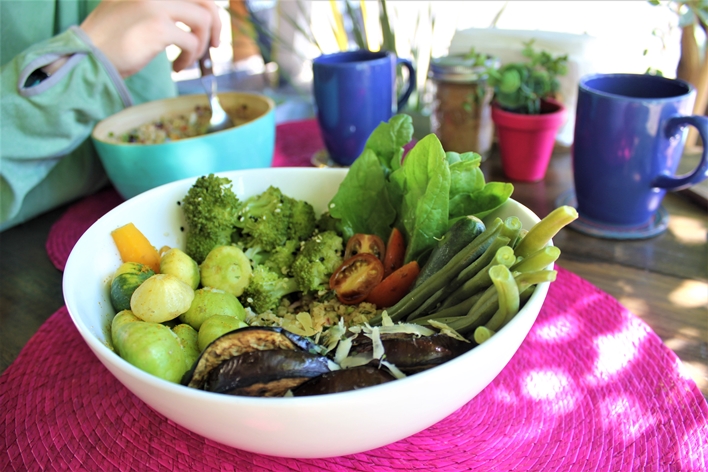 Rich in veggies and lean proteins, Buddha bowls are the latest health food trend. Source: Charlie Merchant/Flickr
Acai bowls, poke bowls, smoothie bowls have been the latest trends to capture the fancy of Instagram, Pinterest and food blogs the world over in 2016. The popularity of food in a bowl will continue to surge all through 2017 as well, as predicted by food trend experts across the world. "Bowl food" as a concept finds favour with those dedicated to healthy eating. Apart from the regular entrants in bowl food, Buddha bowls are poised to become a hot favourite with vegans, especially those on Pinterest and Youtube, this year.
Aesthetically pleasing, Buddha bowls (also known as hippie bowls or macro bowls) are loaded with colourful ingredients and are both versatile and tasty. What perhaps works in favour of this trend is the fact that really isn't a single right way to make a Buddha bowl. You can play around with different ingredient combinations, herbs, spices and seasoning to construct a wholesome, healthy meal in a bowl. The key is to strike a balance with major food groups – lean protein, complex carbohydrates, as well as healthy fats – to derive maximum benefit from your meal. Since most Buddha bowls are vegan, the base is usually composed of quinoa or other (cooked) whole grains like amaranth, brown or white rice as also millet. Legumes like chickpeas, kidney beans, lentils, etc. can also be added to bulk up the bowl. Veggies can either be roasted or simply added raw for a bit of texture. Seasonal fruits can also be added, in case you wish to add a touch of unique flavour to your dish. Leafy greens and seeds like sesame, sunflower, chia may also be added for added goodness. Hummus, feta cheese, olive oil, vinegar are usually used as toppings to enhance the taste of individual components. Once the ingredients have been prepped, they are assembled in a bowl and the end result is an extremely attractive-looking, vibrant meal that is the toast of Instagram and Pinterest picture feeds.