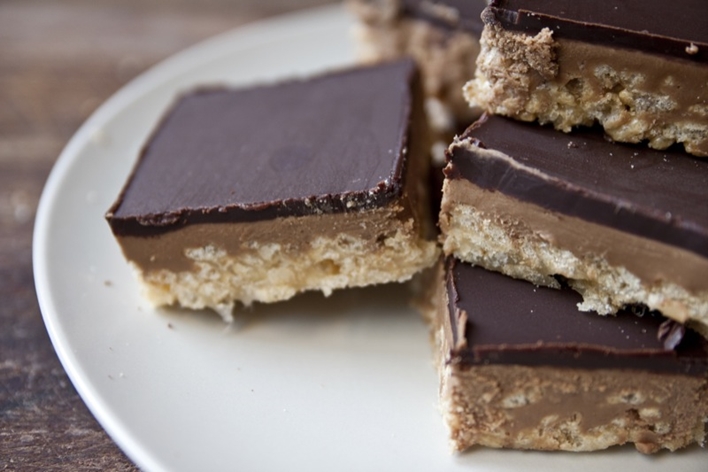 Using peanut butter in desserts is a great way to add flavour and texture. Edward Kimber, Flickr
Whether you're on a strict diet or are just making healthier eating choices, there's no denying the appeal of desserts. The delightful-looking fare dished out by most patisseries is loaded with calories, cream frosting and other Instagram-worthy trappings. Of course, the most logical solution would be to make some of your favourite desserts at home, but let's face it, baking is difficult. While we aren't baking experts by a long shot, we've managed to find a few recipes that sate our dessert craving without piling on too much guilt (and weight). These peanut butter-based recipes are easy and only look like you put in too much effort.
Peanut butter is a versatile ingredient and lends itself fabulously to desserts apart from sandwiches. It adds a rich, nutty flavour and texture (if you're using the kind with peanut bits). Easily available at most stores, mass-produced peanut butter has additives, which isn't ideal if you're looking to make desserts that aren't too high on calories. Thankfully, hand-made peanut butter is now easily avaialble, which uses quality ingredients without any preservatives or additives and can be sourced from online stores or home-chefs in your city.
Peanut butter chocolate bars
If nutty, chocolate loaded candy is your Achilles heel, these peanut butter bars are sure to become a favourite. The recipe uses on three ingredients, digestive biscuits, peanut butter and chocolate. There's no baking involved, and 2-3 hours of refrigeration is enough to set the chocolate. You can use either dark chocolate or milk chocolate, depending on your preference. It is however important to use good quality chocolate for best results. Though the recipe is a bit heavy on the calorie content, a piece or two of these peanut butter bars make for a lovely occasional treat.
Peanut butter oat bars
With peanut butter, honey and oats, this is definitely a dessert for the health conscious. High fibre oats enhance the nutritive value of the recipe, making these bars a perfect snack to refuel post workout, as an afternoon snack or whenever you're craving something sweet but want healthy options. The recipe is simple and does not require baking at all.
Vegan peanut butter chocolate cake
Mug cakes are quick, delicious and just enough to sate a dessert craving. However, most recipes use eggs and honey as sweeteners, making them unsuitable for those following a vegan diet. Maple syrup is used as a sweetener in the recipe, but you can substitute it with your choice of sweetening agent. The use of whole-wheat flour instead of the processed all-purpose flour only serves to make the dessert a touch nutritious. Just ensure that your cup is microwave-safe.