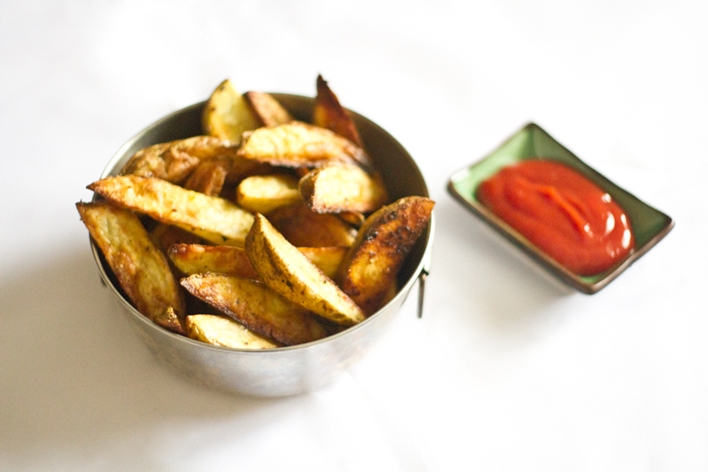 Ditch guilt-inducing French fries, try your hand at these baked cheese-laced potato wedges. J. Annie Wang/Flickr
We love potatoes in all forms and flavour combinations, but there's a special spot reserved for fries. Much as we hate to admit it, our metabolism is nowhere close to what it was in college, where we survived on a staple diet of junk with huge servings of French fries on the side. Since there's an expanding waistline to consider, modification and moderation has become the order of the day. But whenever a craving for fries threatens to wreak havoc on our diet plans, we turn to our favourite baked recipe that's just as good.
There's just a tiny amount of oil that goes in and the recipe uses olive oil for added goodness. Make sure to have Italian seasoning handy. Most stores have the rosemary, basil, oregano and thyme mixture and you can add it as much or as little as you prefer. Of course, the potatoes are wedges instead of the thin cut, perfectly salted fries, but we're grateful for small mercies (read parmesan cheese). Pair these baked garlic-cheese wedges as a side with salad, pan-seared chicken or have them as is with some low-fat sour cream and enjoy your favourite junk food minus any guilt.
Ingredients:
Serves 4
5 large potatoes
4tbsp olive oil
2 tsp salt
2 tsp garlic powder
2 tsp Italian seasoning (basil, thyme, oregano, rosemary)
60g shredded parmesan cheese
Fresh coriander
Method:
Cut potatoes into thick, even-sized wedges. Leave the skin intact. Set aside
Preheat oven to 180C. Grease a large baking sheet lightly and set aside
Transfer the potato wedges to a large bowl and drizzle with olive oil and toss well to coat evenly
In a smaller bowl, mix together the salt, garlic powder and Italian seasoning
Sprinkle the shredded cheese over the wedges, tossing continuously to coat. Sprinkle the seasoning mixture next
Arrange potato wedges on the baking sheet in a single later with the skin-side down
Bake for 25-35 minutes, till the potatoes turn golden and are tender when pricked with a fork
Sprinkle freshly chopped corainder and serve hot with a dipping sauce of your choice.
Note:
Cooking time may vary depending on the size and thickness of wedges. Make sure to check intermittently after 20-25 minutes.
Source: lecremedelacrumb.com