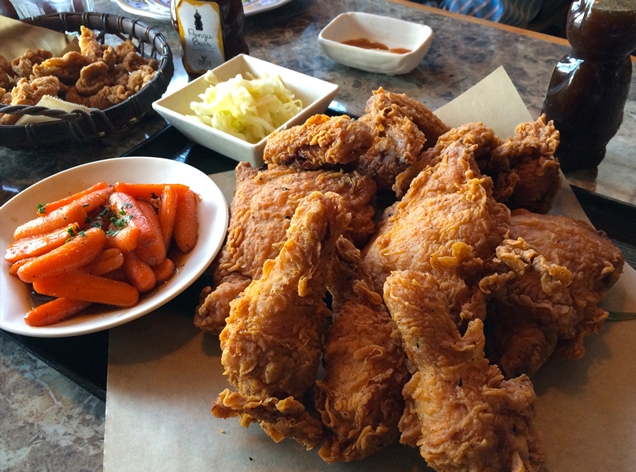 Fried chicken makes for a great appetiser or a side with curries and rice. Source: LWYang/Flickr
When it comes to fried meats, nothing quite compares to the joy of tucking into the crisp, golden crust of fried chicken. Almost all popular fast food chains have their own version with secret ingredients. But making it at home isn't rocket science. With a simple spice mixture for seasoning, you can make your own at home. When making fried chicken, it is essential to retain the skin on the chicken, as it helps the seasoning bind better and also gives that crunchy, crisp coating that we all enjoy. It also helps to make use of bone pieces, since the meat is tougher and will not get too dry when deep fried. Since it is deep fried, the dish does have its fair amount of calories, but you can decide the type of oil to use and make your homemade fried chicken a touch healthier. We have three favourite recipes that we keep going back to, whenever we're in the mood to dig into some crunchy, juicy chicken.
Korean-style fried chicken
The recipe begins with the usual, corn starch coating on well-seasoned chicken. It is however the spicy sauce that makes all the difference. Soy sauce, mustard sauce, vinegar and hot chillies give this version of fried chicken a spicy, delicious kick, made better only by the crunchy skin.
Buttermilk fried chicken
The recipe makes use of regular seasoning like chilli powder, garlic, ginger and crushed black pepper in the seasoning. Seasoned chicken is then drenched in buttermilk which helps tenderise the meat to yield juicy, crisp fried chicken. Marinating in buttermilk for 6 hours is advised, but if you're short on time, you can shorten it to 4 hours as well.
Hot sauce fried chicken
This one's similar to the buttermilk fried chicken, except that there's an additional ingredient – hot sauce that infuses heat, flavour and spice to the crunchy delight. Any kind of hot sauce will do but we've got our hearts set on Sriracha; it's spicy, it's rich in taste and seems like the perfect ingredient to spruce up a simple fried chicken.