Roald Dahl, the author of Charlie and the Chocolate Factory, a book that's loved by kids and adults alike, had a long-standing history with chocolate. As a student at a popular public school, Dahl was a taster for Cadbury's chocolates that would be sent to him and his friends for review. To commemorate his 100th birth anniversary, we've drawn up a list of some fabulous chocolate desserts that would have certainly pleased the author.
Lucie, Le 15 Cafe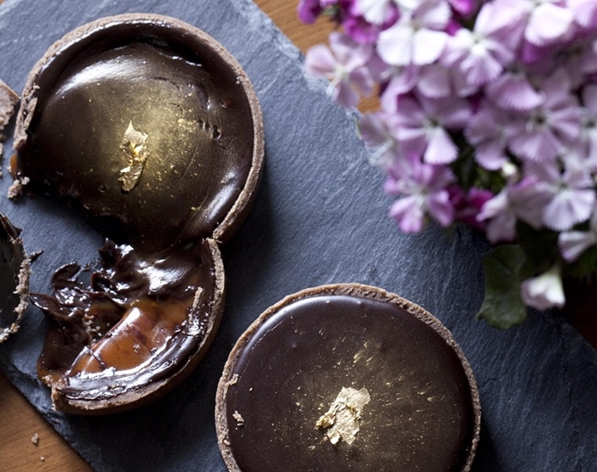 Lucie at Le 15 Cafe, Colaba
One of the many desserts named after French women at the patisserie, Lucie is everything you'd hope for in a dessert, delicate-looking to make you reconsider eating, but tempting enough to make you want to dig in. A chocolate tart filled with salted caramel, and is one's a winner for the sinful indulgence derived right from the very first bite.
Where: Le 15 Cafe, Shop 18, Lansdowne House Building, MB Marg, Near Regal Cinema, Apollo Bunder, Colaba
When: 9am to 11pm
Call: 9769341994
Cost: Rs 250
100% Chocolat, La Folie Patisserie
This one comes highly recommended, and for good reason. Chocolate fondant, crunchy praline and Venezuelan chocolate mousse combine to make this dessert an absolute favourite at Fort's tiny, chic patisserie. The mousse is light, airy and the chocolate is rich, dark with just a hint of sweetness – we never needed a better excuse to cheat on our diets.
Where: La Folie Patisserie, 16, Commerce House, Rope Walk Lane, Kala Ghoda, Fort, Mumbai
When: 12pm to 10:30pm
Call: 9167722181/ 022 22672686
Cost: Rs 260
Millionaire brownies, Theobroma
One of the oldest, and most loved desserts on Theobroma's menu, the Millionaire brownies tick all the right boxes. There's that wonderful flaky crust which you eagerly break into to get to the gooey, chocolate-rich brownie. There aren't any fancy frills added to this one, because it's perfection with a taste that's remained the same through all this time, across all Theobroma outlets in the city. If you haven't tried it yet (honestly, we feel bad for you), make sure you do at the earliest, the trays tend to get cleaned out by late evenings.
Where: Theobroma, G 8, City Park Building, Central Avenue, Hiranadani Gardens,Powai
When: 8am to 12am
Call: 022 33716010
Cost: Rs 80
Chocolate Mousse Bar, The Rolling Pin
Need a ticket to chocolate-heaven? Pick the Chocolate Mousse Bar. Coated with dark Belgian chocolate, this dessert has a soft, light mousse filling at the centre that's equal parts smooth and decadent. Sharing definitely not recommended!
Where: The Rolling Pin, 12, Janta Industrial Estate, Senapat Bapat Road, Lower Parel
When: 11am to 12am
Call: 022 30151774
Cost: Rs 150
Death by Chocolate Truffle, Guilt Trip 

One look at the rather diminutive cupcake will have you feeling the price is a bit steep. While that may be true, the first bite itself will let you know why it's named Death By Chocolate. The dark chocolate cupcake is moist, not too dense and comes topped with a frosting of chocolate gananche that assaults your senses in just the way that a wonderfully crafted dessert can. Dessert for dinner? Take home a pack of 6 and smile your way to guilt.
Where: Guilt Trip, Ground Floor, 15 A, Union Park,Carter Road, Bandra West
When: 10:30am to 12:30am
Call: 022 30151014
Cost: Rs 85
Double Chocolate Chip Cookie, Sweetish House Mafia
Popular all over the city for their crumbly, yet crunchy cookies, Sweetish House Mafia knows how to keep 'em coming back for more. The Double Chocolate Chip is eggless (yay for the vegetarians) and has a high chocolate chip amount per bite and is quite generous in size – the more the merrier. To eat; warm cookie, dip in some milk and make the most of your cookie craving.
Where: Sweetish House Mafia, Mathuradas Mills Compound, NM Joshi Marg, Lower Parel West
When: 11am to 12pm
Call: 022 24988740 /+91 7506506231
Cost: Rs 80