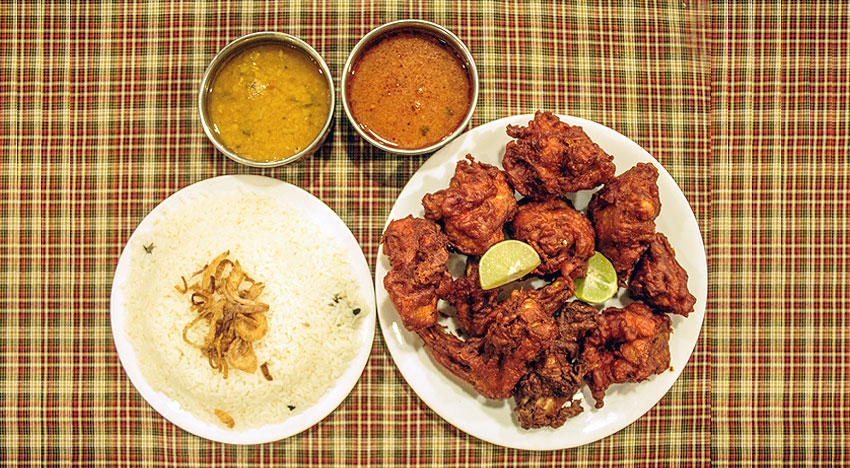 Imperial's piping hot ghee rice and deep fried chicken kebab combo is a killer.
Photograph by Sairaj R Kamath
Imperial
Imperial, or Impy as it is known locally, shuts usually close to 1 am and their economical price point makes them an attractive proposition if you are on a tight budget. The service is quick but don't go to Impy expecting a fancy ambience. Their piping hot ghee rice and deep fried chicken kebab combo is a favourite among the late-night crowd. Other popular eats include coin parathas, mutton pepper fry, bheja fry, the spicy chicken varuval (fry) and Malabar chicken. Impy loyalists swear the non-vegetarian food is better than at Empire, but we'll let your tastebuds be the judge of that.
Go for: The sinfully rich ghee rice and spicy deep fried chicken kebab combo
Visit: The Residency Road branch is their most well-known, open till 1 am, 080-25913738
Rasta Cafe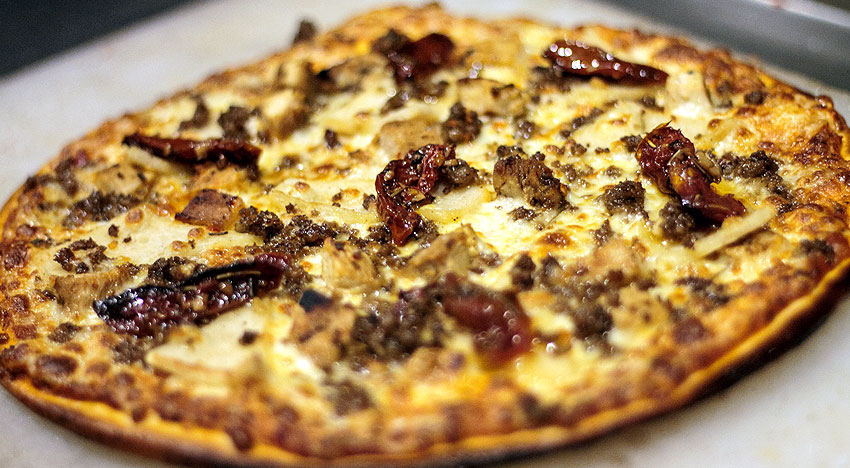 The Double Decker Burger at Rasta is good, but the wood-fired pizzas are even better.
Photograph by Sairaj R Kamath
Located on the Bangalore-Mysore highway, and nestled among the foothills of the Ramnagaram hills, it is probably the only 24-hour open cafe near Bengaluru. Close to three acres of space, adventure games, foosball and pool tables, gaming stations, live sport on large screen TVs and a projector, Rasta has a lot more going on besides just food. There are separate hookah and non-hookah seating areas and often, a long waiting time, especially on weekends when service can get frustratingly slow. The cafe is about a 45-minute drive from Bengaluru – keep your eyes peeled as it is difficult to spot if it's foggy or if the road signages are not lit. Like its name, the cafe's theme draws from the Rastafarian culture – be it the wood decor, colour scheme, the graffiti on the walls or the music that plays – everything has a laid-back appeal to it. The menu is quite extensive with a Continental and Mexican slant to it. The most popular items are nachos, the English breakfast, the Double Decker Burger, pizzas and beverages like the Snicker Shake.
Go for:  The wood-fired thin crust pizzas
Visit:  Open 24/7 on Bangalore-Mysore highway, +91 9900072782
Russell Market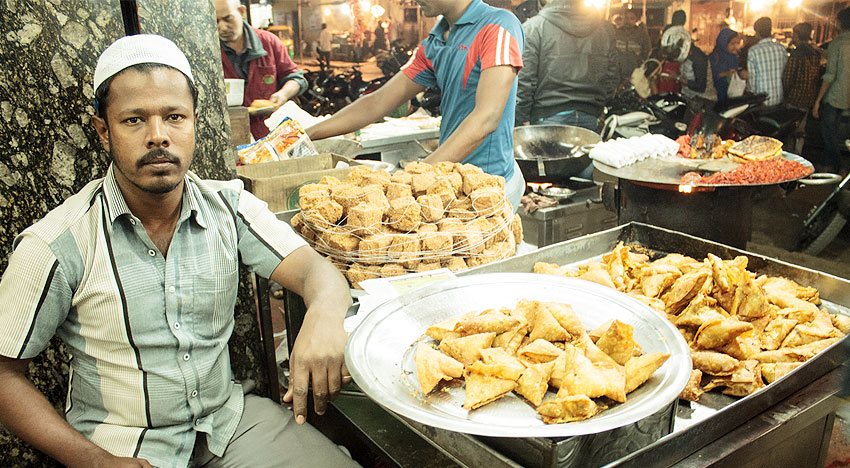 If you're craving mutton samosas at midnight, the best ones are at Royal in Russell Market.
Photograph by Sairaj R Kamath
There are many small restaurants around Russell Market area in Shivaji Nagar, which are open until the wee hours of the morning, where you can get a decent meal quite cheap. Some of the popular restaurants include Royal, known for its mutton samosa, chicken lollipop and chicken roll, Hilal for its mutton seekh kebabs and tandoori chicken and Grand Hamza for its bheja fry, mutton biryani and faham, which is tandoori chicken. There's also Savera Tea Centre with its ever popular Sulaimani chai, Kachchi chai and samosa. But be warned, hygiene isn't high on the priority list, so if you are a bit squeamish you might want to give these restaurants a miss.
Go for: The spicy and greasy mutton samosas, bheja fry and round off with a 'kadak' Sulaimani chai
Visit: Shivaji Nagar, all restaurants are open until around 2 am 
Thindi beedi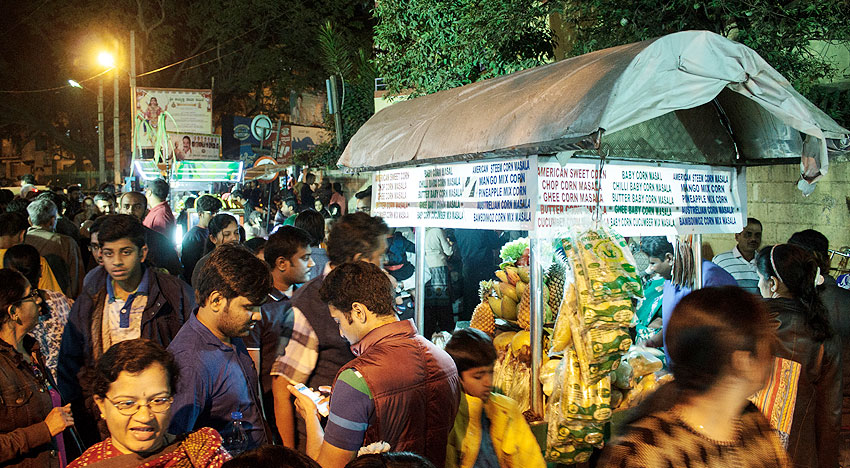 For fresh vegetarian food including akki rotis (below) late at night, Thindi Beedi is the place to be.
Photograph by Sairaj R Kamath
While most of the late night places are a non-vegetarian's delight, the thindi beedi,  Kannada for "food street" in VV Puram is a vegetarian's paradise. It's a narrow stretch, crammed with about 15 poky shops that start opening their shutters around 5pm or so. Gas fires are lit, pots and and pans are taken out, oil heated, vegetables chopped, spices are readied and pushcarts start groaning under the weight of both traditional Kannadiga snacks and other delicacies from around the country.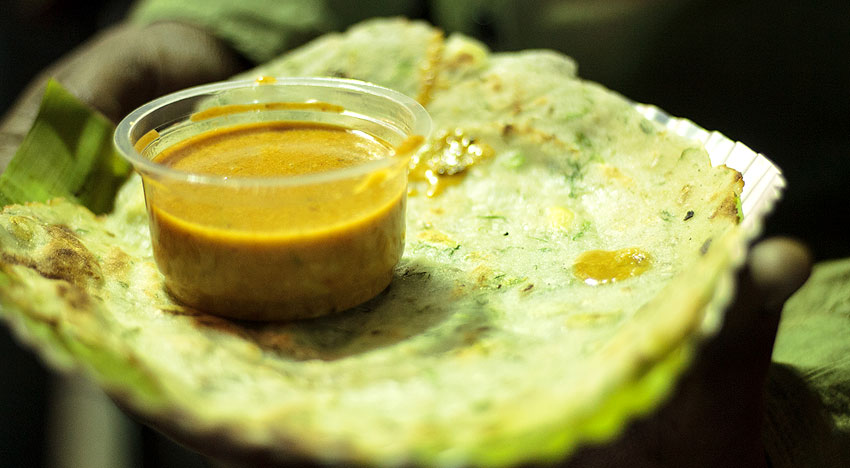 By about 8pm, the street is buzzing and you can usually find hot food till close to midnight. The Congress kadlekai (peanut) bun at VB Bakery, akki rotis, (rice flour rotis) thatte idlis (plate sized idles), mosaru kodbale (deep fried rice flour and curd rings), bajjis and bondas are all must-haves and if you are in the mood for dessert, don't forget to try the gulkand ice cream, or the traditional Karnataka sweets like holige (jaggery/coconut/dal stuffed chapatis) and chirroti.
Go for: The piping hot and filling akki rotis slathered with chutney
Visit: Vishveshwara Puram, usually open till 11.30 pm, later on weekends
Empire Hotel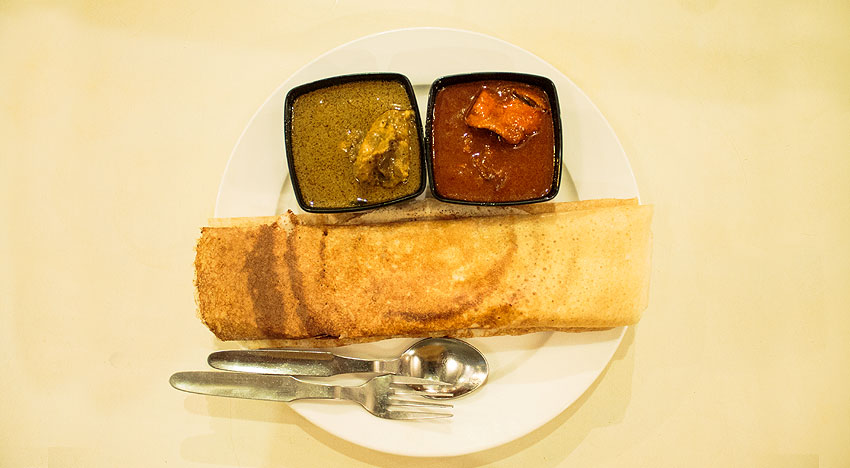 Call it a day with Empire's spicy chicken curry and dosas.
Photograph by Sairaj R Kamath
It's easily one of Bengaluru's most well-known chain of restaurants and extremely popular with the late show moviegoers, hungry clubbers or anyone looking for some good meat at an ungodly hour. If you love meat then the sight of rows and rows of skewers of kababs, tandoori chicken and mutton raans, and the sound of sizzling meats take you to a heaven named Empire. The restaurant chain is known for its mutton and chicken biryani, as it is for ghee rice, butter chicken, the Empire special chicken kababs, coin parathas, mutton keema dosa and dosa chicken. The quality varies from branch to branch and their service can be a bit slow, but they are usually open until 1 or even 2 am on weekdays. With more than 15 restaurants in the city, Empire is one of your best bets for late night eats.
Go for: The spicy chicken curry along with dosa or fluffy parathas
Visit: The Church Street and Koramangala outlets are among the more popular branches, open till 1am