Aishwarya Rai loves Manglaorean-style chicken and fish curry.
Photograph courtesy: Abhiash Fan Club
As a young boy, Rohit Yadav was a frequent visitor to film studios in Mumbai. His most vivid memories involve a bunch of friends and the Film City swimming pool in Goregaon. Rohit's all-access pass to these venues was courtesy his father Lakhan, a food supplier on film sets. Yadav was entrusted with his first assignment when he was a teenager. His father packed him off to Panvel to monitor food arrangements for Barsaat (1995), which marked the debut of actors Bobby Deol and Twinkle Khanna.
"I did a terrible job. But the industry was very different then. People had low expectations from us. Even the food was basic — rice, dal and a subzi. If there were no non-vegetarian items, nobody cribbed," says the hotel management graduate, as he supervises staff in his kitchen, in Andheri. "At dinner time, the light man and the spot boys used to help us make the chapattis and cut the salad. Only the producer would get a proper dining table."
Barsaat's absurd plot might still work in Bollywood, but the Yadavs' service wouldn't have passed muster today. Talking to IndianExpress.com from a shoot location in Jharkand, his father acknowledges that his outfit would have struggled to stay relevant if it weren't for his son, who has revamped the 40-year-old business. "There was a time when my wife would pack arbi ki subzi for Govind Nihalani, or karela for Raaj Kumar in a tiffin carrier, and they would love it. I remember Dev Anand saab was a simple eater. He would eat alu methi ki subzi, a little dal, and just one roti. And, he'd always ask for an apple. Now, we have live counters for pasta and grilled chicken on the sets, and the food has to be laid out well," says Lakhan.
Lakhan came to Mumbai in 1968, and was employed as a domestic help with Dharmendra and Naveen Nischol. Nischol gave him his first break as an independent caterer on his film Jaan Se Pyaara, starring Rekha and Reena Roy. Lakhan says not too many of competitors from those early years are around today. One of them was Shivanna Shetty, a Mangalorean food specialist, who passed away last year. His son Purushottam's Jamma Foods is one of the most successful set caterers in Bollywood. Tarapada Adhikari, once a permanent feature on Vijay Anand's film sets, now no longer caters to film units. "I used to make authentic Punjabi food in pure ghee. But today actors have become health conscious and ask for very different kind of food," he says.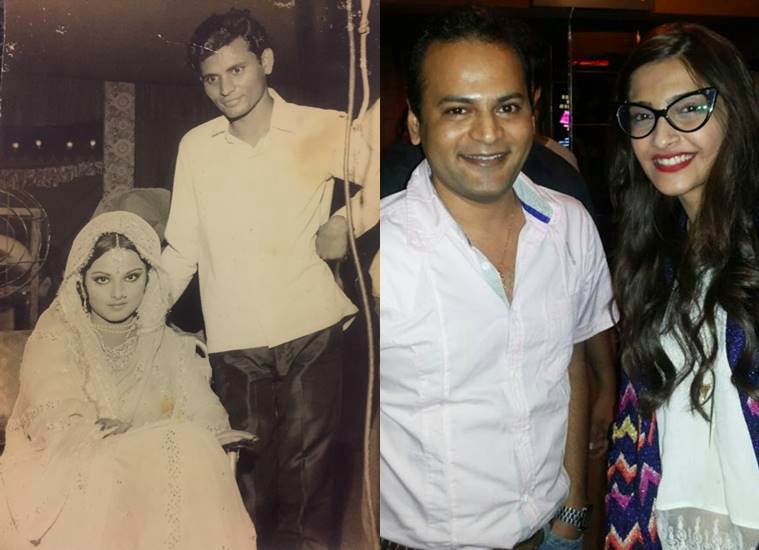 Lakhan Yadav with Rekha on a film set; and Lakhan's son Rohit
with Sonam Kapoor at the premiere of Khoobsurat.
Purushottam Shetty of Jamma Foods has the dietary requirements of every actor on his fingertips. Right from yesteryear actress Shobhana Samarth's favourite chivda to Aishwarya Rai Bachchan's staple Manglorean fish curry, to how Shah Rukh Khan likes his chicken — Shetty knows it all. "Akshay Kumar has no oil and no masalas in his food. He even wants his dal plain-boiled. But Abhishek Bachchan likes spicy food. He always asks for an entire spoon of red chilli powder in his food."
Shetty's tiny office, in Andheri, teems with recipe books and menus of the film units and TV shows his company supplies food to. Staring at him is a register with an elaborate menu for 300 people, who will be part of Kapoor and Sons, Karan Johar's upcoming production, etc. There are separate sets of instructions for the 13 foreigners in the crew.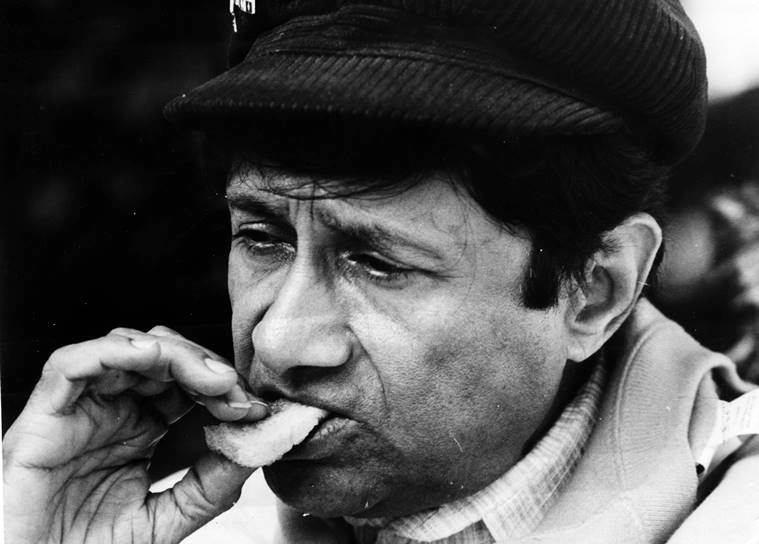 Lakhan recalls that Dev Anand was a simple eater, who would eat alu
methi ki subzi, a little dal, and just one roti. Indian Express Archives Photo
"When my father started out, the dancers and junior artistes brought their own food. Now, we feed over 400 people on the set, and an actor and his staff — make-up artists, spot boys, etc. — will all be served the same food," says Purushottam, who recently worked on Dilwale and Bajirao Mastani. Like Yadav, Shetty, too, learnt the ropes of the business from his father Shivanna, who used to run the canteen at Film Centre, in Tardeo, before setting up his own canteen at Natraj Studio, in 1978. "Mr India was the first big film to be shot there. Sridevi's fish curry would come from my home," he says.
Yadav, too, has similar memories of simpler times. "Shyam Benegal would set up a long table in the middle of the set so that the entire cast could sit together and enjoy their meal. Today, actors rarely eat our food. They either bring it from home, or order from restaurants," he says. Two years ago he catered for Sonam Kapoor-starrer Khoobsurat, which was being filmed at a palace in Bikaner. "For the entire 50 days, she ate my food, but she gave us a strict diet that was recommended by her trainer. She ate very basic food like bajra instead of atta and rice. She asked for quinoa, which I had heard of but had never tasted. My chef looked at it and said that these were of kind of grains that animals eat in his hometown."
While the warmth and bonhomie of the past is harder to find, Shetty says there are moments that make up for it. One such moment was receiving a personal invitation for a party hosted by Shah Rukh Khan to celebrate the success of Chennai Express. "He went up on stage and said that people like us who work behind the scenes are equally important to a film's success."
Aishwarya Rai's favourite chicken curry
(Recipe courtesy: Purushottam Shetty. This dish was served at the actor's pre-wedding celebrations at her home.)
Ingredients
Step 1
1 tbsp – Coriander seeds
1/2 tbsp – Sesame seeds
1/4 tbsp – Cumin seeds
4-5 – Peppercorns
1/2 tsp – Methi seeds
2 – Garlic cloves
Step 2
1/2 – Coconut, grated
2 – Onions, finely sliced
10-12 – Dried red chillies
1 tsp – Turmeric powder
2 tsp – Ghee
Step 3
1kg – Chicken, with bone, clean and cut into medium-sized pieces
Milk of 1 coconut
1 – Onion, finely sliced
1/2 – Tomato, finely diced
Some curry leaves
1 tbsp – Coconut oil
Salt to taste
Method
Step 1: Prepare the Masala
* In a pan, put some coconut oil and add all the ingredients.
* Toast on medium flame for 4-5 minutes, mixing them so that they don't burn, and roast evenly. Remove the roasted ingredients from the pan and set them aside.
Step 2
* In the same pan, add the ghee, sliced onions and tomato, and sauté for 3 minutes.
* Add the grated coconut, turmeric powder and curry leaves, and sauté for 5 minutes. Turn off flame and cool.
* Then, put the mixture in a grinder along with the toasted masala prepared and grind them until a smooth thick paste is formed (adding water from time to time).
Step 3
* In a separate pan, put some coconut oil, add the sliced onions and tomato and fry until golden brown.
* Add the chicken and cook on high for 5 minutes.
* Reduce the flame, place the lid and cook for an additional 9-10 minutes, mixing well once in a while.
* Add the masala prepared in Step 1, salt, curry leaves and mix well. Place lid and cook on medium flame for 8-10 minutes.
* Add 3-4 cups of water and cook on high flame for 2 minutes. Reduce the flame, place lid and simmer till chicken is cooked.
* Before turning off the flame, add the coconut milk and mix well. Remove to a serving bowl.