Shizusan Shophouse & Bar at High Street Phoenix, Lower Parel draws inspiration from 18th century shophouses, made popular in Asia during the colonial times. The décor is simple in warm wood tones and makes good use of natural light, to make for a pleasant lunch outing. Taking after shophouses in the Far East, the lower level is fashioned like a restaurant and has a 12 ft long wood-and-leather live sushi bar. Upstairs, the vibe is rather informal with a cheery, well-stocked bar and accent lights in tow.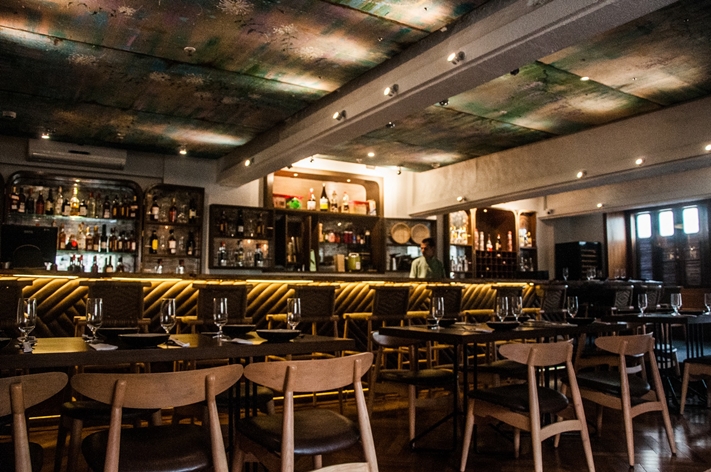 Sushi bar on the ground floor at Shizusan Shophouse & Bar, Lower Parel
Chef Paul Kinny's menu is extensive, focussing on Southeast Asian street food, which translates to a healthy mix of bold flavours from South Asia and minimalistic Oriental sensibilities. The bar menu includes sake, Japanese whiskeys and cocktails that draw heavily from the theme with interesting names. Case in point, the Hattori Hanzo, a delicate yet carefully balanced tequila-based drink with Butterfly Pea Flower, which changes from ink blue to a jewel-toned purple. Coffee-lovers will enjoy the Black Sumatra which shakes up Old Monk, espresso and amaretto for a rich, boozy punch. For teetotalers, we'd recommend the OK Lah (OJ, orange chunks and kefir lime) or the sweet Iced Geisha Tea (China bancha green tea, berries, rose petals, bamboo shoots and ginger).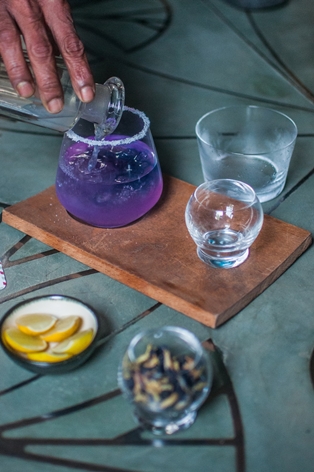 Jewel-toned Hattori Hanzo is a must-try
Bao lovers have a wide selection to choose from. But we had our heart set on the Pulled Chicken Bao with Asian-style BBQ sauce, sweet caramelised onions and slaw. From the Dim Sum section, Lamb Sui Mai (minced lamb, leek and coriander) is highly recommended. Simple, clean flavours with a refreshing hint; these were definitely the highlight of our meal. The 17 Ingredient Slaw with pickled red onions, salted plum dressing was delicious, if only a bit too acidic. Korean Fried Chicken Wings, on the other hand are well balanced, juicy with just the right amount of heat to make you reach for more.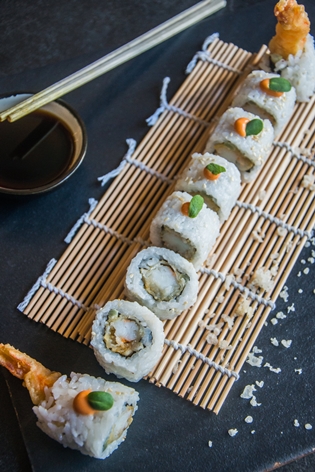 Dynamite Shrimp with prawn tempura and sriracha mayo
Dynamite Shrimp will deliver just as the name promises – prawn tempura and sriracha mayo, encased in fresh, well-seasoned rice for a burst of flavour. For vegetarians, there's Sriracha Blush with avocado, cucumber cream cheese and crisp jalapeno that adds a bit of texture. For mains, skip the Thai Red Curry and try the Black Pepper Lobster with Portobello mushrooms and cilantro. Pair this with some simple steamed rice and enjoy the rich, buttery texture of the sauce offset nicely by the herb-heavy peppery hit.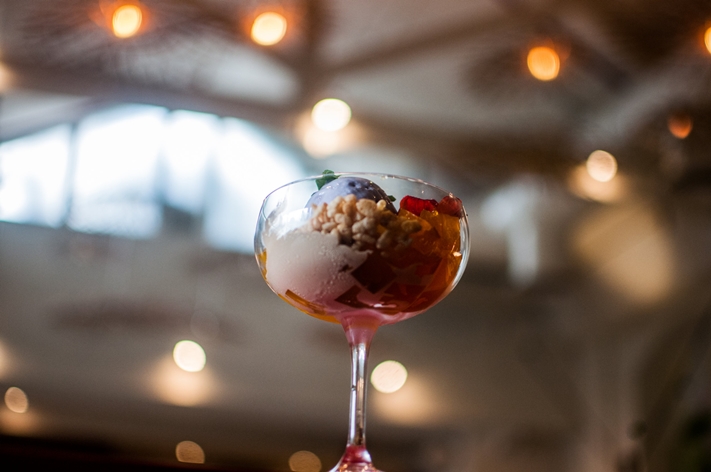 With three types of ice creams, the Halo Halo Sundae is perfect for big kids
Shizusan's desserts borrow from popular sweet treats across South East Asia and there's quite a selection to choose from. Chinese 5-spice Crème Brûlée perfumes the rich caramel custard with the sweet aroma of star anise and fennel. Or, opt for Manila's Halo Halo Sundae as you stick your spoon into rich dollops of lavender, vanilla and coffee ice cream with jelly, condensed ice cream and rice crisps and delight your inner child.
Where: Next to Lifestyle, High Street Phoenix Mall, Lower Parel
When: 12pm to 12am
Call: 90299 90067
Cost: Rs 2500 for two, with one cocktail each (approx)