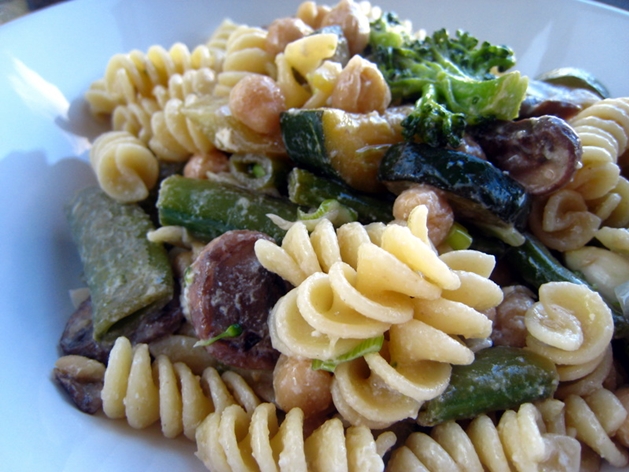 Perfect as a side dish, pasta salads can also make for a great lunch option. Source: Daniel Rossi/Flickr
If there's a great salad to pair with some pan-seared chicken or meat, it has to be the pasta salad. Exercise a little care while picking the ingredients and you can have a delicious pasta salad for lunch too. This recipe makes use of broccoli and pasta, offering a healthy balance of fibre and carbohydrates. Plus, there's bacon thrown in the mix, and since the quantity is limited to a few strips, you needn't worry about your diet going haywire. You can also bulk up the salad by adding some boiled sweet corn kernels. Easy to make and put together, the only caveat to really hitting the nail with this dish is refrigeration. The salad needs to sit in the refrigerator for at least an hour, for the piquant flavours to develop to their fullest. Preservation is hassle-free and it makes for a great dish to take to your office potluck.
Ingredients:
Serves 10
350g fusilli or rotini pasta
200g mayonnaise
45ml red wine vinegar
50g sugar
1tsp salt
300g raw broccoli
50g Cheddar cheese
70g sunflower seeds (salted or unsalted)
120g cooked bacon, torn up to form crumbles
40g red onion, chopped
Method:
Wash and cut the broccoli into florets. Cut the cheese into small cubes and set aside
Cook the pasta according to instructions on the package. Drain the hot water and rinse in cold water. Drain again
Transfer pasta to a large mixing bowl and add the broccoli, cheese, bacon, onion and sunflower seeds
In a separate bowl, mix together the mayonnaise, red wine vinegar, salt and sugar. Whisk well and pour over the salad. Toss well to coat all the ingredients.
Cover the mixing bowl and refrigerate till the salad has chilled (at least one hour)
Serve chilled.
Source: mandysrecipeboxblog.com