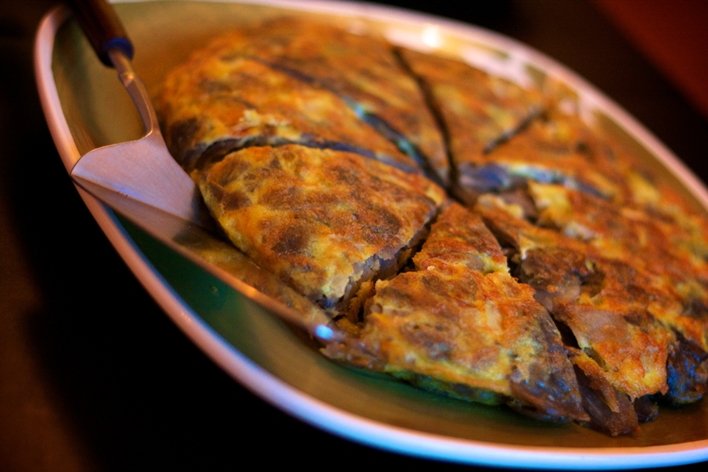 Spanish tortilla is a popular dish, served as an appetiser, with slight regional variations. Source: Meng He/Flickr
Tortilla de patatas is a Spanish classic, a cake-like omelette made with eggs, potatoes (and sometimes) onions. Though served as an appetiser all over Spain, this dish with a painfully simple recipe makes for a hearty meal, even for lunch or dinner. Sprucing it up would mean deviating from the traditional combination, but its okay if it tastes great in the end, right? This version of the Spanish tortilla adds in a bit extra ingredients like chorizo and cheese, to deliver a delicious, easy recipe that you can proudly serve for any kind of meal setting.
Ingredients
Serves 4
3 tablespoons extra-virgin olive oil
1 large white onion, chopped
50g chorizo (cured sausage), sliced into thin crescents
350g potatoes, diced
Salt and pepper, to taste
3/4 cup coriander leaves, roughly chopped
10 large eggs, beaten
100g shredded Cheddar cheese
1 small head green-leaf lettuce
1/2 small red onion, thinly sliced
Method
Heat oven to 200C.
In a pan, heat 1 tbsp of the oil over medium heat and add the white onions. Cook for 5 minutes.
Add in the chorizo, potatoes, half tspn each of salt and pepper. Cover and cook for 10 minutes, stirring occasionally, until the potatoes soften.
Add the coriander and transfer cooked ingredients to an oven-safe pan.
Beat eggs and pour over the cooked ingredients. Stir to distribute the evenly. Sprinkle cheese and transfer to oven.
Bake omelette for about 15 minutes, until it puffs up and turns brown at the edges. Poke in a knife to check, it should come out clean.
Add some lettuce and red onion to plates and pour a small amount of the remaining oil over the salad. Cut omelette into wedges and serve.
Recipe source: realsimple.com