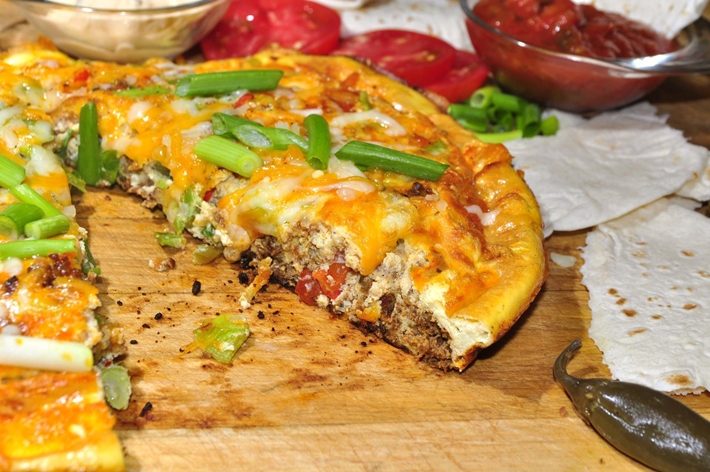 Frittata can best be described as an open-faced Italian omelette. Source: jeffreyw/Flickr
For most of us, the exposure to Italian food is limited to pizza, a few different types of pasta, risotto, the occasional gnocchi and panna cotta (if you're really committed to desserts). Those in the know are well-versed with the delight of the simple frittata – an egg-based dish that can be described as a close cousin of the omelette or even a quiche sans the crust. Derived from friggere which loosely means fried in Italian, frittata originally was used to denote any kind of egg dish prepared in a skillet. Post 1950s, the term now denotes an Italian omelette that is open-faced (since a regular omelette is folded).
The recipe makes use of eggs, cheese, meats, veggies and the occasional pasta. The beauty of a frittata lies in the fact that at least one ingredient can be made optional – which means, there is no wrong way of making a frittata. And making a frittata is easy – in fact, it's quite difficult to mess this one up. Just make sure that the eggs are beaten vigorously to incorporate more air, since the USP of the frittata is its fluffly, filling-filled texture. A perfect lunch or brunch dish, here are three of our favourite ways to make this Italian classic.
Potato and onion frittata
With basic ingredients like potatoes and onions, this one's our go-to recipe. It is important to note that the frittata needs to be cooked on very low heat, to ensure all the egg cooks through. However, the top may still be a bit runny or look underdone. If you're confident of your cooking skills, simply flip over the frittata in a plate, transfer to the skillet and cook for a few minutes upside down. For occasional cooking enthusiasts, flipping a frittata can be daunting – simply finish it in an oven by baking it for a few minutes. Adding cheese to the top will give you a beautiful crust that will help bring the whole dish together.
Mushroom frittata
Button mushrooms and spring onion shoots give this frittata an earthy yet refreshing flavour. Some basic seasoning, herbs, chilli flakes and frothy eggs are all you need to create this winner. Grated parmesan cheese (or any kind of hard, dry cheese) is a must, so make sure you add that to your list on your next grocery-run.
Ham and cheese frittata
A slightly elaborate recipe, in terms of the ingredient list, this one ranks high on flavour. With bell peppers, asparagus, onions, potatoes, ham and cheese, there's a lot of texture and taste. Make sure to cook the onions and potatoes first, since they take a while to soften. Asparagus is optional and you can substitute it with some baby spinach and basil to add some fibre and nutrition to your dish.