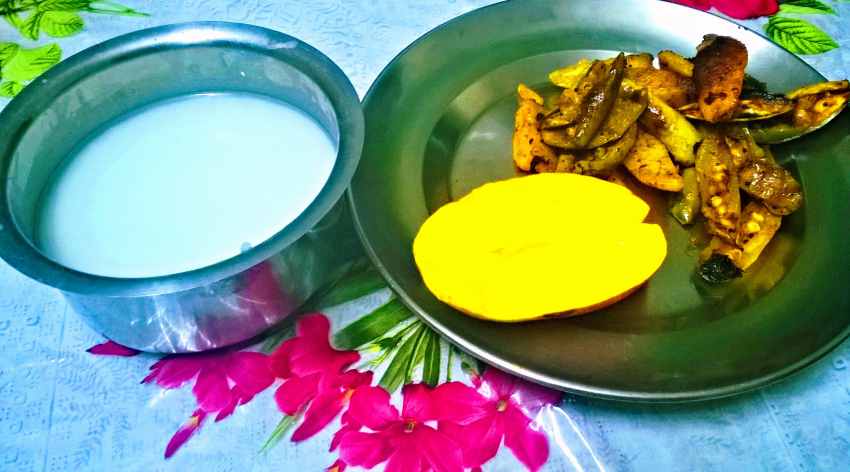 Pokhala is well-cooked rice that has been fermented overnight. Lamrahulpatra/Creative Commons
Though unique in its taste and texture, Oriya cuisine is often confused with neighbouring Bengal's. Part of the reason is the popularity of Oriya cooks in Bengal. Oriya cooks from Orissa, especially from the Jagannath Temple, in Puri, were once much sought after by rich Bengali thakurs. They were employed by the thakurs create new dishes, much like the khansamas once did for the Nizams and Nawabs. This coupled with similar local ingredients such as rice, coconuts, fish, a liking for mustard (paste and oil), and a shared history of too many rulers has clearly blurred the differentiating line, making quite a few dishes common. But there are many dishes that are distinctly Oriya, and here are some of them.
Pokhala: Pronounced 'po-khalo', this is essentially well-cooked rice that has been fermented overnight in water. A bowl of pokhalo (usually seasoned with ground chillies, ginger, salt and curd) is served with the freshest produce (fish, greens or vegetables) of the season, prepared  either as a bhaja (fried), chakta (mashed vegetable/potato) and saag (greens).
Mudhi Mansa: A favourite breakfast in Baripada, also the place of its origin, the dish is a mélange of two iconic food items: mudhi (puffed rice) and mansa (mutton curry). What's interesting about this scrumptious breakfast is the style of making it – after the mutton curry is shifted to a serving bowl, the puffed rice is tossed in the leftover oil and fat giving it a rich coating. To this is added chopped cucumber, tomatoes, onions (pearl onions), chillies and peanuts for crunch. This bhel kind of a mix is served alongside the mutton curry, which over the years has taken over a more Muslim style of cooking. Interestingly, the gravy isn't thick but thin.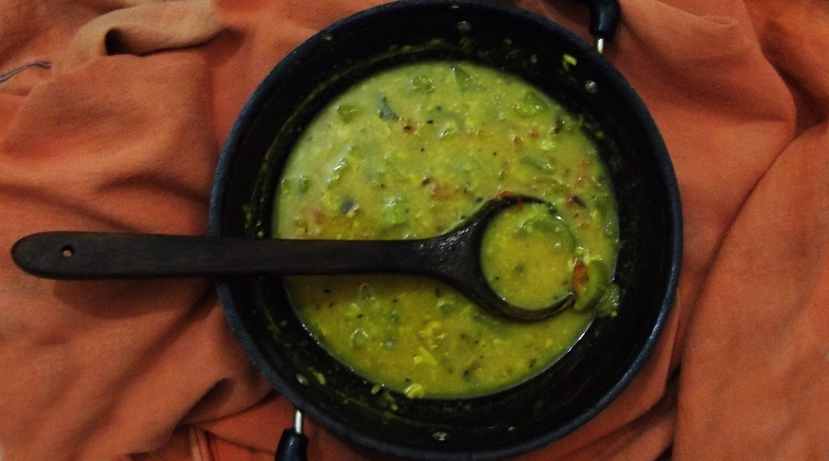 The dalma tastes best with unpolished rice. Subhasish Panigrahi/Creative Commons
Dalma: If the sambar ever had an older cousin, it would be dalma. Legend has it that the dish was created by Bhima, when the Pandavas were in exile, and, thus, has only one piece each of a seasonal vegetable and only roasted cumin powder, turmeric and salt as seasoning. A version of this literally no-oil dish is also served in Jagannath Puri, and tastes best with Usna Bhaat (unpolished local rice).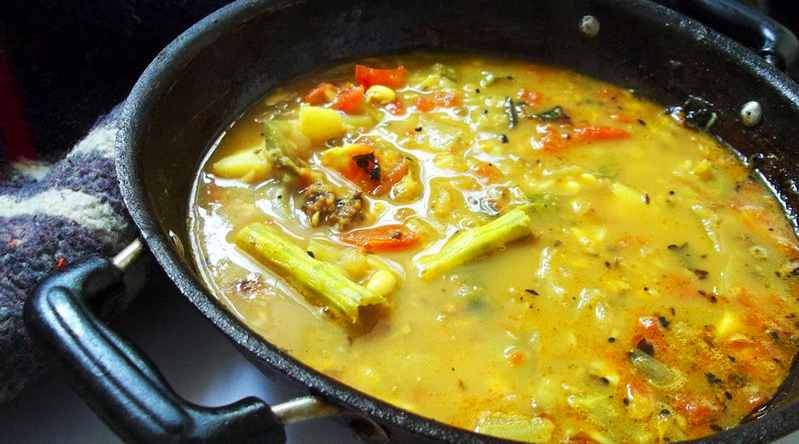 The aromatic Santula is a mixed vegetable preparation. Subhasish Panigrahi/Creative Commons
Santula: Much like the Shukto in Bengal, Santula too is a mix vegetable preparation. But that is where the similarity ends. While Shukto has a bitter taste because of the bitter gourd (karela), Santula is an easy-on-the- palate, oil-free preparation that gets its flavour mostly from the vegetable used (seasonal and locally available) and its aroma from the roasted cumin-dry chilli powder, which is added in the end.
Bati Bassa/Patua: On the plate, it may appear to be a close cousin of the Shorshe Dharosh purely because of the commonality of the ingredients; in reality they are different not only in the method of preparation but taste, too. Unlike the  Bengali dish, which has a mild taste and velvety texture of the mustard paste, a bati bassa or patua is quite robust. Made with coarsely pounded onions, garlic and chilli with mustard oil adding the pungent punch, it is cooked till the base of the bati gets slightly burnt, giving it that smokey-ness. Of course, depending on the vegetable, the onion-garlic-chilli mix is replaced with posto-cumin paste, or even mustard paste at times.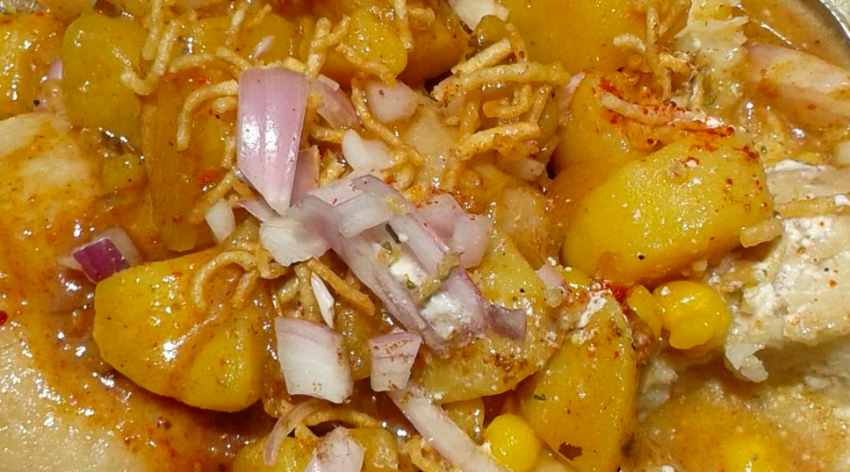 Dahi vada plus aloo dum gives you aloo dum bara. Ashish Kumar Nayak/Creative Commons
Aloo Dum-Bara: Not much is known about the origins of this popular breakfast preparation or early noon treat, but it is ubiquitous in Orissa. So, what is aloo-dum-bara? It is the dahi-bara's bara, which is soaked in whey (curd water) instead of curd and served quilted in spicy aloo dum (with thin gravy), with a generous sprinkling of onion, chillies and mixture (a home-made farsan). This tangy treat is served in a duna (leaf bowl).
Muri Ghonto: Bengal has the Bengal Biryani, Odisha has the Muri Ghonto, which is akin to the Spanish Paella. Made of local rice, crushed fish head and tail along with a few vegetables, it was once a popular port delicacy.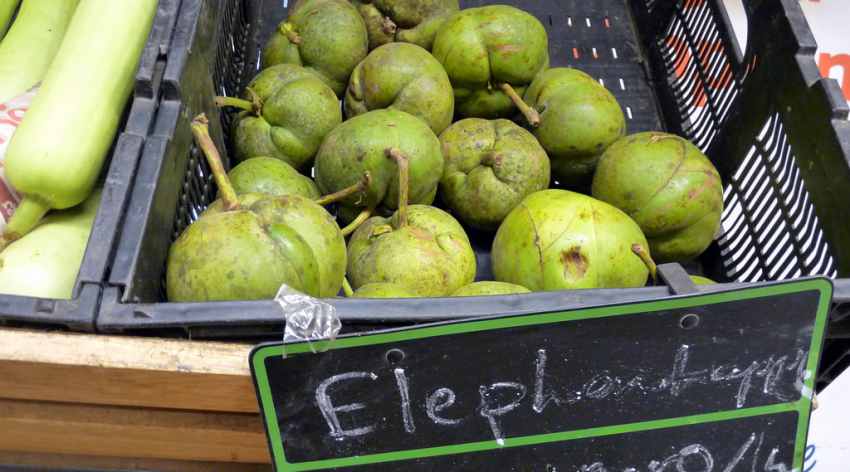 Ou Khatta is a relish made with elephant apple. Steve Browne & John Verkleir/Flickr
Ou Khatta: One of the places where Odisha scores over Bengal and Assam is its ability to make a variety of dips. Like the Ou (Elephant apple) khatta (chutney). Made with fresh slices of elephant apple, this is a quick relish made with jaggery, paanch phoran and salt. The relish also makes a great base for a spicy coconut-kofta curry.
Gointa Gudi: It looks like cham cham, but it isn't. While cham cham uses chenna, gointa gudi (which is steamed rice marbles in kheer) is the finest example of a two-way rice pudding. While the kheer is made with coarsely pounded rice, the gudi (rice marbles) is made by cooking the rice powder into a dough, making small balls out of it, which are steamed and added to the kheer. Of course each region has its own version, and at times shredded coconut and jaggery is used to make the kheer instead  of rice.