Nothing like deep-fried spuds done the Sindhi way, says the author. Photograph via thatbandrafoodie/Instagram
My buddy Andres and I were driving back to NYC from upstate New York when the subject of fried potatoes came up. I'd been helping him recover some of his furniture from a storage unit. It was heavy work; we were hungry. Not that it took much to get us hungry. And it never took more than a pause in one of our many discussions to get back on the topic of food again.
We waxed eloquent on the various kinds of deep-fried spuds and their manner of consumption. No version is better known, of course, than the French fry, whose invention, if the writers of Asterix comics are to believed, actually lies in France's northeasterly neighbour (see Asterix in Belgium). And though the Americans have convinced most of the world that ketchup is its best friend, there are those who defer. The Belgians eat their pommes frites with mayonnaise. The Dutch notch that up in the form of patatje oorlog: golden fried fingerlings doused in mayo, satay sauce and chopped onion. The Brits, curious as ever in their ways, rain vinegar and salt on their fatter-than-usual chips (I'm partial to thick-cut myself; none of those anorexic Micky D tater sticks for me). The Spaniards prefer their patatas in bravas-style, viz., cubes of the root coupled with a spicy garlic-tomato sauce called aioli. Canada's Québécois are known to begin their day with poutine, a giant portion of fries soused in brown gravy and cheese curds.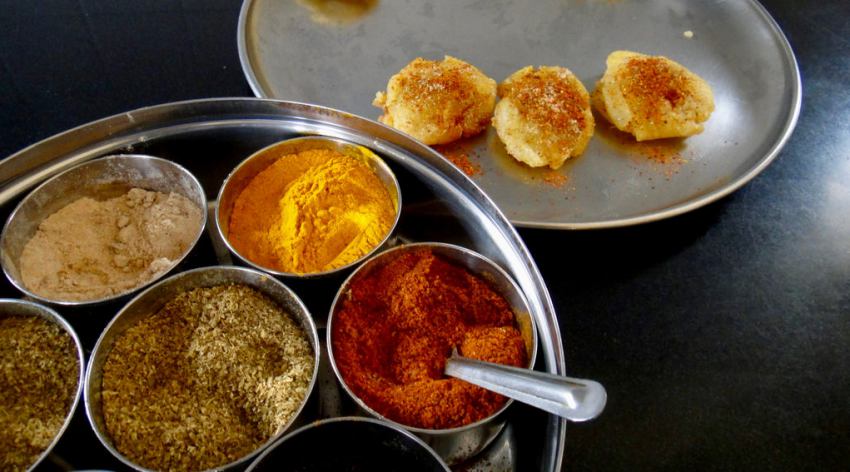 Aloo Tuk is easier than pie to make. Photograph by Rajesh_India via Flickr
Our debate on the best fried potato was seeing no winner. Until I started to describe the Sindhi community's greatest gastronomic gift—aloo tuk. You see, the aloo tuk is no mere fried potato; it's the patrón of potato preps. And it's easier than pie to make. You peel a bunch of potatoes, quarter them and then par fry them in a kadai. Barely waiting for them to cool, you squash them between your palms—yes, it'll burn a bit; you'll savour it more for that. You then send the discs of semi-squashed spuds back into the hot oil and bob them about until they are evenly fried to a golden hue. Without letting them cool, you jangle them about in a bowl with a liberal dusting of salt, pepper, chilli powder and—the winning ingredient—amchur. The dried mango powder is the trump card. Now imagine biting into a crisp crust, through its pillowy centre and feeling your taste buds travel through a sensorial trip of salt, spice, tang and umame. Andres refused to drive home until he was served a few rounds at my place.