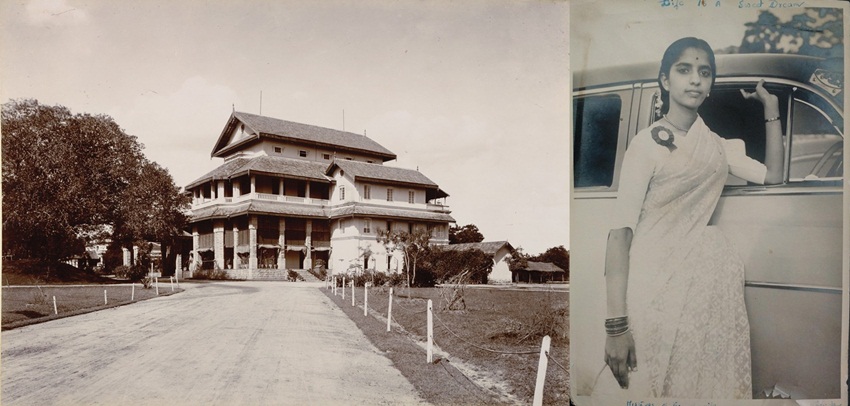 (left) A view of Secunderabad Club via Wikimedia Commons Images from the Macnabb Collection (Col James Henry Erskine Reid) and Nirmala Reddy Photograph via Archana Pidathala
If you find yourself dining by the verdant Fountain lawns of the Secunderabad Club on a Thursday evening, you may hear an old-timer order for Nirmala Reddy's appam. Appam (savoury rice crepes) is the Thursday night special at this 138-year-old historic club and is usually offered with a pairing of vegetable stew, chicken curry or mutton curry. Appam and Andhra-style chicken curry were amongst the numerous recipes my grandmother Nirmala Reddy, or ammama as I called her, demonstrated at the club's heritage kitchen several decades back. My grandparents' association with the club started in 1965 and the Secunderabad Club is an integral part of my memory of ammama. I remember ammama's childlike enthusiasm for the tambola nights, dandiya nights, and Christmas parties at the club. She served on their house committee for a few years and is still fondly remembered by the members of the club for her culinary knowledge and skill.
Appam was a rare treat for us at home. On the days when my grandmother would make appams for us five grandchildren, we would literally eat them off the pan, jostling each other for a larger share. Ammama's appams were airy, slightly crisp at the edges and fluffy in the centre. It wasn't until I began research for my book Five Morsels of Love that I learnt that the appam we had at home was slightly different from the classic Kerala dish. Ammama used urad dal instead of toddy or yeast to aid the fermentation process. Occasionally, she would add freshly pressed coconut milk but more as an exception than a rule. Amamma would add sago ganji for texture and colour (as the sugars released from the sago during fermentation caramelize during the cooking process). As in any Andhra household, our dining table would be replete with spice powders and pickles, which were perfect accompaniments for the hot appams.  However, my favourite way of eating appam is with spicy chicken curry cooked country-style.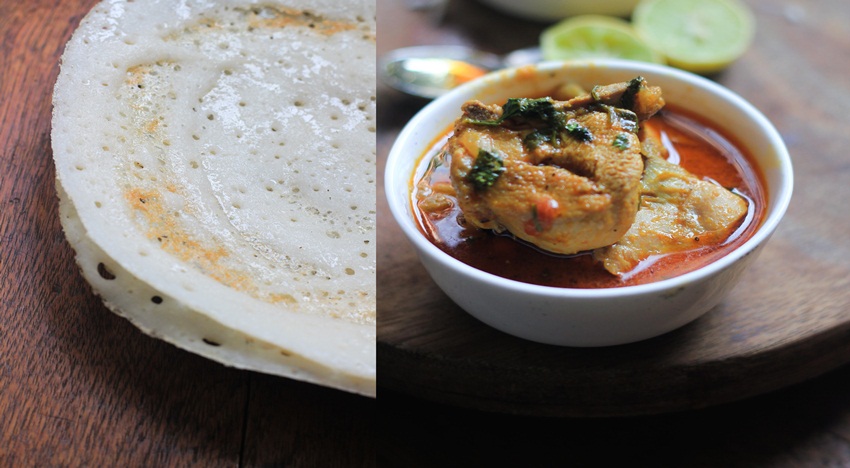 (left) Appam and Nāṭukōḍi Karamu Pulusu Photographs by Chinmayie Bhat
I was overjoyed when my grandfather told me, a few weeks ago, that the library committee at the Secunderabad Club bought a couple of copies of Five Morsels of Love to make them available in their reference section. Images of the club's tree-lined boulevards, colonial buildings and the wood panelled library floated across my mind and I now know my grandmother is immortalised in a place that she loved spending time at.
With generous inputs from my grandfather G. Kumaraswamy Reddy and my cousin Pooja Reddy (Morsel #4)
Five Morsels of Love is a collection of over 100 heirloom recipes based on G Nirmala Reddy's 1974 Telugu cookbook Vanita Vanṭakālu. The book is available for sale for Rs 1699 + shipping here.
RECIPES
NIRMALA REDDY APPAM

Ingredients
Makes about 12 appamas

2 cups – Rice
½ cup – Parboiled rice
½ cup – De-husked, split black gram (urad dal)
⅓ cup – Sago
Salt to taste
A pinch of sugar
Aa pinch of baking soda (soda bi-carbonate)
Sufficient vegetable oil to cook the appams
Method
It is best to start the process the day before you plan to serve the appams, as the batter needs to ferment overnight.
Wash the rice, parboiled rice and split black gram well and soak together in plenty of water for 6-7 hours.
Drain and grind along with 120ml / ½ cup of water for 3-4 minutes in a mixer / food processor.
Now add another 120ml / ½ cup of water, scrape down the sides of the jar, and grind to a smooth batter.
Transfer the batter to a large bowl and set aside.
Soak the sago in 240ml / 1 cup of water for an hour in a pan until it swells up slightly.
Now bring the sago to a boil over high heat.
Reduce the heat to medium and cook till the pearls turn translucent.
Turn off the heat and set aside to cool.
Once completely cool, add the sago ganji to the batter and mix. Cover and let the batter ferment overnight.
The next morning, the batter would have fluffed up.
Add the salt, sugar and baking soda and mix again. Set aside for 10 minutes.
Heat a non-stick appam pan over high heat until hot.
Reduce the heat to medium and pour a large ladleful of batter in the middle.
Swirl the pan holding both the handles to spread the batter along the circumference of the pan.
This results in a crepe that is thin at the edges and has a thick, spongy centre.
Pour 1 teaspoon of oil around the edges of the appam.
Cover with a lid and cook till the edges turn wheatish in colour and the appam looks cooked.
Remove the lid and gently lift the appam off the pan with a spatula.
Serve hot with chicken curry
NĀTUKŌDI KĀRAMU PULUSU
Spicy andhra-style chicken curry
Slow cook country chicken in a gravy made of browned onion, tomato, fresh ginger-garlic paste and a coconut-coriander masala mixed in buttermilk.
Ingredients
Masala
3 tbsp – Shredded, dried coconut
1½ tbsp – Coriander powder
2 – Cloves
2 – Green cardamoms
A small piece of cinnamon
60ml / ¼ cup – Buttermilk
3-4 tbsp – Vegetable oil
2 – Cloves
2 – Green cardamoms
1 inch-piece – Cinnamon stick
2 – Onions, chopped
4 tsp – Ginger-garlic paste
2 – Tomatoes, chopped
1 tbsp – Red chilli powder
¼ tsp – Turmeric powder
Salt to taste
1 kg – Nāṭukōḍi (free-range, country chicken), washed and cut into medium-sized pieces
1 tsp – Garam masala powder
1 tbsp – Ghee
4-5 tbsp – Chopped coriander leaves, to garnish
8-10 – Fresh curry leaves
Method
To make the masala, grind all the ingredients except the buttermilk, with a splash of water to a paste in a mixer / food processor.
Now add the ground masala to the buttermilk and mix well.
Heat the oil in a deep, heavy-bottomed pan over high heat until very hot.
Add the cloves, cardamoms and cinnamon and fry for a minute.
Reduce the heat to medium, add the onions and fry for 7-8 minutes, stirring occasionally, till they turn golden-brown.
Add the ginger-garlic paste and sauté for 3-4 minutes.
Add the tomatoes, red chilli powder, turmeric powder and salt, and fry till the tomatoes soften.
Add the masala-infused buttermilk along with 60ml / ¼ cup of water and bring to a boil.
Add the chicken, cover and cook on medium heat for 5 minutes.
Add 240 ml / 1 cup of water, mix well and continue to cook uncovered for 15-20 minutes or until the chicken is fully cooked.
Add the garam masala, mix well and cook on low heat for 1-2 minutes more.
Drizzle the ghee over the curry and garnish with coriander leaves and curry leaves.