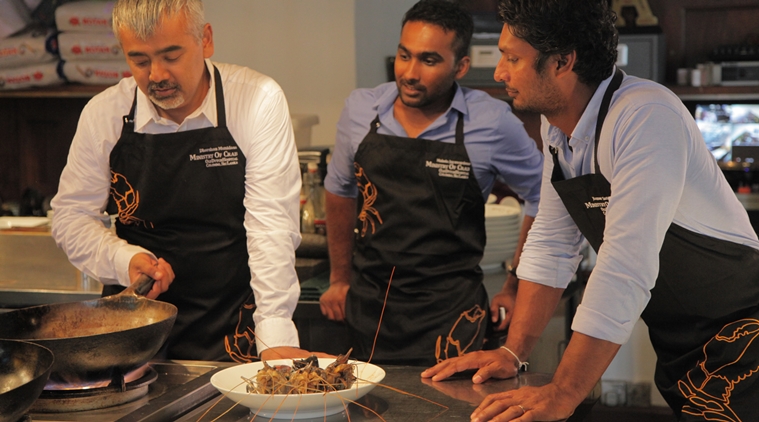 (From l-r) Chef Dharshan Munidasa, Mahela Jayawardene and Kumar Sangakkara at their Colombo-based restaurant Ministry of Crab
Which of your cricket mates are big foodies?
A lot of them including Kumar Sangakkara. It's also the reason why we're such good buddies. We've tried various kinds of cuisines and eaten out together a lot. In fact, most cricketers are curious to try out all kinds of food. Ross Taylor and B Mac (Brendon McCullum) are two others who are really into food.
Where do you go to eat out in Sri Lanka and when you travel abroad?
I really enjoy eating at Gallery Café in Colombo, besides MoC, of course. Gallery Café has been consistent in its standard. I also try new restaurants every time I travel and have been to some amazing places in Cape Town, some really posh restaurants in London with great food.
Have you had any other memorable meals abroad?
Christina (wife) and I love dim sums. I remember we went to A Wong, a Chinese place in London a few years ago and really enjoyed the dim sums there.
How did Ministry of Crab (MoC) come into being?
Darshan (Munidasa, chef) was the one who came up with the concept. He approached Kumar and me. We knew that he's a real genius and let him realise the vision that he had for MoC. Kumar and I have learnt so much about food through MoC. We love new flavours and sampling all kinds of new dishes. When I went to Koh Samui, for instance, there were several small joints where the most basic dishes such as the wet curry fish were exploding with flavours. This is what we want to do with MoC – improvise on simple dishes and make them flavourful. Our focus will be on local produce and we want to keep the vibe casual.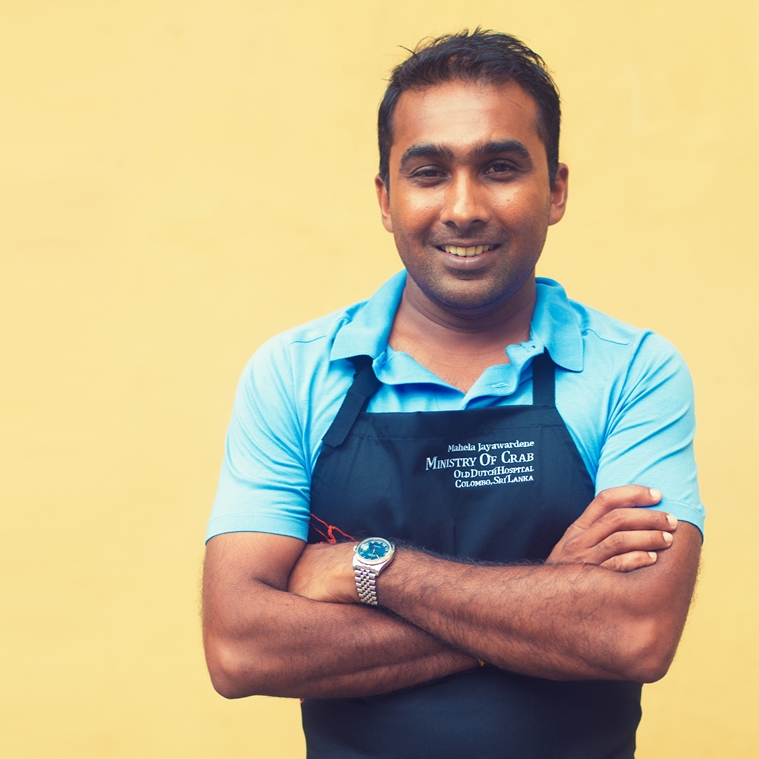 Mahela Jayawardene
What are some of your favourite food memories?
Who doesn't recall mom's cooking when they think of food? It's hard to go past it. Traditional red rice and curry is what I grew up on. I began to try new cuisines only when I started travelling. Travelling with Christina has particularly changed my food tastes and we always seek new restaurants known for great food. Chefs are big on details and are so committed to their craft that it is important to appreciate it.
What is one staple in your refridgerator?
Dal! (laughs) I love dal and try and have dal curry with all my meals. So there's always either frozen or cooked dal in my fridge. This could be either Sri Lankan dal or another variation.
Are you fond of desserts?
Indeed, I am (laughs). I really love my chocolates. Kandos, a popular brand in Sri Lanka is a local chocolate that was a favourite and I've acquired a fondness for many other brands during my travels.
Do you have a favourite Indian dish?
I remember eating at Bukhara a few years ago and still recall the tender slow-cooked lamb. It was off the bone and was delicious. I also like many South Indian fish dishes. During my time with Kochi (Kochi Tuskers Kerala) in the IPL, we took boat trips, and had freshly caught fish that was prepared right in front of our eyes. That was fantastic.
What do you love for breakfast?
Especially because I'm a sportsman, my breakfast is quite traditional and basic. It's toast and eggs mostly.
What about when you go on a diet?
For one, there's no junk food. When we travelled, there would be such good food prepared in so many different ways but all of that was just to be looked at. I had to stay away from sweets as well. As sportsmen, we had to make sure we got proteins, healthy carbs and a lot of fruits and veggies for nourishment.
Are you a good cook?
No, no. I love sampling food but  I am not a very good cook (laughs).I can manage a decent dal at the most.
Any spices that you love?
I love my chillies. I like chilli powder because I enjoy that extra hit it adds to the food. The Sri Lankan curry powder is also another favourite. It's extremely flavourful and is a blend of various spices.