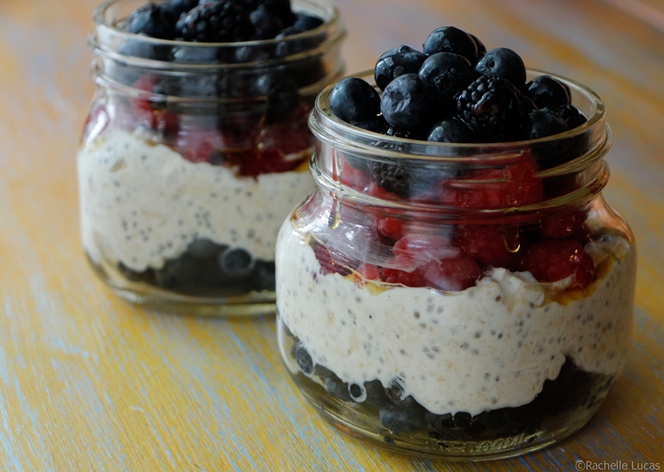 Fruits not only add more flavour to overnight oats, but also supply vital nutrients. Source: Rachelle Lucas/Flickr
Hailed as one of the biggest trends of 2016, overnight oats have graced the Instagram profiles of scores of people looking for a quick, hassle-free breakfast that tastes as good as it looks. This popular breakfast modification, although, is something which has been around since a while now. Back in 1990, a Swiss doctor created this recipe, in a bid to provide a nutritious meal to his hospital patients. A really simple food to put together, overnight oats uses a mix of raw oats, soaked overnight in milk or yoghurt and served raw with fruits and nuts. The rich pudding-like consistency of this simple dish has earned several fans but it is the health benefits that are truly worth a mention. Loaded with fibre, beginning your day with a serving of oats ensures that you stay full for longer. This is because the fibre is digested slowly and causes the release of digestive juices that suppress appetite and aid with weight loss. Oats are also extremely beneficial for heart health – the beta glucan fibre in oats is known to be a cholesterol inhibitor. The fact that they take barely a few minutes to make, also contributes to their popularity, especially in a time when everyone seems to be in a hurry and has places to be. All it takes is simple pre-planning, and you're all set with a healthy breakfast the next day. A lot of recipes use fruits which not only increase the flavour but also bring in the goodness of vitamins, minerals and antioxidants essential to keep you healthy. Adding a handful of nuts and seeds like chia, pumpkin seeds or sunflower seeds is also a good idea as they add a bit of crunch and texture to the mix. These are fairly neutral in taste but are loaded with a host of nutrients that could fire up your metabolism. Getting the recipe perfected for this breakfast option isn't really rocket science. But if you're just starting out, here are a few simple recipes to help you eat a healthy, hearty breakfast:
This recipe by Quaker oats is simple and uses just milk and yoghurt to give you a delicious, chilled meal in the morning. 
If you're vegan, or gluten-intolerant or simply want to do away with gluten in your diet, this recipe is perfect. Dates added to the mix add flavour and provide a bunch of nutrients like iron, natural sugars, magnesium, zinc and vitamins. Here's how this one's made:
Love chocolate? Add it to your overnight oats! Banana, milk (dairy or non-dairy) and Greek yoghurt thrown in with some rich cocoa powder is all it takes to begin your day with a "healthy" chocolate hit. Watch how it's done: