The boughs have been decked and unlike Santa, our list only focuses on the nicest places to grab a hearty meal during the festivities. Here are our top picks for lunch, dinner and brunch in your city.
Mumbai
Craft Deli.Bistro.Bar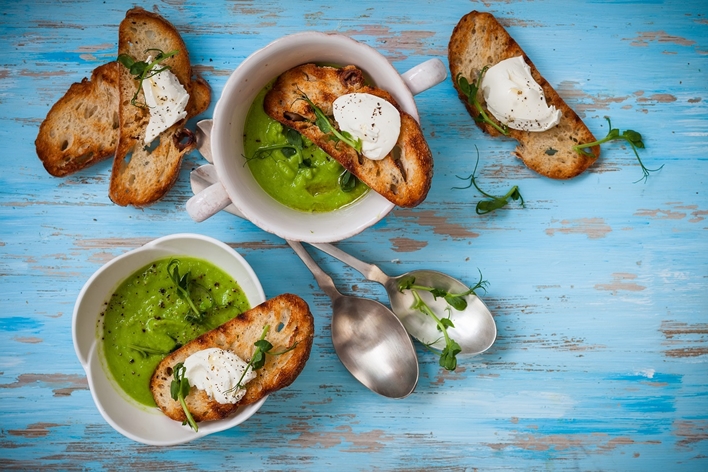 Crostini at Craft Deli.Bistro.Bar
This festive season, Chef Paul Kinny rolls out a lavish 7 course meal. The Bistro spread includes made-to-order thin, crisp pizzas, roasted turkey roulade, Mexican-Style Empanadas stuffed with cranberries among others. To make your celebration even more spirited, paired with unlimited delicious tipples, sangria, craft beers and more hooch from the Bar. Deli delights feature an assortment like plum pudding, plum cake, stollen (traditional German bread with candied and dry fruits, and more to end the meal on a sweet, decadent note.
Where: Level 1, Phoenix Marketcity Kurla, LBS Marg, Kurla W
When: Ongoing, till January 5 2017, 11:30 am to 11:45 pm
Call: 61802073/74
Cost: Rs 1199 per person + taxes
The Sassy Spoon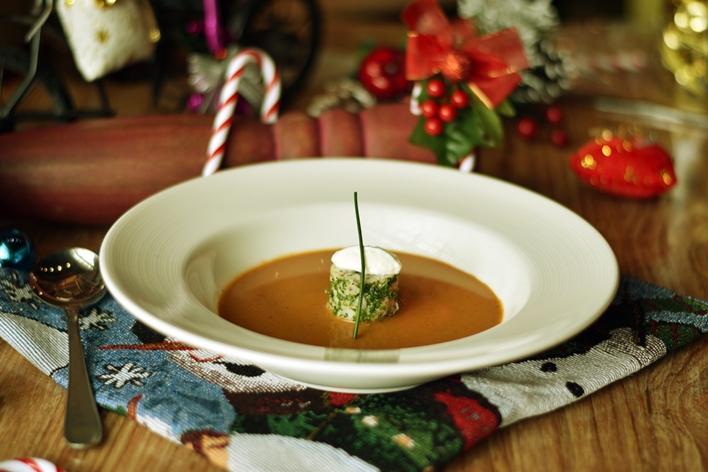 Roasted pumpkin soup with coconut milk panna cotta at The Sassy Spoon, Bandra
Whether you're in town or in the suburbs, The Sassy Spoon has a special Christmas menu offering a mix of traditional and delicious favourites. The menu at the Bandra outpost is loaded with dishes like roasted pumkin soup with coconut milk panna cotta, pan seared John Dory with charred corn and tangy chimichurri salsa, plus a traditional turkey with classic pairings like sweet potato chips and cranberries. Thos heading to the Nariman Point outlet can expect Swiss chard and ricotta gnocchi with Parmesan fondue, smoked ham leg and onion quiche served with a rich port wine reduction. Desserts from the festive special menu are in line with the theme and offer options like chocolate ganache loaded yule log, pumpkin spice cake served with rum and raisin ice cream as well as bread and butter pudding loaded with booze.
Where: Classic Corner Building Hill Road, Bandra West and
Ground Floor, Express Towers, Nariman Point
When: Ongoing, till December 31, 12pm to 12am (Bandra) / 12pm to 3:30pm and 7pm to 12pm (Nariman Point)
Call: 86555 55555 (Bandra) / 99200 03500 (Nariman Point)
The Clearing House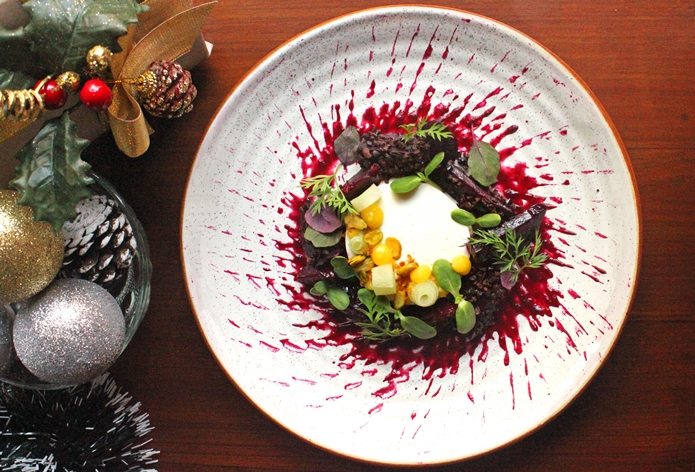 Roasted baby beets from the Christmas dinner menu at The Clearing House, Ballard Estate
One of Mumbai's most talked about eateries, The Clearing House has a limited edition menu where classics combine with seasonal specials. The à la carte dinner menu includes hearty delights like roasted baby beets with smoked yoghurt and cocoa butter, and braised New Zealand lamb shank for the meat eaters. Dessert here is just as lavish with lemon mascarpone mousse, fig and red wine cake, rich crème fraiche sorbet and more.
If you're the kind who prefers a scrumptious brunch, there's one spread out on Christmas Eve here. The traditional spread is exhaustive, with salads, mains, breakfast specials and desserts. Begin with slow cooked prawn sliders or dig into the strawberry and avocado salad for a healthy, delicious bite. There's also cheesecake French toast, Belgian chocolate chip pancakes with salted caramel whipped cream to give the breakfast bit of your brunch a unique twist. Take your pick from mains like roast turkey with stuffing and cranberries, honey chipotle red snapper and more. Christmas pudding, fig frangipani pie, delicate looking raspberry macaroons and more make up the dessert spread and unlimited bellinis, mimosas, beer, cocktails along with premium wines and spirits to complement all the food.
Where: 13-15, Calicut Rd, Ballard Estate, Fort
When: Dinner on December 24 and December 25, 8pm to 10pm
Brunch on December 25, 12pm to 3:30pm
Call: 6223 2266/ 67
Cost: Rs 2600 +taxes for brunch
Hakkasan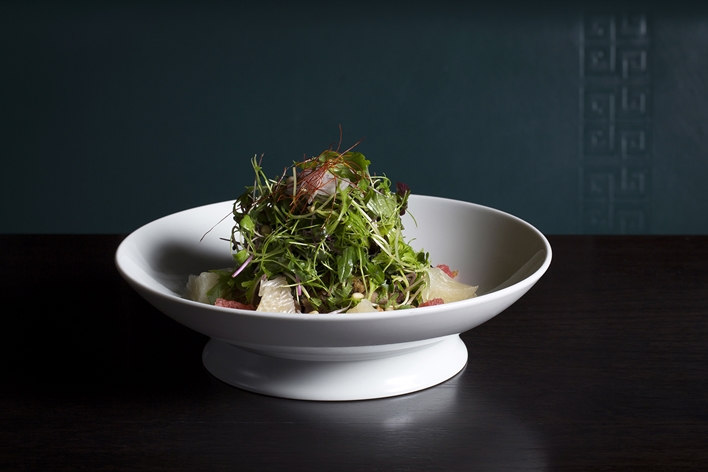 Crispy duck salad at Hakkasan, Mumbai
Those with a weakness for all things Asian can head to Hakkasan for their Christmas brunch. A specially curated spread will include signature dishes and drinks from the restaurant's menu. Vegetarians can tuck into the crystal dumplings, pan seared veg satay bun, wild mushroom clay pot, among other things. The non-veg spread promises crispy duck salad, Chinese chive dumpling with prawns, steamed Indian salmon in home-style chilli sauce, curry leaf flavoured stir fry chicken and more. Paired with cocktails, premium wines and beer and desserts like lemongrass and vanilla crème brulee, lemon and sesame tart, we recommend a leisurely nap post this brunch.
Where: 206, Krystal, Waterfield Road, Linking Road, Bandra West
When: December 25, 12pm to 5pm
Call: 26444444
Cost: Rs 1950 (without alchohol), Rs 3000 (with alcohol). Tax not included
Monkey Bar – Mumbai, Delhi, Kolkata, Bengaluru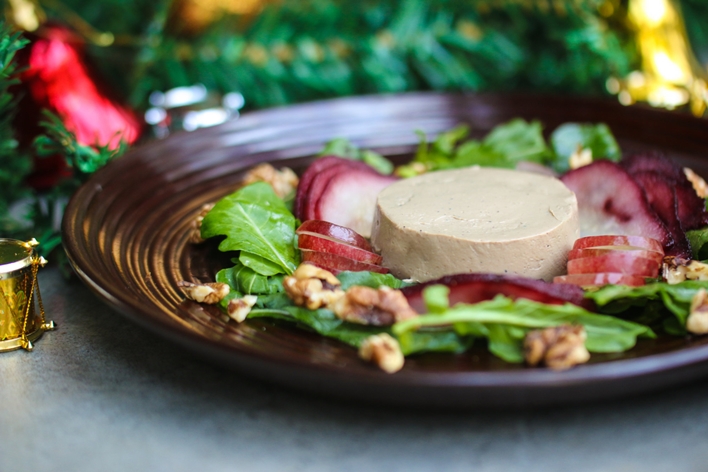 Chicken liver pate at Monkey Bar. Photograph by Kunal Chandra
The special British menu at Monkey Bar will include small plates, mains, desserts and cocktails. Prawn cocktail tartlets, pigs in a blanket, chicken liver pate and more will be on offer from the small plates. Pair these with flavoured Gin and Tonics like cucumber and mint, elderflower and bloody mary or go for Christmassy classics like cinnamon, honey and spice loaded hot toddy. For the meat eaters, mains include shepherd's pie, roast chicken, lamb hot pot, the Brit favourite fish and chips as well as veggie delights like curried vegetable pot pie. The dessert spread does not dissapoint either with bread and butter pudding, MoBar trifle and Xmas tree macarons doing the honours.
Where: Monkey Bar outlets in Mumbai, Delhi, Kolkata and Bengaluru
When: December 24 and December 25
Cost: Available à la carte or as three course meals – Rs 650 plus taxes for vegetarian and Rs 750 plus taxes for non vegetarian option
Bengaluru

Smoke House Deli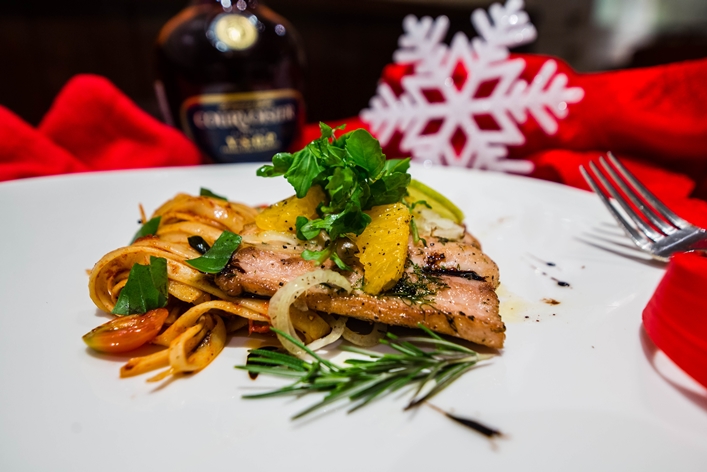 Fresh Mahi Mahi + fettuccine AOP, arugula salad at Smoke House Deli, Bengaluru
Bangalore's Smoke House Deli in Lavelle Road and Indiranagar have a special menu in place till Christmas Eve. The SHD feast includes spice cranberry redux and caramelized figs salad, mains like roasted pumkin and lemon mascarpone risotto, fresh mahi mahi and fetuccine aglio olio, savoury classics like bread sausage pudding and more. There's also an eclectic selection of desserts like yule log, chocolate mud, christmas fruit trifle among others. Call for some mulled wine or pick from the wide range of premium red and white wines to wash all the food down.
Where: Ground Floor, No. 52,53, Lavelle Road, Bengaluru
No. 1209, Ward No. 72, Hal IInd Stage, 100ft Road, Indiranagar, Bengaluru
When: December 24 and December 25, 12pm to 1am
Call: 080-40515151
Gurgaon

Olive Bistro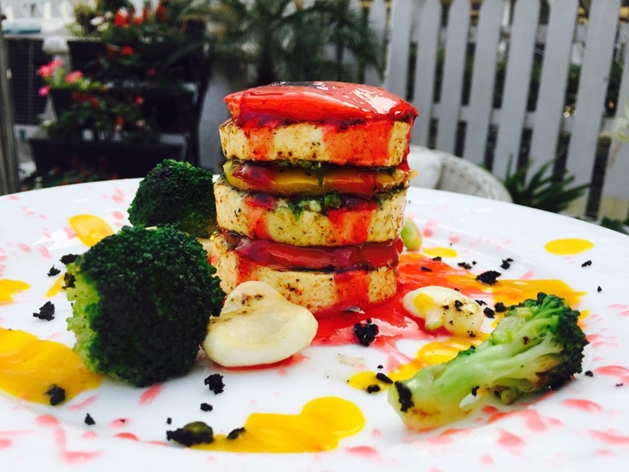 Marinated Cottage Cheese Steak at Olive Bistro, Gurgaon
Cyberhub's Olive Bistro has a three course special meal available till Christmas Eve. There's going to be house-cured Scottish-style fennel salmon with white wine poached plum, spice roasted lamb shoulder, prawn ravioli and more. We also love the sound of marinated cottage cheese steak, roasted bell peppers that will add a bit of warmth to the North Indian winter chill. An exotic cheese cake, rich chocolate yule log and Christmas pudding and other desserts will mark the end of the delicious feast.
Where: Olive Bistro, CyberHub, Shop No 101, DLF Cyber City, Phase 2, Near Building No 2, Gurgaon
When: Ongoing, till December 25, 12pm to 12am
Call: 0124 6518803