Yakhni, a Kashmiri staple made with mutton, minimal spices and curd Photograph via Authenticook
I grew up and studied in Jammu and did my post graduation in theatre arts in Chandigarh. Until I moved to Chandigarh, I didn't know how to even make tea, but I learnt the basics and sometimes made Maggi because the hostel or mess food was unpalatable on some days. When I moved to Delhi to study at the National School of Drama, there was no mess and no money. That's when I began to get interested in cooking. Nobody taught me how to cook. All I had were memories of my mother's cooking and when I was unsure about a recipe, I used to call my bhabhi (sister-in-law) for help. After I moved to Pune in 2011, I finally found time to cook and a family friend pushed me to take part of the World Dhaba Food Festival in 2014, which is where someone from the Authenticook team tasted my food and convinced me to host a meal. I have always cooked using my mother's recipes.
Jammu was and still is a small city. I remember Nanak Nagar Colony, where I grew up, was newly built, but we had very little water and no electricity. There was a single tap by the roadside where my mother used to queue up to fill water. On purnima or full moon days, both my parents used to fast. For dinner, I still recall very well, there was always rajma-chawal and one vegetable dish. We couldn't afford to buy a pressure cooker and the rajma cooked for hours on the stone choolah (stove). One day, my mother had left the rajma to boil and stepped out to fill water when she heard the tap running. When she returned, the rajma was burnt beyond repair and she burst into tears. It was a moment of distress for the whole colony: Ab Sheela Devi ke husband kya khayenge? (What will Sheela Devi's husband eat?) A neighbour, who my mother didn't like very much, insisted that my mother borrow her pressure cooker to cook a fresh pot of rajma and the day was saved. From that day on, they were thick as thieves.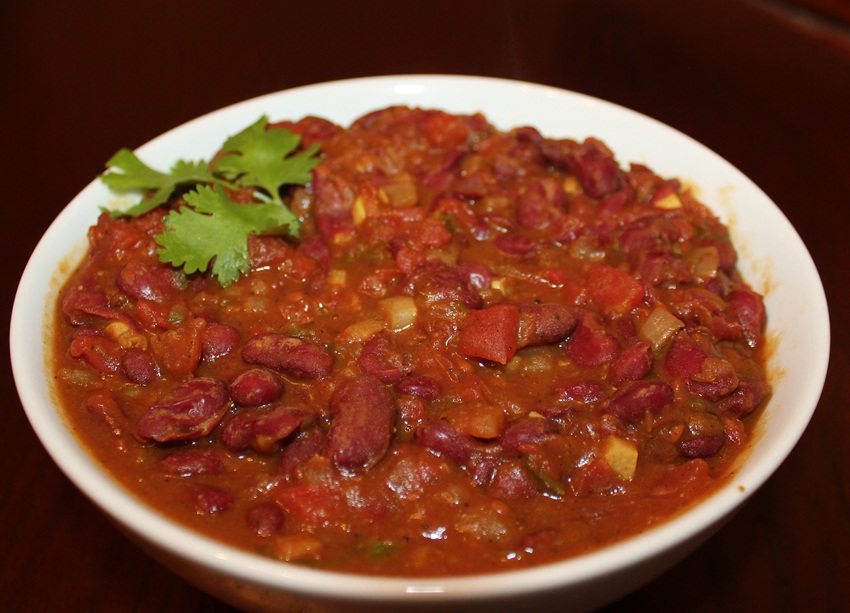 Rajma made from red kidney beans was another favourite in the Sachar household. Photograph by Scott Veg/Flickr
We had one kitchen inside the house and another outdoor kitchen. While our breakfast of parathas and chai cooked on the main burner, the side burner was meant for lunch or dinner. So dals or meat dishes would be cooking on it since the heat from the side was less. It was as if it was cooking on a sim flame. Meat was cooked on Wednesdays and Sundays. It was always made for dinner and it was mostly mutton because chicken was costlier back then. Whenever my mother made yakhni, she would give my brother and me a glass of just the liquid or what we called soup after dinner. We loved the yakhni soup and would drink up our glass as we walked around the house.
No chillies or garam masala is added to the yakhni. But like most Kashmiri dishes, the yakhni too is cooked with curd to counter the other spices used to make it. It is always the chest meat that is used to make yakhni because the bones need remain intact and not fall off the meat even after the mutton is well cooked. The ingredients are curd, ginger powder, fennel seed powder, a little pepper powder, a stick or two of cinnamon, a few pods of cardamom cooked whole with the mutton and salt. That's it. The weight of the curd is equal to the weight of the mutton.
We used to sit on the floor in the middle of the hall and eat dinner together. One plate and one katori. That is all we ever needed. And a glass of yakhni soup after dinner.
As told to Lalitha Suhasini
Narendra Sachar and his wife Maya, an expert at making desserts, host a traditional Kashmiri wazwan at their home in Pune this weekend. The multi-course wazwan also includes roganjosh, tawe wale kukkad (chicken drumsticks cooked on a tawa), and phirni among other dishes. Of course, there's Zafrani Kahwa – Kashmiri tea made with saffron, cardamom and almond slivers – to accompany the meal.
When: November 20, 1 pm
Where: Gaikwad Nagar, Aundh, Pune
Cost: Rs 999
Book on authenticook.com