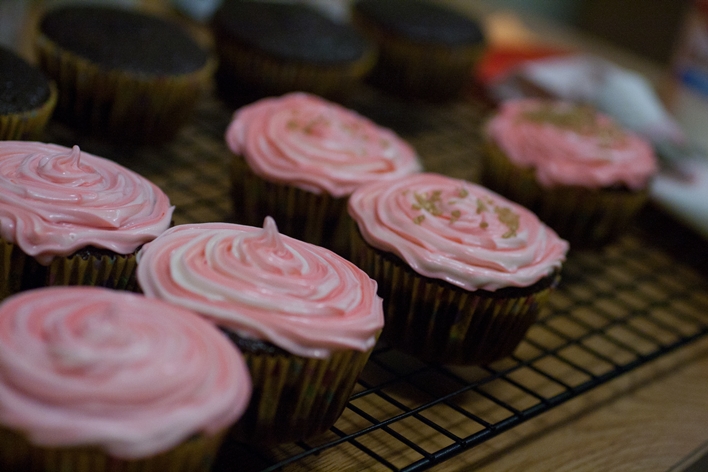 Decorating cupcakes is easy, once you understand basics. Image source: (Mariam)/Flickr
Baking cupcakes, cakes or making desserts isn't all that difficult, especially if you've got enough practice and know your basics well. Of course, the job doesn't end here. It always helps if you can pretty up the dessert. A well decorated cake or cupcake looks a lot more appealing than a simple sponge cake that's been cooled straight out of the oven. Most of the desserts and baked goodies gracing Instagram and Pinterest feeds are elaborately detailed, decorated with pretty-looking bells and whistles and definitely call for pro level expertise. As beginners, we can only aspire to reach that stage. In the meanwhile, it'd help to understand a few basics of cake and dessert decoration.
Classes that cover basics of decoration surely help to help you understand simple techniques and handle different tools with ease. Once you've covered the basics, you can begin playing with ideas and create wonderful desserts that will come handy when you're entertaining or making a cake for a loved one's birthday. We've picked a few simple videos to help you understand the basics and get started with creating fabulous, picture-perfect baked goodies.
Easy cake decoration
For those starting out with baking cakes, perfecting frosting can be a bit of a challenge. Simpler decorating ideas work better and this video delivers just that. All you'll need is confectioner's sugar and cocoa powder to create eye-catching patterns that look like you've put in a lot of effort creating. Make sure that the cake has been cooled well before – the powdered sugar may melt off and could ruin the overall effect of your cake. You can also use these cake decoration ideas to dress up flourless cakes, since they can't be frosted like regular cakes.
Cupcake piping
If we're to be honest, a lot of the appeal of a cupcake rests with its frosting. So if you're the kind who enjoys cupcakes and want to learn how to make pretty, swirl loaded cupcakes, invest in a few basic piping nozzles. Knowing how to make buttercream frosting is, of course, essential. You can then begin experimenting with colours and create delicious, dainty treats.
Chocolate decorations
This one's slightly advanced and is perfect for those looking to expand their idea bank when it comes to decorating buttercream frosted cakes and cupcakes. These chocolate decorations also work well with desserts served in shot glasses. Using good quality chocolate is a must as it will help preserve the texture and look of your decorations.