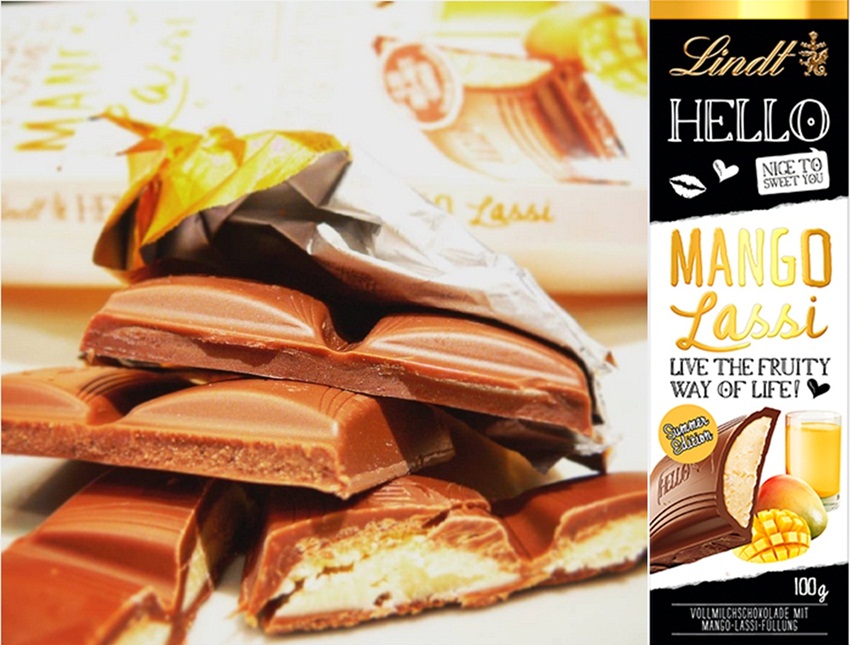 (Left) Photograph by chocoland.hu/instagram and (right) via Lindt
Some four years ago, a crate of mangoes were shipped to Queen Elizabeth II from Mumbai's Crawford market, setting to rest all doubt that the Indian mango mania had spread across the world. More recently, everybody has taken a fancy to mango lassi, with the drink being in demand at Indian restaurants from London to Boston. Last year's MasterChef Asia winner Woo Wai Leong breezed through his final pressure test with a Gaggan Anand-inspired mango lassi dessert. As the world wakes up to the Indian export, Swiss chocolate manufacturers Lindt give us another reason to celebrate the yogurt-based drink with the recent launch of their Mango Lassi flavoured chocolate.
The origins of the mango lassi are open to national debate. Punjabis invented the original sweet (and salted) lassi, but everyone from Gujaratis to NRIs in the US, of course, and Punjabis have staked claim on the mango lassi recipe. Traditionally made using fresh, ripe mangoes that are churned into sweetened or unsweetened milk, the recipe also uses mango pulp when the fruit is no longer in season. While there are other fruit lassis that are popular in India including the strawberry lassi, chikkoo lassi and the banana lassi, the mango has always been a favourite through the year.
Lindt too has other fruity flavours including raspberry as part of its Summer Edition of the Hello range of chocolates and strawberry cheesecake in another category, but mango lassi is the only Indian flavour in its collection as of now. The chocolate bar with a mango yoghurt filling is gluten free and is available to order here at Rs 545 a pop.