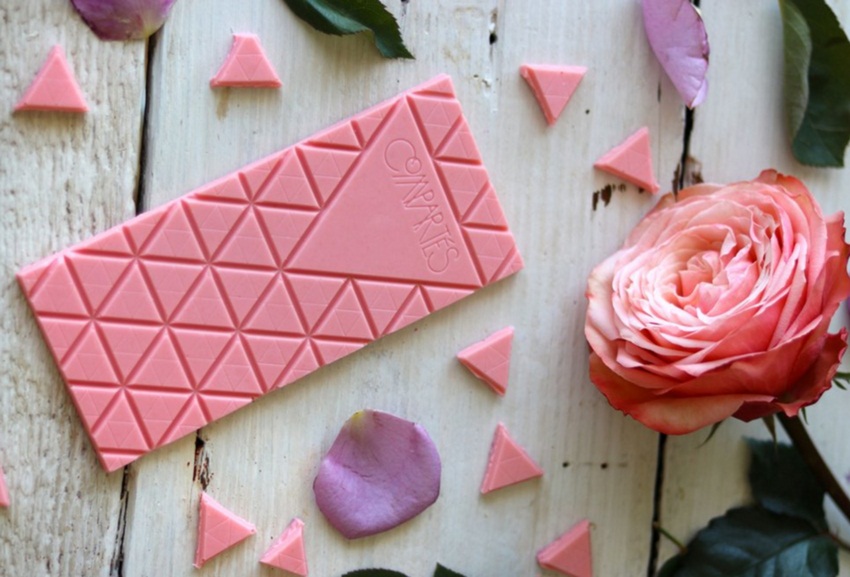 Roses & Rosé Photograph via Compartes
First there was wine ice cream, a couple of months ago, and now we have wine-infused chocolate. Los Angeles-based gourmet chocolate company, Compartes, has recently launched a rosé wine chocolate that contains both wine and crystallised rose petals. Since dark or regular chocolate almost always overpowers any other flavour, the chocolate manufacturers chose white chocolate for Roses & Rosé, which is what the blush-coloured bar is named.
Rosé definitely seems to be the flavour of the season since this is the second time we're craving rosé-infused treats. Just a few weeks ago, Sugarfina, yet another Los Angeles-based company that manufactures gourmet candy, believe it or not, launched gummy bears filled with rosé. No sooner than the news broke, they were sold out and there's now an unbelievably long waiting list for these wine-filled gummies.
Roses & Rosé, on the other hand, which is available to order online (unfortunately, they don't ship to India as yet and your best bet is to ask that good friend in Singapore or whoever's travelling to the US or the UK to bring you back some of these bars. And nope, Dubai isn't on their shipping list either) is priced at $10 a bar. Since the chocolate costs almost as much as a bottle of domestic wine, would lovers of white chocolate and wine be willing to share the bar? We're pretty sure that few would be happy to pass this around.
The boozy chocolate is filled with French rosé according to Compartes's website and we hope that it tastes as good as it looks. How many bars to get high? We're going to find out soon.