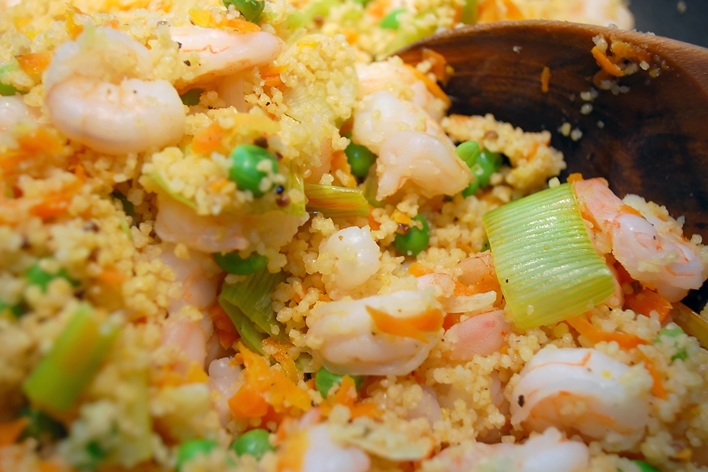 Prawns and couscous salad with veggies and feta cheese. Source: Gnawme/Flickr
Packing lunch for work is always a tricky thing to master, especially if you're trying your best to stickt to your diet and not call for a takeout. You want something that is wholesome and filling, so that you don't snack (too much) after. Heavy meat or carb-loaded dishes are out of question, as they only serve to bring on a snooze-storm at the desk. Salads are a perfect choice – full of veggies, high on fibre, light yet filling. But let's face it, after rotating the same three recipes during the week, your taste buds begin to protest and crave unhealthy 'solutions' like fries or burgers. This prawns and couscous salad is a delicious dish that can add a bit of variation to your meals at work, with its fresh, light Mediterranean flavours. It's easy, and takes barely 10 minutes to throw together, with a bit of chopping and cleaning. You can have it warm or cold, and make your work lunch a delicious, healthful treat.
Ingredients:
Serves: 4
130g couscous
500g prawns, medium sized, peeled and deveined
4 ears corn, kernels separated
1 zucchini
60g crumbled feta cheese
130g parsley leaves
130g sweet basil leaves
30ml extra-virgin olive oil, plus 1 tbsp extra
1 large lemon, juiced
Salt, to taste
Pepper powder, to taste
Method:
Wash, peel and de-vein the prawns. Chop the zucchini into crescents that are neither too thick or too thin. Set aside
Place couscous in a large bowl. Boil about 130ml water and add it to the couscous. Season with salt and pepper, cover and let it sit for 5 minutes. Use the fork to fluff the couscous.
In a food processor, combine the parsley, basil leaves, oil and lemon juice. Season with salt and set aside for use as dressing.
In a large pan, cook prawns over medium high heat. Make sure to cook for no more than 4 to 6 minutes or till the prawns begin to turn opaque. Remove immediately from heat to prevent overcooking.
Add prawns to couscous. Mix in the zucchini, corn, crumbled feta cheese. Drizzle the herb dressing, toss to mix well and serve.
Recipe source: delish.com