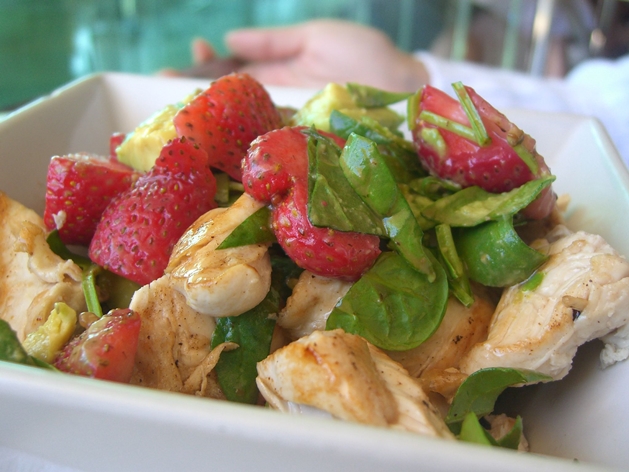 Image source: Alpha/Flickr
Salads are a delicious way to eat healthy and make for great additions to your table when you're hosting. There are classics that are tried and tested, but every now and then, a bit of variation is what we all need. This grilled chicken salad is a simple, hearty salad that's made extremely refreshing with strawberries, that are thankfully in season right now. It's healthy, light, easy to make and looks absolutely gorgeous with bright colours from all the veggies that are thrown in.
Ingredients
Serves 4
For the dressing:
60ml extra-virgin olive oil
2tsp lime zest
3tsp lime juice
2tbsp honey
Freshly ground black pepper
Salt to taste
For the salad:
1 head romaine lettuce, roughly torn
2 chicken breasts
150g strawberries, sliced
50g feta cheese, crumbled
100g peas, cooked
1 sliced zucchini
50g onion, sliced
Method:
In a non-stick pan, heat a small amount of cooking oil on medium flame. Cook chicken breasts, turning on either side for not more than 5-6 minutes. When cooked well, remove from heat and slice the chicken breasts.
In a mixing bowl, combine the olive oil, lime zest, juice and honey. Whisk vigourously till all ingredients combine well. Add salt and pepper, adjust seasoning as per taste and set aside.
In a large bowl, add the romaine lettuce and add chicken strips. Add in the strawberries, crumbled feta cheese, peas, zucchini and red onion. Add salt and pepper and drizzle the dressing. Toss and serve immediately.
Recipe source: countryliving.com