A lunch thali, priced at approximately Rs 40, includes a dal, two kinds of curries, chapatis and white rice. Low oil cooking is the new focus at all police canteens
Every other year, a new Commissioner of Police, makes an attempt to change the eating habits of the police force in the city and improve their lifestyle. In 2005, well-known health and nutrition expert Anjali Mukherjee was invited by the then Commissioner of Police (CP), A N Roy, to helm a workshop on stress, weight loss and obesity for top ranking police officers. In 2013, former CP Satyapal Singh roped in fitness expert Mickey Mehta to help Mumbai cops get fitter with Mehta's yoga, fitness and diet plans. Mehta even offered cash rewards for those cops who succeeded in losing weight.
This year, Mumbai's new CP Datta Padsalgikar came up with a long-term plan to support a healthier diet and lifestyle: A brand new police canteen at Fort that will serve nutritious yet tasty food, and a more recent initiative which will see a seven-hour work shift being implemented on a trial basis at the JJ Marg police station in central Mumbai.
Twelve-hour days, fixed point duties at a chowky, where a policemen is stationed for at least 12 hours (9am-9pm) or bandobast duties lead to irregular meal schedules. Last year, 35 policemen died of heart ailments, and data suggests that 30 per cent of cops who die on duty suffered from heart disease. Timing and taste habits are the key challenges for cops to be able to stick to a healthy diet. Anup Kumar Singh, Joint Commissioner of Police (Adm) says, "There is no fixed lunch hour for the men deployed at police stations and our men are used to the red chutney and spicy Kohlapuri curries. It will take time to change all this." So police personnel end up eating lunch at odd hours such as 3 pm or even 4 pm.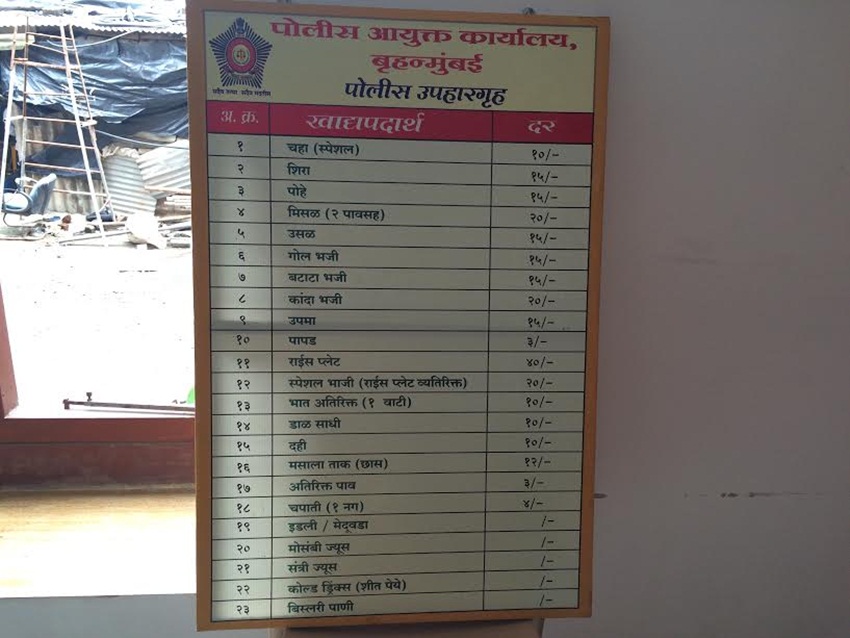 The menu at the Fort canteen
The police canteen at Fort, where Mumbai Police's headquarters is located, was set up three months ago. It's spanking clean with a menu that includes classic Maharashtrian snacks such as Misal (with two pavs for Rs 20), Poha (Rs 10) and Batata Bhaji (the fried potato vada that goes into the vada pav, Rs 24) besides fresh juices and a lunch thali (Rs 40). The catering staff has also changed and the kitchen is now run by the police welfare centre. Senior police inspector Dilip Shinde at JJ Marg Police station, says, "Since the time the sandwich was introduced on the menu, the bhaji orders have really decreased."
As if on cue, two female policewomen walk past our table with a plate each of two vada pavs. It is snack time and these ladies look fit enough to be able to put away two of these deep fried, spiced potato vadas without any guilt. A sheepish Shinde calls out to one of the service staff at the canteen, and orders him rather indiscreetly to tell the chef to not serve any fried foods until we've left the premises.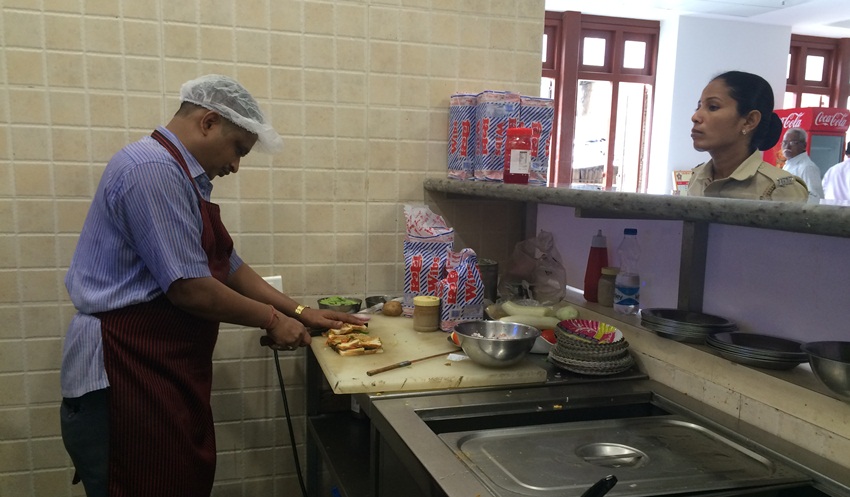 At the new canteen in Fort, the hope is that the vegetable sandwich will conquer over the vada pav
In 2009, the then CP D Sivanandhan roped in obesity and lifestyle disease consultant Naini Setalvad to create a healthy menu sans the vada pav, of course. Jt CP, Singh, has a different take on the Mumbai cop's favourite food. He says, "If we remove vada pavs off the menu, they'll just go out and eat it and this means they're spending more time out of the station."
Instead of doing away with vada pavs, the current CP and his team have devised a better plan. In June this year, Rajendra Mahadik, a sous chef from the Taj Mahal Palace Hotel, in Colaba, was invited to teach the kitchen staff at the recently set up Fort Canteen how to cook more nutritious food. "So now there's less oil, less salt and less sugar in the food," says Singh, "The sandwiches are a big hit since they are grilled."
The sandwich that is served to us is similar to the ones made on the street, and the amount of cheese on top of the sandwich is acceptable. The green coriander chutney has just the right amount of heat, and the bread slices are not slathered with too much butter.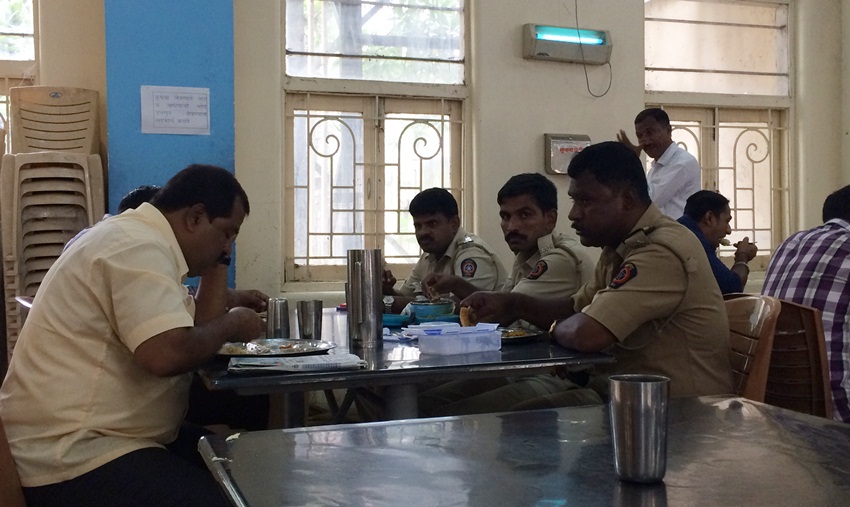 Most policemen pack home cooked lunch, says Vikas D Sonawane, who is the officer in charge of the Naigaon canteen
It's 1 pm by the time we head to the Naigaon Police Canteen, which is slowly filling up. En route we spot a few police women with plates of cut fruit at a street fruit stall close to the police station and senior inspector Vikas D Sonawane, who is also the officer in charge of the canteen, nods in approval. "Most of us bring our tiffin from home. I've brought food from home ever since I was a PSI (police sub inspector)," says Sonawane, who is also rather heavily built, "It's only during heavy bandobast time that policemen end up eating vada pavs and samosas because they don't really know when they will get back to the station and sit down for a meal."
The kitchen at the Naigaon canteen is also squeaky clean. For lunch, there's a spicy, watery vegetable curry of potatoes and cauliflower, a thin moong dal (lentils), another watery gravy of brown chickpeas or kala chana, white rice and three thick, wheat rotis. The focus is on keeping the oil content low. Non-vegetarian food is served only on Wednesdays and Fridays, and this mostly includes fish or chicken-based dishes. "The menu hasn't changed much over the years. We no longer make jalebis because the cook who used to make them passed away and we make sheera (a semolina-based dessert) instead," says Anita Avinashi Iswalkar, one of the cooks, who has worked at the Naigaon police canteen for the past 22 years, "We also stopped making samosas because they are really greasy, but we have the batata vadas as a staple."
To help wives of policemen cook healthier food, CDs of food videos have also been distributed by the Mumbai police. Says Singh, "Ultimately, the policemen have to want to make the change. You can only take the horse to the water."
Watch one of Nagpur-based chef Manohar Joshi's recipe videos. Chef Joshi's recipe CDs are also being distributed among Mumbai's police