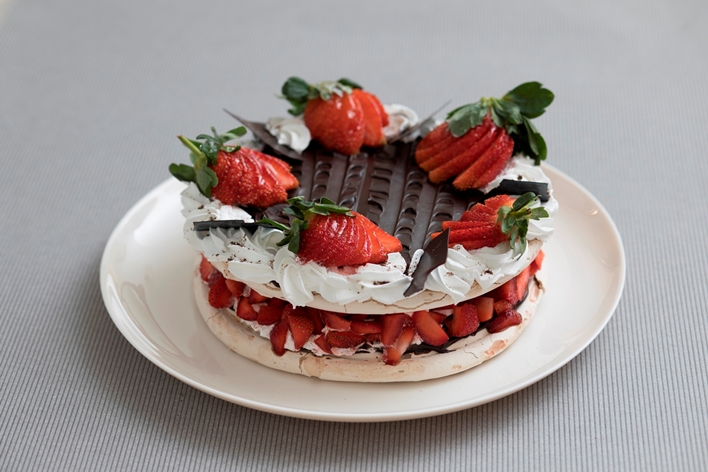 Chocolate Strawberry Meringue at Deliciae Patisserie by Bunty Mahajan in Khar
When it comes to picking desserts at a new patisserie, we're most wary of meringues. The few times we've tasted them in the city, they were either too chewy, too delicate or were sweet enough to make us want to pull out our teeth. Thankfully, none of this was true when we dug into the first spoonful at Deliciae Patisserie. Their Chocolate Strawberry Meringue ticks all the right boxes. It is crisp, dry and has just enough crunch to make for a satisfying bite.
The sugar-and-egg confection brings the classic combination of chocolate and strawberries to life. Of course, the light-as-air whipped cream only adds to the experience. It also helps that the serving is generous, so you don't resent your friend who may just stick their spoon into your plate. And it doesn't dent your pocket too much (Rs 200 per piece).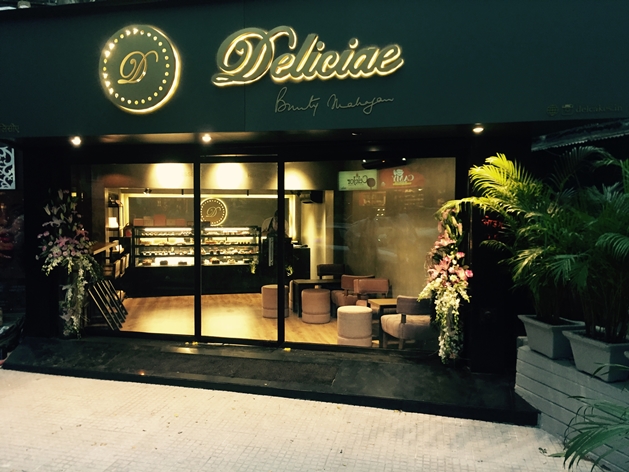 Deliciae Patisserie in Khar West
Helmed by Bunty Mahajan (who was a part of Out of The Blue), the week-old Deliciae Patisserie is her standalone outlet in Khar, with her son, Suchit, handling the business side of things. The décor is muted, done in shades of greys and blacks because the focus is on the desserts, beckoning demurely to eager palates from the display counter. The selection is eclectic; with meringues, tarts, shortcakes, pastries, macaroons, cupcakes, tea cakes plus a few classics from her Out of The Blue desserts menu (the famous Banoffee Pie will follow soon).
Bunty Mahajan's cakes may be on speed dial with the gliteratti of Mumbai, but the tarts here will soon find loyalists. They're eggless, and have a comforting biscuit-like crust that's neither crumbly nor too hard. We tried the Salted Caramel Tart (Rs 160 per piece) and loved the rich chocolate layer carefully nestling the caramel spread over the casing.
The patisserie plans to introduce a selection of tea and coffee pairings with the sweet treats soon, but we're going to come back for the Peach & Kiwi Shortcake that we missed out this time.
Where: Khar Danda Road, Opposite Curio cottage, Khar West
When: 10am to 11:30pm
Call: 9029021260 / 9029021200 (pastries delivered between Bandra, Santacruz and Khar)
Cost: Rs 400 for two (approx.)