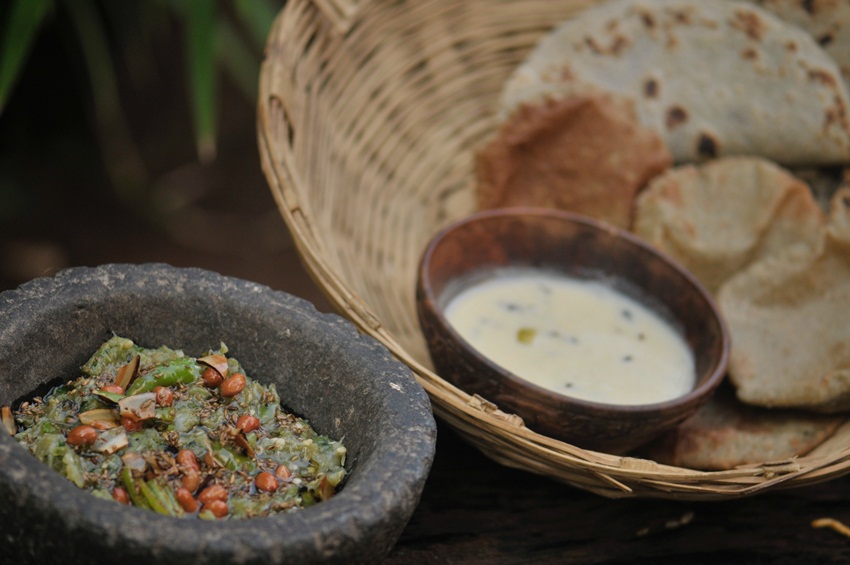 Vangyacha Bharit Photograph by Wandering Foodie
In the winter months between October to February, farmers across the Khandeshi region of North Maharashtra have a tradition of bharit parties, where close to 4,000 farmers and families gather together to cook and eat through the weekend. The bharit is to Khandesh what bharta is to Punjab. Better known as "Vangyacha bharit," it is the local version of the baingan bharta. The big difference is that it is cooked in peanut oil, since the region is known for its peanut farms, and is made with the smaller, green and white variety of brinjals instead of the giant purple ones that Punjabis use. Vangyacha bharit is cooked over woodfire with garlic, peanuts, dried and roasted coconut, jeera, spring onions and green chillies and if you've signed up for food tour company Wandering Foodie's Khandeshi culinary trip this weekend in Nashik, you can throw your own bharit party and hopefully, make a few new friends too.
The closest one gets to Khandesh is the Ajanta caves, which are about 40 km away from Jalgaon. So the region and its food are otherwise off the tourist map, which is where the likes of Wandering Foodie come in. One of the main reasons why its founders Rahul Patil and Vinod Sarma set up Wandering Foodie in April last year was to promote local cuisines. "What better way to do it than by combining food and travel," says Patil, who worked as a brand manager at Asian Paints and remembers looking out for local food whenever he travelled on the job, "But most locals knew little about their own food."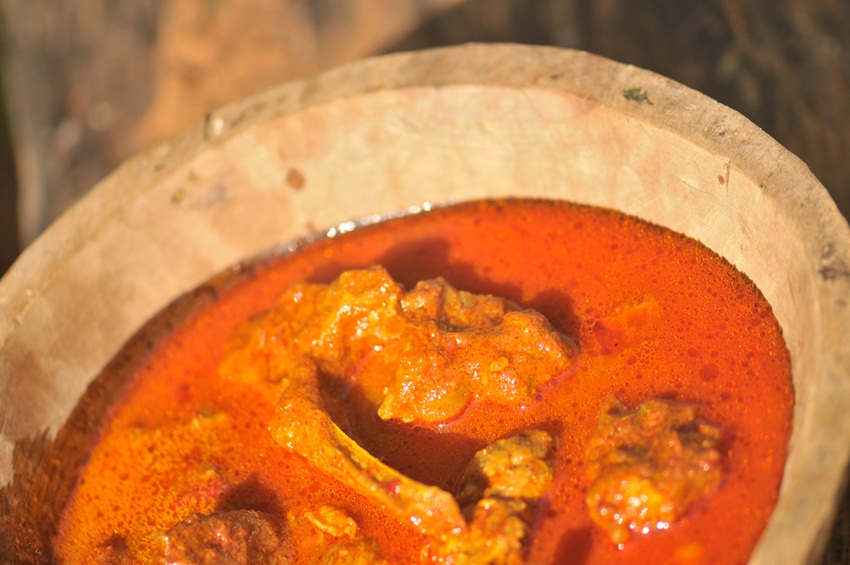 Khandeshi mutton in Kala Masala Photograph by Wandering Foodie
But on the Khandeshi tour, expect nothing less than authentic. "The cuisine on this tour focusses on local produce. We use red chillies known as Chapata chillies that are grown in Nandurbar (in Khandesh). These chillies are also quite tangy," says Patil, who is from Khandesh and clearly knows his food.  For the two-day tour to be held at a farmhouse in Nashik, he has roped in his mother Ashalata Patil, who has contributed recipes to various publications and has also featured on culinary shows on channels such as Colors Marathi, to supervise the cooking.
Also on the menu, besides Vangyacha Bharit, are Karna Bhakri, made with jowar (sorghum) and urad (split black gram), Khandeshi mutton curry cooked in Kala Masala, which is made with roasted coconut and spices, Varan Bhatti, which is the Maharashtrian version of the Rajasthani curry, Daal Baati, Maande, a delicate puran poli, which is resembles a rumaali roti stuffed with jaggery, besan and ghee, and Daraba Ka Laddoo made from wheat flour, ghee, sugar and cardamom. "The story goes that when Aurangazeb ruled over Burhanpur, these laddoos were served in his durbar, which is how the sweet got its name," says Patil.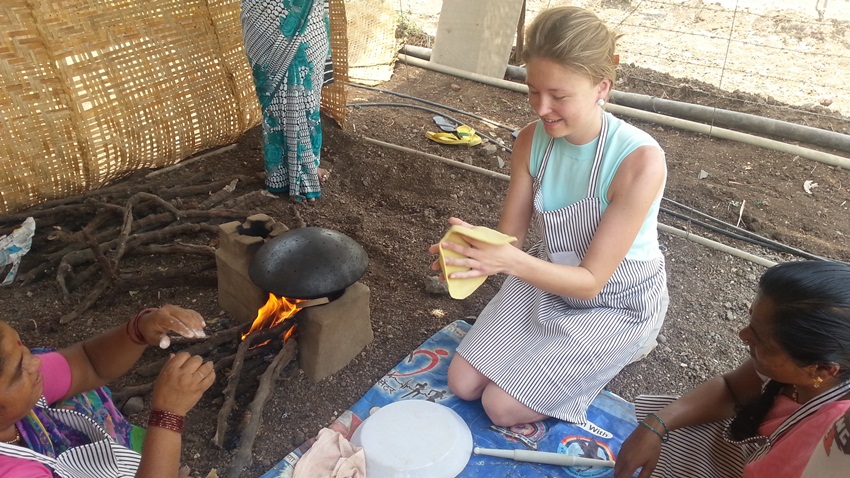 Learning how to make the Mande, a kind of puran poli, at the farm Photograph by Wandering Foodie
The best part is the wine pairing. "Since food and wine is paired all over the world, we thought why not here where the country's first vineyards were set up," says Patil, who consulted a friend based in Napa Valley and did some trials before introducing wine into the tour. So a dessert wine will be paired with Mande, a red with the Mutton in Kala Masala and the Vangyacha Bharit gets a white or a rose from Grover Zampa and Vallonné's list of wines. "Since all of this food is what farmers used to eat before they could set out to their farms for some heavy duty work, it can be very filling. Most of our guests on previous tours have requested us to cancel dinner plans after this lunch," says Patil. But to work off all this good food, there will be a tour of the vineyards before you can call it a night.
The next day, those on the tour can get to cook some of their favourite dishes from the menu. "We've also planned a farm visit to a farm in Nashik, where the first table grapes were cultivated," says Patil. If you're up for it, you'll even get to ride a tractor across the 50-acre farm.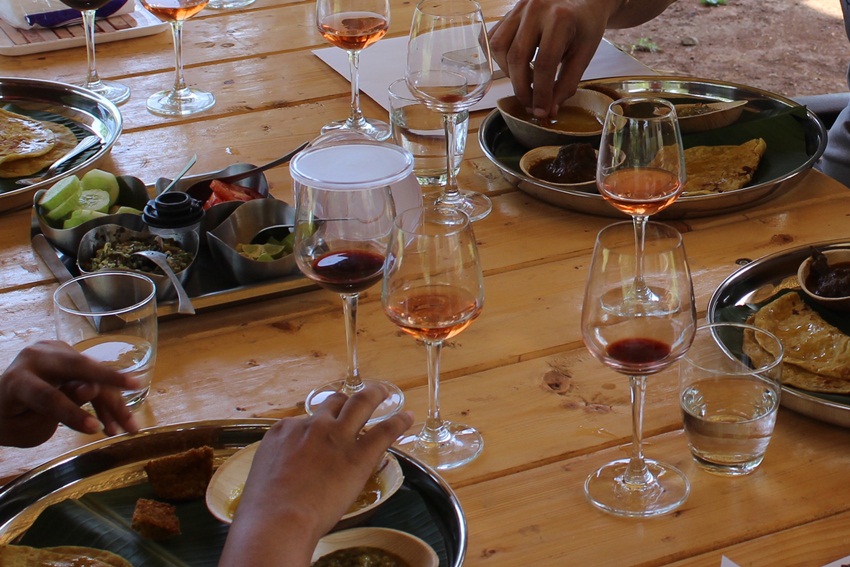 A dessert wine with Mande, a red with the Mutton curry and a rose or a white to go with the Vangyacha bharit Photograph by Wandering Foodie
The Khandeshi culinary tour will be held between August 6-8 in Nashik. Go here to book