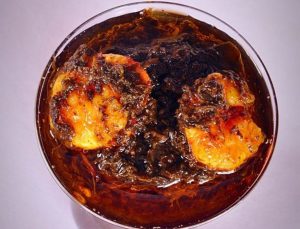 Gongura prawn pickle Photograph via Kongaras.com
Tindipotu is an often used Telugu endearment, sometimes as an insult depending on a man's mood, which roughly translates to mean a hog. Telugu people across the world turn into tindipotus as soon as they clap their eyes on podi and pickle: No true Telugu can have one and do without the other. There can be no other explanation for this proliferation of pickle and podi websites. In January this year, Bengaluru-based marketing professional K Vidya Sagar launched kongaras.com that has been supplying Andhra pickles across the country. But unlike most other websites, Kongaras stands out for its prawn pickles.
The East Godavari district, a coastal fishing region, has always been known for its spicy seafood. "The Gongura prawn pickle is our speciality," says Vidya Sagar, whose mother Surya Kala supervises and samples the making of these pickles in Jaggampeta, the village where he grew up. While the Andhra avakaya (mango) pickle is their hottest selling pickle, Kongaras has been getting several orders for meat and seafood-based pickles from Bengaluru. Besides pickles, the site also has another Andhra staple – podi or gunpowder as it is commonly known made from sesame seeds (nuvvula podi) and Bengal gram (senaga podi or kandi podi).
A diehard online shopper himself, Vidya Sagar, who buys everything from groceries to furniture to electronics on the internet, was encouraged to set up Kongaras when he noticed the ecommerce boom. "Whenever we've sent pickles to our relatives and friends abroad, they've always told me that there would be a great market for them. We have many customers who keep coming back. Our sales are growing at a rate of 40 per cent every month. We plan to deliver overseas to the US and Canada soon."
May the tribe of tindipotus prosper.
To order from the site, go here