Photograph by Shamanth Patil
Brahmins Coffee Bar
This fifty-year-old coffee house serves just four items, but it is a South Bangalore landmark. Started by KV Nagesh Rao on an investment of Rs 50, Brahmins is run today by his son Radhakrishna Adiga, and its premises resound with his voice, as he greets familiar faces and calls out orders. Few will disagree with me when I say that you will struggle to find a place that serves softer idlis than Brahmins. The accompanying coconut-coriander chutney is a family recipe, and its popularity is evident from the separate counter manned by an elderly gentleman, who is there just serve more chutney to the hoards that throng the Bar from as early as 6am. It is hard to go wrong when you offer just four items — crispy vadas, spicy khara bhaath, idlis and the rich kesari bhaath — and Brahmins never does.  Plus, there's piping hot filter coffee as well to round off the breakfast.
Must-have: Fluffy, melt-in-your-mouth idlis with coconut chutney
Where: Ranga Rao Road, Near Shankar Math, Shankarpuram, Basavanagudi 
Mahalakshmi Tiffin Room 
I know many people who prefer MLTR's dosas over the fare at Vidyarthi Bhawan, which is located a stone's throw away. And, I suppose, with good reason, too. MLTR's dosas are drenched in white butter (with a dollop alongside if you aren't calorie conscious), are stuffed with a tangy potato masala and served with coconut chutney and a trademark sweetish sambar that you'd be hard-pressed to find anywhere else in the city. The ambience of this decades-old restaurant is old-world — double wooden door at the entrance, the menu written on a wooden plank, wooden benches and tables, a family area demarcated with wooden walls and a wooden food display showcase. Other popular items include the khalidosa (a local variant of boiled rice is mixed with the dosa batter resulting in a soft, spongy dosa), vada sambar and rice bhaaths.
Must have: Crispy benne masala dosa and soft khali dosa
Where: DVG Road, Gandhi Bazar, Basavanagudi 
Vidyarthi Bhawan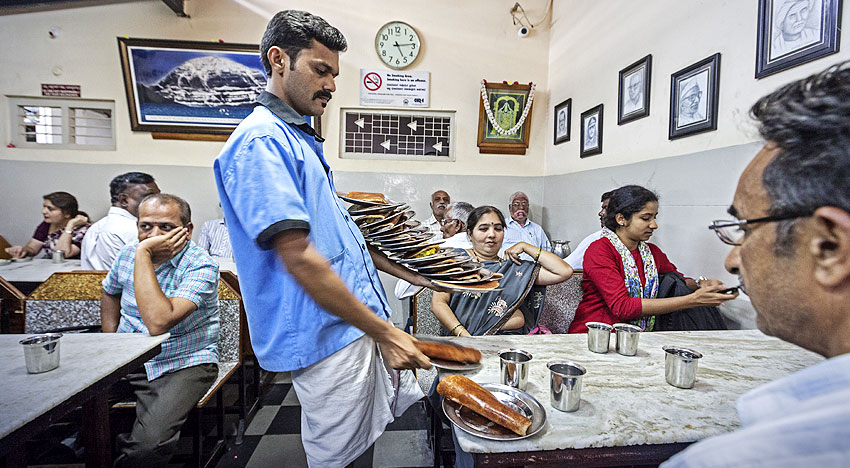 Vidyarthi Bhawan's crispy ghee-roasted dosas are a huge draw, and Rajinikanth is a big fan.
Photograph by Shamanth Patil
It is next to impossible to come across a Bangalorean who has not eaten at Vidyarthi Bhawan. Frequented by the likes of Rajinikanth and Rajkumar and several of the states' literary luminaries over the years, the daily queues outside this 70-year-old eatery are testimony to its popularity. And, among the stars on its menu are the crispy ghee-roasted dosas. The Masala dosa, soft and crisp in equal measure, served with a dollop of butter and coconut chutney, is stuff legends are made off, as is the manner in which the dosas are carried by the waiters — 10-15 of them stacked neatly in individual plates, balanced along their arms.
Must have: Umm, Masala Dosa, anyone?
Where: Gandhi Bazar main road, Gandhi Bazar, Basavanagudi
Veena Stores
Located on Margosa Road, in Malleswaram, this tiny eatery, set up some 40 years ago, is a worthy rival to Brahmins when it comes to soft idlis. The food is served in disposable environment-friendly plates made with dry leaves. You place your order, get a counter, collect your food and relish it while standing on the pavement outside the shop that fills up with patrons during breakfast and in the evening. Besides idlis,  Veena Stores is equally renowned for its khara bhath, kesari bhath, shavighe bhath, bisi-bele bhath and vadas.
Must have: Buttery, soft idlis with spicy chutney
Where: Margosa Road, Malleswaram
Mavalli Tiffen Room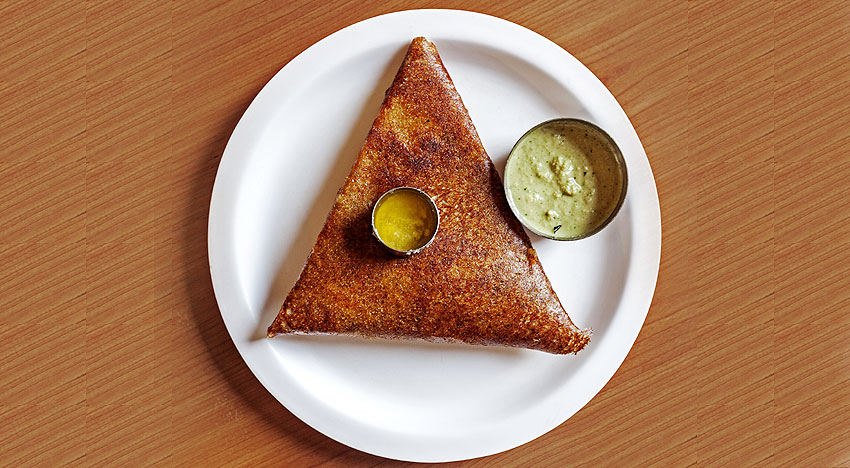 MTR, perhaps Bangalore's best-known eatery, is famous for its crispy masala dosas that drip with ghee and their bisibele bhaath. Photograph by Shamanth Patil
MTR, almost a century old and, perhaps, Bangalore's best-known eatery, serves mostly Udupi Brahmin cuisine. The restaurant is as renowned for the quality of its food as for its Brahminical obsession with hygiene, and for years, patrons entered MTR through the kitchen to verify, first-hand, its high standards of cleanliness. Dripping with ghee, their hot and crispy masala dosas are among the best in the city as is their bisibele bhaat (rice cooked with lentils, spices and vegetables) and piping hot filter coffee. But the piece de resistance is the soft, fluffy rava idli, which, MTR claims, is its invention. Rice was in short supply during World War II and the restaurant substituted rice with semolina to make idlis, thus giving birth to the rava idli.
Must have: Crispy masala dosa, fluffy rava idlis
Where: Lalbagh Road, (near Lalbagh main gate), Mavalli, Near Basavanagudi. 
Central Tiffen Room (Shree Sagar)
If Basavanagudi-ites swear by the dosas at Vidyarthi Bhawan, residents of Malleshwaram can't see beyond CTR's benne (butter) masala dosa. Golden and crispy on the outside, soft and spongy once you are bite through the crunch, the aroma of the warm butter, sourced from the homes of farmers in Mandya and Nagamangala, that exudes through every pore of the perfectly-sized dosa permeates the whole restaurant. If you still have space in your stomach after this calorific delight, sample their Mangalore bajjis that are served with coconut chutney.
Must have: Benne masala dosa and Mangalore bajjis
Where: 7th cross, Margosa Road, Malleswaram 
New Modern Hotel (NMH)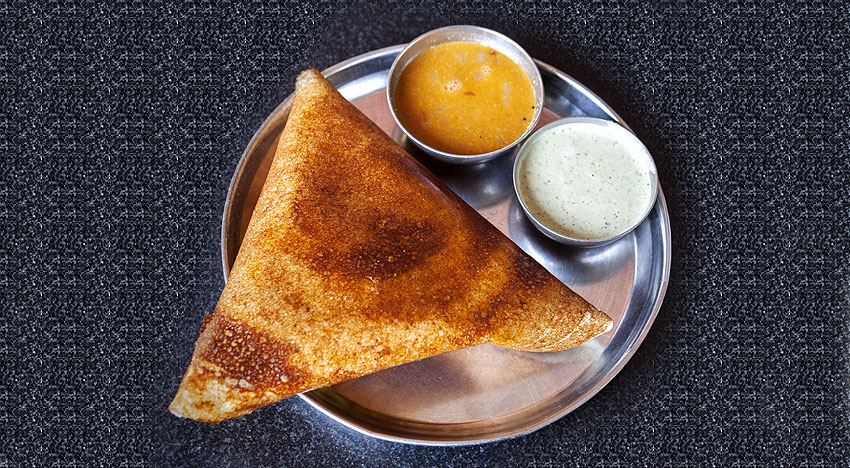 With old-timers reading their newspapers, sandstone-coloured stairs and wooden tables and benches, NMH belongs to another era. Loyalists swear by the crisp and light masala dosa, khaara bhaath and the accompanying sambar, which tastes like a cross between the Karnataka and Tamil Nadu-style sambar, and the poori sago. The badam halwa is rich and sweet, and the filter coffee is the perfect way to end your meal.
Must have: Masala dosa, khaara bhaat – don't forget the sambar!
Where: Near Minerva Circle, VV Puram, Basavanagudi area
SLN Mudanna
The first and oldest branch of this eatery came up in the old Bengaluru area, in Cubbonpet, near Majestic, close to half a century ago. They have opened other branches in the city and all of them retain the ambience of the Cubbonpet original – self-service, largely standing eating area, with food served on a banana leaf over a sheet of newspaper. Muddana's specialities are rice items such as rice bhath and pulav. They are slightly spicy, but delicious and filling when had hot. Mundanna's sabakki (sabudana) dosa and masala dosa, which are also offered in mini versions, are worth a mention as well.
Must have: The spicy and hot rice bhath and pulav
Where: Cubbonpet, near Majestic area
Sidappa Hotel
As far as locations go, Sidappa is hard to beat. The family-run eatery is located in the compound of an old temple in Sampangiramnagar and eating here is an experience in itself. You have to queue up for hours before reaching an old single-storey structure flanked by peepul trees. Step inside, into the seating area — entry is permitted only after the puja is over; no tables, only benches — and hold on to the pages of newspapers that are distributed with two banana leaves, since the food will be served on them. Savour the enticing smell and taste of the hot idlis doused with chutney and piping hot saagu. Try the lemon rice that is served in half or full plate options. What follows is the most famous item on Sidappa's menu: the benne khali dosa (a local variant of boiled rice is mixed with the dosa batter resulting in a soft, spongy dosa) and masala dosa, with a tangy masala. Only half of each is served, and nobody gets a second helping. As you leave, you will walk past Sidappa (or his son) who sit near the exit. State your order, and after he calculates your bill amount, you pay and leave. But be warned, don't hurry the waiters, or try and jump the queue, Sidappa's wrath, laced in chaste Kannada, will descend upon you.
Must have: Masala dosa, khali dose – don't ask for seconds!
Where: Sampangiramnagar, near Hotel Geo, Richmond Circle area