Spring Festival, or the Chinese New Year is marked by celebrations, wishes of health and prosperity, reuniting with family, and – you guessed it right – food. This year, the midnight of January 28 signalled a start to the festivities, that will go on till February 15. With 2017 being the Year of the Rooster, red is the predominant theme in decorations with paper lanterns, delicate wind-chimes and more. Pan Asian and Oriental restaurants in the city are doing their bit with scrumptious feasts and charming décor to boot. We picked out three places that you must visit, to make the most of the celebrations:
Hakkasan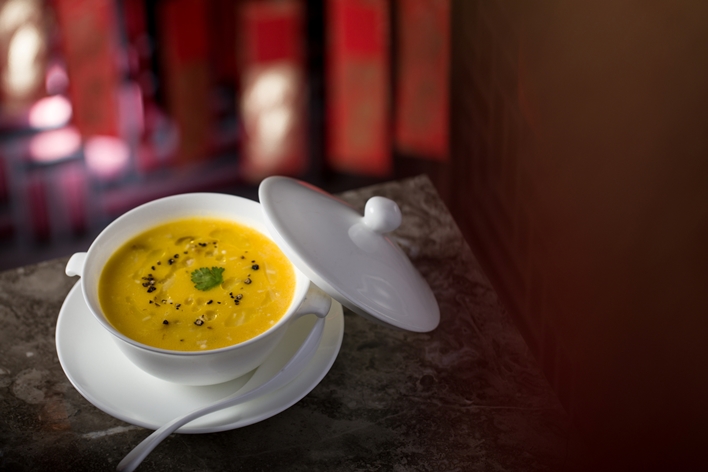 Black pepper chicken soup with white truffle at Hakkasan, Bandra
A limited edition menu with exclusive cocktails and desserts is the order of the day at Hakkasan in Bandra. Inspired by the mating call dance of the rooster, the Waltzing Collins is a sake-based cocktail and includes fruits like mandarin which signifies luck in Chinese New Year traditions. The special meal will begin with a Fortune tale (white roasted chicken, passion fruit and cress) – a traditional prosperity salad commonly eaten during the festivities. Also on offer are Black pepper chicken soup with white truffle, Supreme soya and salmon with a honey glaze, served with elderflower jelly, stir-fried veggies among others. We love the sound of the Golden feather, reserved for dessert with ginger panna cotta, mandarin orange and caramelized white chocolate.
Where: 206, Krystal, Waterfield Road, Linking Road, Bandra West
When: Ongoing, till February 11, 12pm to 1am
Cost: Rs 3250 per person (taxes extra)
Call: 022 26444444
Yauatcha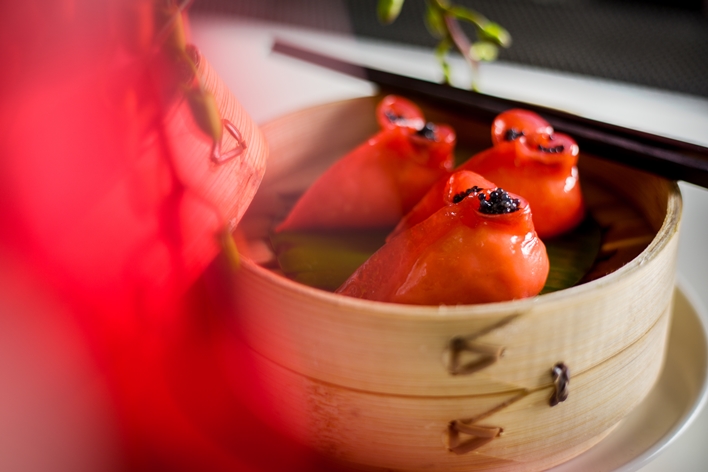 Chinese New Year special Red Dumpling at Yauatcha
Year of the Rooster celebrations at this Michelin-starred tea-house will be marked by two special menus – Signature (vegetarian) and Supreme (non-vegetarian), plus cocktails and dim sums with a matching red theme. A four course Signature meal will include Mixed salad with lotus root or Truffle edamame dumpling, Mushroom roll with truffle, wok specialties like Spicy Vegetable Fried Rice with taro root, Szechuan Mabo tofu (tofu in red sauce with spice and bean base), and more. The Supreme menu includes meat-based salads and small plates like prawn salad with mango, baked chicken puff as well as the delightful looking red King crab and scallop dumpling that has been specially created for the occasion. Wok dishes for meat-eaters include Sliced lamb in black pepper sauce, Kung pao chicken and more. Dessert options include Chocolate pebble (veg), Luxe gateaux or an assortment of ice creams.
Where: Raheja Towers, Bandra Kurla Complex, Bandra East
When: Ongoing, till February 11, 12pm to 1am
Cost: Rs 2500 per person
Call: 9222222800
By the Mekong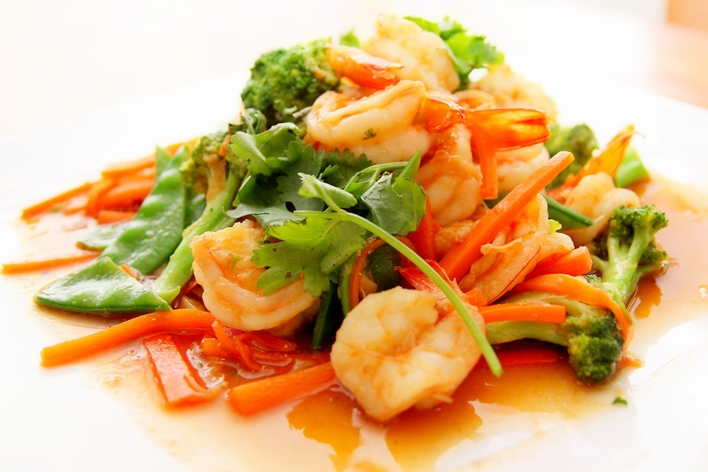 Kumming Prawns at By the Mekong, The St Regis Mumbai
Conceptualised by Chef Shi Xilin, chef de cuisine, the special festive menu at By the Mekong emphasizes on the comfort of home-style flavours and traditional ingredients. One the menu are Shredded chicken with sesame seeds, stuffed bell pepper with spicy lougan ma sauce, pan-fried asparagus cake served with a fragrant chili-coriander sauce, Shandong style sautéed shrimp, among others along with a special dessert to mark the festivities.
Where: By The Mekong, Level 37, The St. Regis Mumbai, Lower Parel
When: Ongoing, till February 5, 12pm to 3pm and 7pm to 12am
Call: 022 61628422