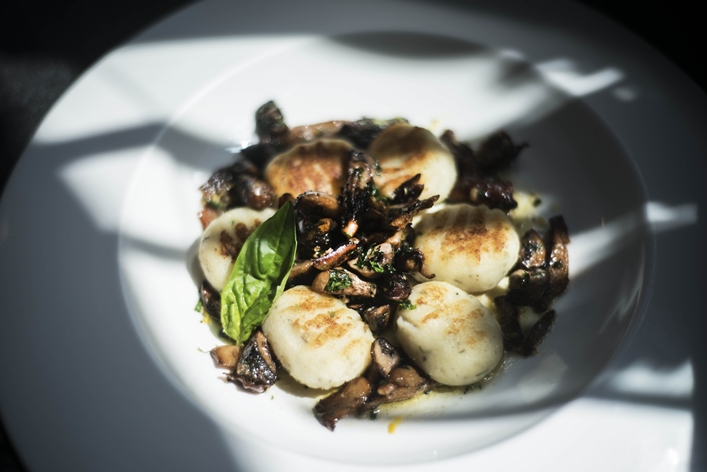 Chef Jaydeep Mukherjee's gnocchi. Photograph by Anurag Banerjee
When we want to pick a slightly fancy Italian dish that isn't pasta, risotto and gnocchi are our top picks. While we've got our favourite restaurants to go enjoy a lovely meal in the city, being able to make it at home was a long unfulfilled dream. So we got chef Jaydeep Mukherjee, Corporate Executive Chef, deGustibus Hospitality (Indigo, Indigo Deli, Neel, Tote on the Turf) to help us out. The chef shares his recipe with fragrant sage butter, brandy and toasted hazelnuts which adds a lovely crunch to the dish.
Ingredients
Serves 4
For the garlic butter sauce
100g butter
30g hazelnuts
1 tbsp garlic, cut into slivers
90ml brandy
10 nos. sage leaves
For the gnocchi
4 potatoes, medium sized
2 egg yolks
200g Parmesan cheese
a pinch of pepper
a pinch of nutmeg
Salt, to taste
Method:
Garlic butter sauce
Heat the butter in a sauce pan, add the sage, fry till crispy and set aside
Add the slivers of garlic to the butter and sauté till crisp and a light golden brown
Halve the hazelnuts and stir in the butter till crispy
Add the brandy and reduce for a few seconds to allow the flames to die. Set aside.
For the gnocchi
Wash the potatoes well, pat dry, prick with a fork and rub sea salt on the skin. Roast till tender.
Peel the potatoes while still hot, pass through a food processer and puree well.
Spread the potato on to a flour dusted work table; make a well in the center of the potato. Add the egg yolks, Parmesan cheese, seasoning and nutmeg powder
Mixing the ingredients together is important. Do so very lightly, without over-working the dough and for just enough time so as to form a light moist dough
Roll the dough into a long, inch thick log and cut into inch long pieces. Roll each piece across the tines of a fork so as to mark with ridges on one side and simultaneously create a dimple on the other
Gnocchi is ready to be poached at this stage or to be stored for later use (They can be frozen very conveniently as well).
Add small batches of gnocchi to simmering salted water and poach for up to two minutes. The gnocchi are done once they float up to the surface
Heat butter in a non-stick pan and add a few pieces of gnocchi to the pan, sear on one side till light golden brown then turn very gently to colour the top as well
Serve 5 to 6 pieces of gnocchi in a warm pasta plate and spoon the warm sauce (recipe above) over the gnocchi
Toss the fried sage leaves and toasted hazelnuts over the gnocchi.