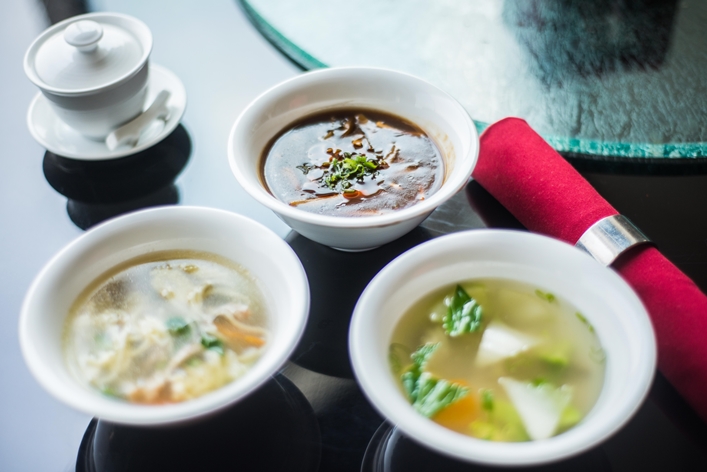 Photograph by Anurag Banerjee
Light and flavourful, soups are an ideal way to detox after a day of gluttonous feasting, which is sort of the norm during this time of the year. We get chef Sahil Arora, executive chef at Renaissance Mumbai Convention Centre Hotel and Marriott Executive Apartments, Mumbai to share a few recipes for Chinese soups. The soups are easy to make and will be just what you need on a chilly evening.
Hot and sour vegetable soup
Serves: 4
Ingredients
30g carrot, cut into juliennes
30g beans, shredded
30g tofu, cut into juliennes
30g mushroom (cut into juliennes if shitake or slice in case of button mushrooms)
30g beansprout
20g ginger, chopped
15g chili, chopped
1tbsp chopped spring onion
30g bamboo shoots, cut into juliennes
4tsp white vinegar
1litre vegetable stock
1tbsp dark soy sauce
3tbsp corn flour starch
2tsp salt
2tsp white pepper powder
1tbsp chili oil
Method:
In a deep bottomed pan, heat the oil on medium flame. Sauté chopped ginger and chopped chilies for a 30seconds.
Add the stock and bring to a boil. Add in the vegetables and boil for another minute.
Add soy sauce, salt, white pepper powder and boil it for another 30 secondz. Add white vinegar and taste. Add more if required.
Add about 2 tsp of corn starch and stir well to thicken the soup.
Sprinkle chopped spring onions and remove from heat. Serve in bowl, serve hot.
Chicken wonton soup
Serves: 4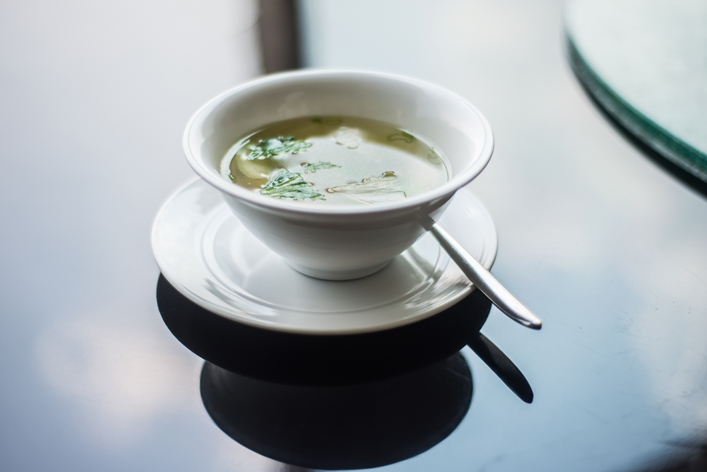 Photograph by Anurag Banerjee
Ingredients
12 nos wonton sheets
240g chicken, cooked and finely chopped (leg pieces, without the bones)
30g carrot, cut into small cubes
30g spinach/pak choy leaves, chopped
4tbsp chopped spring onion shoots
20g garlic, fried till golden brown
2tsp salt
5ml sesame oil
½ tsp white pepper powder
1tsp light soy sauce
1tsp castor sugar
1tsp chopped ginger
1 litre chicken stock
Method:
For wonton
In a large bowl, combine chicken, sugar, soy sauce, 1 tspn spring onions and ginger. Mix well and let stand for 30 minutes.
Take a wonton sheet and place a teaspoon of the chicken mixture at the centre.
Moisten the edges of the sheet with water, pull the top corner down, folding the wrapper over the filling, forming a triangle.
Press down the edges firmly to seal well. Continue similarly for the remanining wonton sheets.
For soup
In a large vessel, bring the chicken stock to a boil. Drop in the wontons and cook for 4 minutes. Add vegetables, season with salt, pepper, sesame oil and cook for one minute, without boiling
Remove from heat, garnish with spring onions and serve hot.
Chicken noodle soup
Serves: 4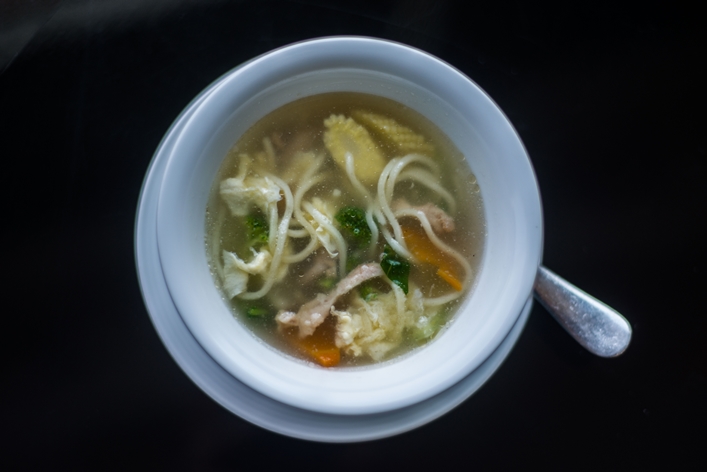 Photograph by Anurag Banerjee
Ingredients
2tbsp light soy sauce
120g chicken breast, cut into shreds
60g Chinese cabbage, shredded
30g carrots, cut into juliennes
40g pak choy leaves, leaves and stems shredded
1tsp garlic, fried till brown
5ml sesame oil
100g noodles (boiled according to directions on package)
1 litre chicken stock
2tbsp spring onions, shoots chopped finely
1tsp white pepper powder
Salt, to taste
Method:
In a saucepan, heat the chicken stock. Add in the soy sauce, chicken, cooked noodles and vegetables. Bring to a boil.
Add salt, white pepper powder and simmer for two minutes or until the chicken is cooked thoroughly. Add the sesame oil, taste and adjust the seasoning.
Remove from heat. Garnish with spring onions and fried brown garlic. Serve hot