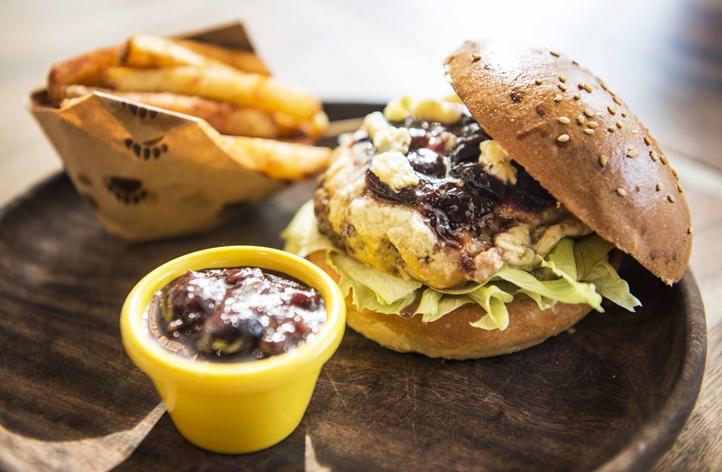 The French Blue Cheese Tenderloin Burger is a must-try. Photograph by Anurag Banerjee
Known for her delectable brownies across Mumbai, Theobroma wonderwoman Kainaz Messman's new venture will have you eating out of her hands once again. Three Chicks and a Bear, in Lower Parel, is a charming little spot sporting pastel shades, chic, vintage-inspired interiors and large windows that would make lunches here a sunny affair. 
The menu is simple, no fancy names or any of that fluff. A batter-fried appetiser involving squid is just called Squid (Rs 250). The squid was served with a tangy dip, and side with Sri Lankan style sini sambol spices. It was fresh and crunchy, with a hint of sweetness from the cinnamon and cardamom. Burger lovers, there's something for everyone here, right from tenderloin (they use buffalo meat), chicken, pork, seafood and veggie options. For those looking to cut carbs, the menu also gives you the option of having your burger as a salad, but we suggest you cheat.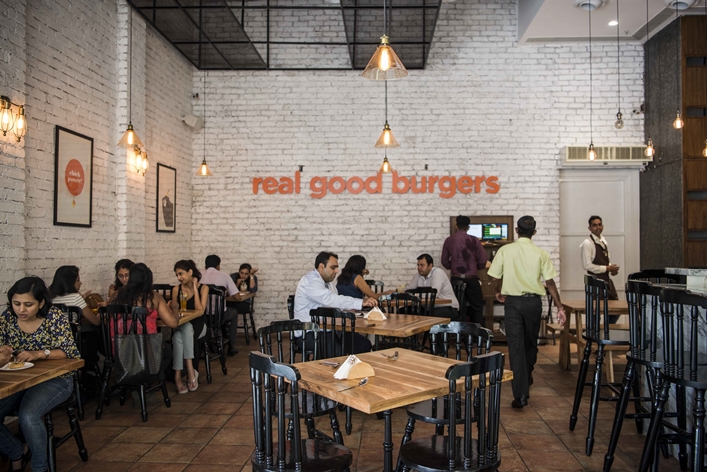 Vintage-chic interiors make TCB a wonderful post-work hangout or a first-date pick. Photograph by Anurag Banerjee
The buns in our Canadian Pulled BBQ Chicken Burger (Rs 375) and French Blue Cheese Tenderloin Burger (Rs 395) were soft and pillowy and did not disintegrate to crumbs when we had the server cut them into halves. The patties were just how patties should be — juicy and flavourful. Despite turning our noses up at blue cheese in the past, the combination of sharp tasting cheese and tender, melt-in-your-mouth buffalo meat patty is a winner. We also loved the mesh of cheese in the chicken burger that gave us a wonderful cheese-to-chicken ratio with every mouthful. A big shout out also to the thrice-fired home fries — they've got their skins on and make for a great side with the burger and dipping sauce.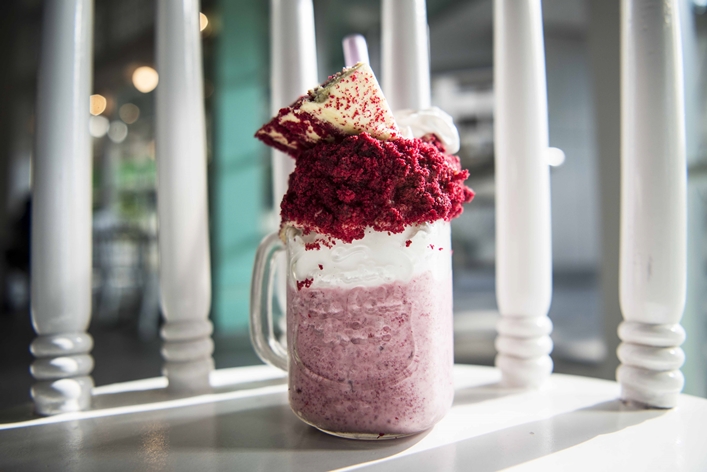 Wind-up your meal with the Red milkshake, the foodcoma is worth it. Photograph by Anurag Banerjee
Until TCB gets its alcohol licence — which should happen soon — you can take solace in the Red milkshake (Rs 240). Do not expect a simple milkshake, for the milkshakes here are closely related to monster smoothies, and our Red brought together Theobroma's red velvet cake, yoghurt and cream cheese. By this point, we're filled to the gills, but are secretly hoping to make a quick lunch-time dash just for the house fries (and okay, maybe the tenderloin patty).
Where: Lodha Supremus, Survey 453, Senapati Bapat Marg, Railway Colony, Lower Parel, Mumbai
Price: Rs 1500 for two people (approx.)
Call: 8291272040