Photographs by Anurag Banerjee
It's been a busy Thursday afternoon at Magazine Street Kitchen, a collaborative kitchen space for chefs, where a Thai culinary class had just wrapped up. Set up in restaurateur Gauri Devidayal's family-owned property, in Devidayal Mill, in central Mumbai, what was once a steel manufacturing unit has been transformed into a sleek kitchen and dining space. Devidayal is on the first-floor dining level of the space, grappling with an internet server glitch. Every seat at the 40-seater community table on this level was packed during a recent charity dinner that raised funds for an NGO. Devidayal, who has a degree in law and is a qualified chartered accountant, took a leap of faith in 2011, when she set up The Table, a global cuisine restaurant with her husband Jay Yousuf and chef Alex Sanchez, who moved from San Francisco to work in Mumbai. Devidayal speaks to Express Foodie about navigating unfamiliar terrain, sticking to what she believed in and her new baby, Magazine Street Kitchen.
What were the biggest challenges when you opened The Table and how did you tackle them?
I was new to the industry and had no hospitality background, so everything was a challenge. There was a steep learning curve for my husband and me. Chef Alex came down three weeks before the restaurant opened, and was new to the city, didn't speak the local language so that posed its own set of challenges. So we grew the restaurant in stages. We opened only with dinner when we started and then, five months later we started lunch and Sunday brunch three months later.
Things like that helped us not sort of dive into it. There is a lot of pressure when you open a restaurant to generate as much revenue as possible and make the most of the initial buzz, but for us, it was more important to get whatever we did right. What you do in the first three or four months is critical to long-term success of it.
I've always been unapologetic about our prices
It was also something new since ours was a globally inspired, ingredient-driven menu. It wasn't something you could pigeonhole as Italian and so on. In the beginning, we had to just get people to try it. So we would tell people, "Try it and if you don't like something, we'll take it off your bill." It happened that people loved what they were eating.
There have been been dishes on our menu since we've opened and have become synonymous with The Table. I would say the zucchini spaghetti is one of them, then the boneless chicken wings, the shrimp dumplings. These are dishes that I would say are iconic for us and people come back for them. We've seen it being copied on other menus but people still know that they first had it at The Table, which is a nice feeling for us.
Now, five years down the line, everybody's palate is much more refined, since they're well travelled and food's become a hot topic overall. That has helped us because the appreciation for the kind of food we serve has gone up and they now understand why they have to pay a premium for it. But I've always been unapologetic about our prices.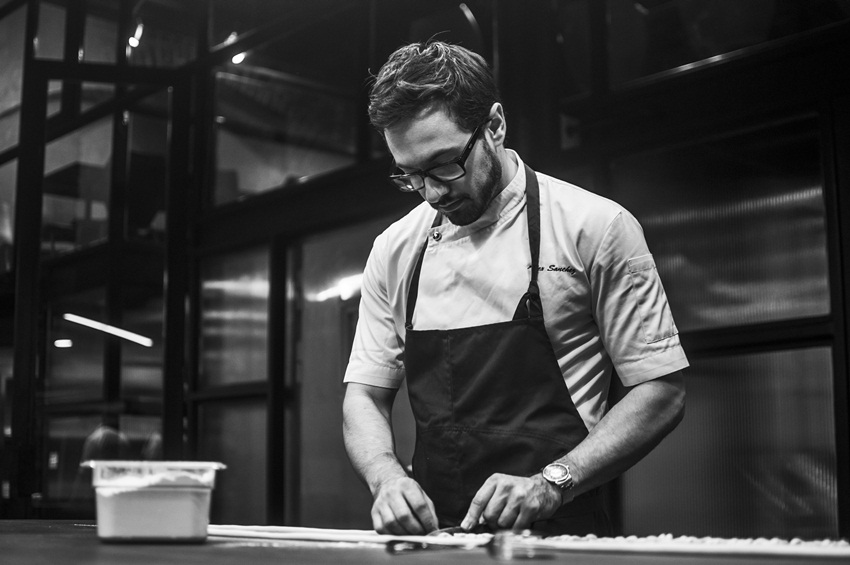 Chef Alex Sanchez at Magazine Street Kitchen
The idea behind Magazine Street Kitchen evolved even as we were setting it up
After a year of launching The Table, we were thinking about what to do next. The natural thought was of course to open another restaurant. But something or the other didn't work out – either rents were not practical or location or size. This space, which belongs to family, was lying vacant and about to be sold off. So we thought that we've struggled so much and maybe it's not the kind of place we want a restaurant in, but maybe we should think beyond the restaurant and do something different.
We've been getting a lot of requests to do catering, which we were not able to do out of the restaurant kitchen, so we thought we'd set it up as a catering prep kitchen. But the ideas for what to do here started evolving while we were setting it up.
So we definitely want to do more chef collaboration dinners with chefs from India and round the world. They could do cooking workshops too. Since we have four kitchen units, a part of the space could be rented out by a new restaurant whose kitchen might be a work in progress and they want to do menu tastings.
We've had corporates come in and do a cook-off as a team building exercise and ended with a dinner of what they've made. We also have our bakery company here – Mag Street Bread Co supply to various cafes and restaurants
Bread has become very important, on the whole
Sourdough is really popular. A lot of people who've had it at our restaurant have asked us to retail it but we haven't got into that because it's operationally intensive. We also serve brioche buns in our bread basket and retail those too. The USP of our bread is that it's made using local ingredients. One of the biggest complaints from bakers is that you don't get the right ingredients locally, you need to use imported flour. But Alex and our head baker Rachel have spent a lot of time finessing recipes using only local ingredients. That also makes them more affordable. They've got these recipes to a point where it's comparable to breads that you get abroad.
People want to return to your restaurant when they see familiar service staff
We paid all our staff a bonus after the first year for having completed a year with us. We decided to pay them a considerably higher bonus in the second, third and fourth year as well. People want to return to your restaurant when they see familiar service staff, who know exactly what they want and we value that. We realized how important they were to the running of a restaurant early on. Also, we didn't believe in forcing guests to pay a service charge. Service charge started because restaurants didn't want to increase menu prices but wanted to pay a higher wage. It's not the most transparent things for guests, so we raised the prices slightly to compensate for the staff salaries and did away with the service charge. Guests appreciated it but there are mixed responses to it. But I believe that service charge being disguised as a tip is not a tip. Tip is over and above what you get based on how you perform. Maybe other restaurants will go that way in the future.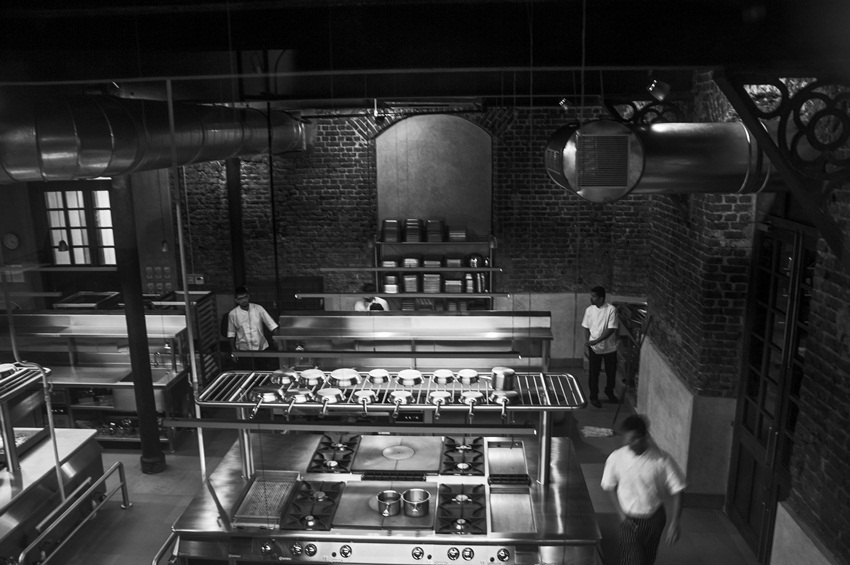 Magazine Street Kitchen includes four separate self-sufficient cooking stations besides a baking unit and a dining area Photograph by Anurag Banerjee
Open a restaurant for the right reasons
Do it for the right reasons. Attempt a cuisine or format, not because someone else has done it but because you believe in it. Being an entrepreneur is hard work. You don't have a day off in this industry. You get instant feedback for your service since everybody has a very personal reaction to food, so it can be hard. We were at the restaurant 24×7 during the first two years. And you have to be passionate about it to put up with all the other challenges. Everybody thinks it's a glamourous job, but glamour forms maybe 5 per cent of it and it's 95 per cent hard work.
If your product's not good, then the publicity bubble won't last
Food trials are a waste of money. We did two days of trials for friends and family. I think we were really fortunate with the success of The Table. If you have a good product, and you're a passionate, you don't need anybody except your regular, paying diners to endorse you. They're the ones who will give you honest feedback, not the people coming to eat for free. So it's important to do a few soft launches. It's a dry run of the restaurant from an operational perspective but now it's more from a marketing perspective. It's not the real thing because if your product's not good, then the publicity bubble doesn't last.