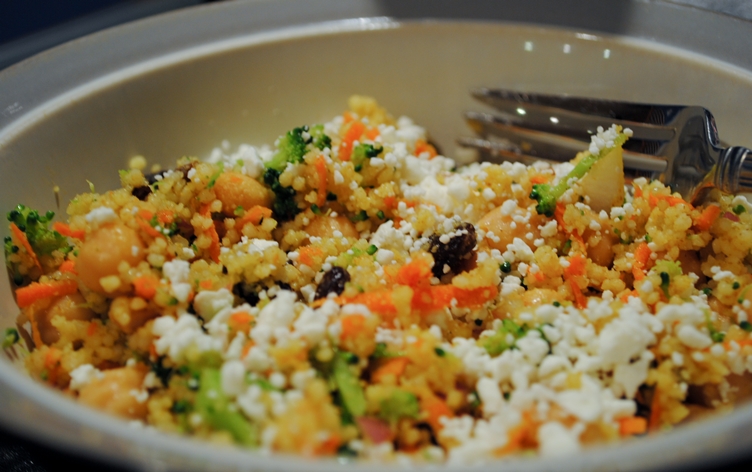 Couscous makes for a light, healthy meal that is ideal as lunch or dinner. Image source: Amy/Flickr
Despite the fad-bashing that the vegan diet suffers from, there's no denying the fact that it is extremely healthy. The food is light and includes ingredients that are fibre and mineral rich. Whether you're immersed in the lifestyle or are just looking for a healthy dish to try, this Moroccan style couscous stew makes for a quick, satisfying meal. The ingredient list is quite basic and you'll only need to buy couscous and zucchini on your grocery run to put together this fragrant dish.
Ingredients:
350ml vegetable broth
200g couscous
2tsp olive oil
1 zucchini
2-3 carrots, shredded
4 sprigs of spring onions
50g raisins
1tsp cumin powder
1 pinch each of clove powder, cinnamon powder, ginger powder, nutmeg powder
200g chickpeas, boiled
7-8 tomatoes, blanched and roughly chopped
2 tsp Sriracha sauce or any other hot sauce of your choice
Method:
In a medium sized saucepan, heat about 230ml of vegetable boil and bring to a boil. Remove from heat and add in the dry couscous. Cover the saucepan and let it stand for 5 minutes, allowing the couscous to soften.
Chop zucchini to medium sized cubes. In a non-stick pan, heat olive oil on medium flame. Add in the zucchini and cook for 6 minutes, while stirring continuously.
Next, add the carrots, spring onions, raisins, cumin powder, clove powder, cinnamon powder, ginger powder, nutmeg powder. Cook for 2 minutes while stirring to mix all the spices well.
Mix in the blanced, chopped tomatoes, boiled chickpeas, hot sauce and the remaining vegetable broth.
Simmer for 6 minutes or until all ingredients in the stew become tender.
Spoon stew over couscous and serve hot.
Recipe source: goodhousekeeping.com