Photograph by jrsnchzhrs/Flickr
Groundnuts or peanuts are one of the richest and most economical sources of protein, made famous by one of several diets followed by Mahatma Gandhi. In fact, peanuts were a constant in his diet, according to his autobiography, My Experiments With Truth. Whether it's chikki or good old peanut candy or roasted peanuts tossed into your breakfast of poha or crushed peanuts that go into a Thai papaya salad or a peanut butter sandwich, it's all good protein for you. Here are some of the other benefits of eating a small quantity of peanuts every day.
Peanuts are good for the heart since they contain resveratrol, the antioxidant that is responsible for reducing the risk of heart attacks, which is also found in red wine.
They lower blood pressure and have been included in the DASH diet for monitoring and controlling BP levels.
When eaten in small quantities, peanuts have also been found to reduce the risk of colon cancer, particularly in women.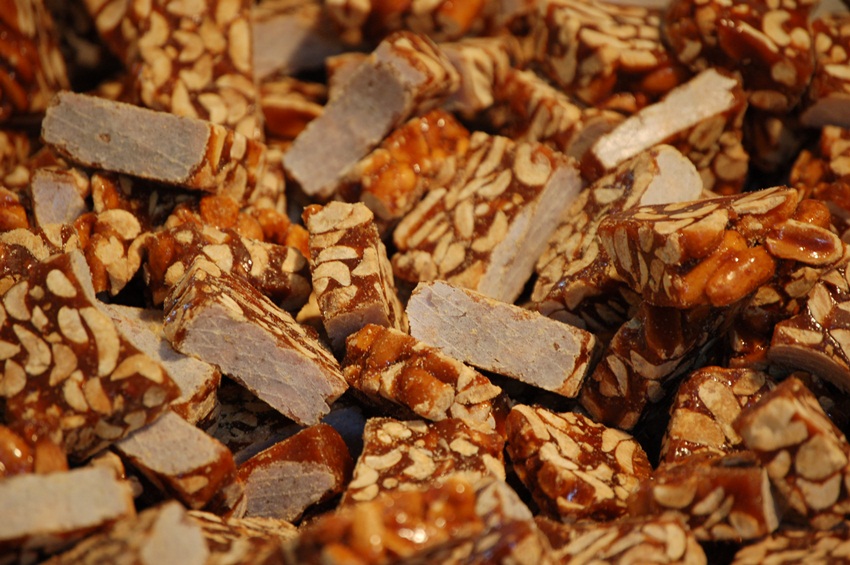 Peanut candy made using jaggery is great for digestion. Photograph by Markdrasutis/Flickr
The fibre content in peanuts works as a digestive, and curbs overeating, but be sure to eat them in moderation. Too many peanuts are also known to cause an upset stomach.
Peanuts help prevent gallstones. The great news is that peanut in the form of peanut butter is known to help prevent gallstones.
Rich in Vitamin E, peanuts are known to control the cholesterol levels in the body.