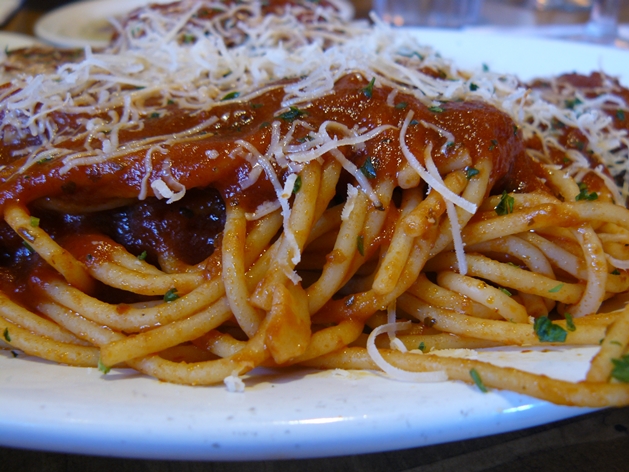 When using pasta for meals, make sure it is whole wheat. Image source: Max/Flickr
If your calendar was full last week, chances are you've eaten a little more than you expected to whilst socilising with family and friends. You're clearly in the mood to indulge but the guilt is too much to call for some fancy takeout or go and eat out. Lean meats would be ideal in a situation like this. A simple pan-seared chicken in herbs along with some pasta (whole wheat, please) is just what you need. It is fancy yet doesn't call for elaborate cooking and gets ready without too much fuss.
Ingredients:
Serves 4
500g boneless, skinless chicken breasts
60ml olive oil
5-6 tomatoes, diced
3 cloves garlic, minced
1 handful of fresh basil, cut into ribbon-like strips
60gm salted butter
250g pasta – spaghetti, linguine, buccatini
Salt and pepper, to taste
Method:

Pound the chicken breasts to an even thickness, about 1 inch in the thickest parts. This helps the chicken cook faster and more evenly. Sprinkle generously with salt and freshly ground pepper and set aside.
Chop tomatoes, garlic and basil. Cook the pasta according to directions on the package.
In a large pan, heat olive oil and pan-fry the chicken, cooking for a couple of minutes on each side. Make sure the chicken is cooked through and has browned well on the outside. Set aside when done.
Let the oil cool for a few miniutes and add in the tomatoes. Allow to simmer on medium heat, till tomatoes soften to a chunky sauce like consistency. Add in the garlic and butter. Stir well until all the butter melts.
Add chicken to the garlic sauce and let it soak in the sauce for 2 to 3 minutes.
Stir in the basil immediately before serving.
Plate the pasta and top with chicken and sauce.
Recipe source: pinchofyum.com