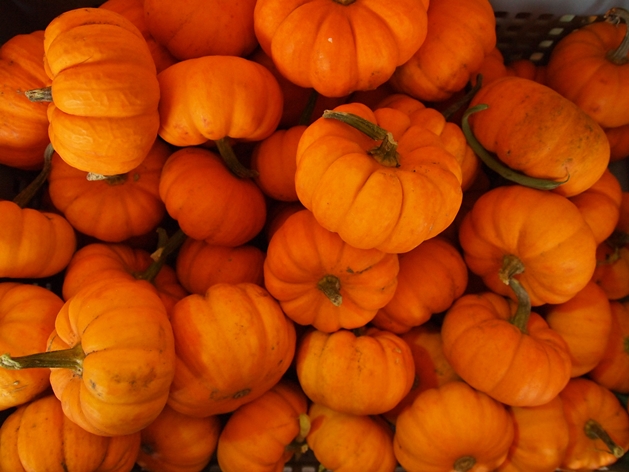 Rich in alpha, beta carotenese, minerals and fibre, pumpkins are widely regarded as a superfood. Source: Leo Gonzales/Flickr
Spiced pumpkin is the toast of the season with pumkin-spiced lattes, cakes, meringues and all things imaginable in the flavour. The great news is that pumpkins are good for your health. They're full of alpha and beta carotenes, essential compounds that go a long way to keep your eyes, heart, and cardiovascular system healthy. These carotenoids also keep your reproductive and immune system top notch.
Several studies also prove the direct link between a diet rich in carotenes and slow aging. Dubbed as a super-food in the West (really, what isn't?), pumpkin also has a lot of fibre which makes it an ideal addition to a balanced diet. We suggest you give these few recipes a try and decide for yourself how delicious this veggie can taste:
Pumpkin fries and chips
For a majority of us, fries mean long, perfectly cut potatoes that are crisp, golden and salted. But too much of those are bad for your heart, your waist and don't really make it to the balanced diet chart. Pumpkin fries, on the other hand, are a healthy alternative. Since these are baked in the oven, as opposed to deep frying, they also make for a great snack if you're on a strict diet and are far from junk food.
Pumpkin kofta curry
If you hear a "there's pumpkin sabzi for dinner" at home, you're going to make a mad dash to call for some takeout. However, if cooked right, pumpkin makes for a fabulous base for curries owing to its sweetness. Pumpkin koftas taste delicious, especially when paired with a well-spiced tomato-base gravy. You'll be surprised how much you'll look forward to it once you try making the dish at home.
Pumpkin pudding
Never thought pumpkin would feature in a custard-like pudding? All you need to do is to blitz the pumpkin into a smooth, milk-like puree without any lumps. Add milk, sugar and steam till the pudding batter looks firm. Chill in the fridge and add home-made strawberry syrup. The pudding is perfect if you want to include healthy ingredients in your dessert.