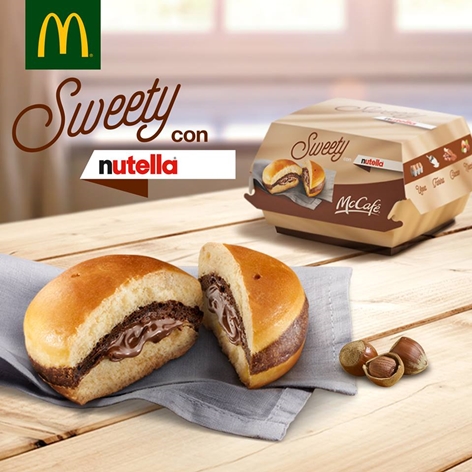 The Sweety con Nutella is a burger with a Nutella-filled patty. Source: McDonald's/Facebook
In a world filled with Nutella-holics, news of yet another treat filled with Nutella is only good news, especially in these dark times. But what is possibly left to be done with this much loved, all purpose hazelnut spread? We've had it in shakes, toast, pizzas, pancakes and everyone's favourite: Nutella cookies. Enter the Nutella burger that is sure to impress the toughest critic around.
Last week, McDonald's Italy announced the introduction of the Nutella burger. "A soft sweetness has arrived that you will not be able to resist," McDonald's wrote on Facebook page. As soon as word was out, the Internet forgot all about the elections, Toblerone and focussed on the goodness that is privy to Italians at the moment. Dubbed Sweety con Nutella, a name that sounds as if it was invented and christened by an eight-year old, the Nutella burger is actually more of a dessert. A thick patty-like layer of the hazelnut-flavoured chocolate spread sits between a perfectly baked brioche bun, giving the illusion of a burger. Bite into it, and you're greeted with a mouthful of gooey, chocolate goodness, made only better by all that carb from the burger. And that alone is enough to set chocolate lovers drooling on social media.
It's just chocolate and burger bread, which isn't just too big in size, you say. Wait till you look at all that Nutella oozing out.
The Nutella burger is being hailed as the single best thing to have happened in 2016.
Although currently available only in Italy, we're sincerely hoping this dessert burger makes its way to Indian shores soon. It sure would be nice to go and pick some Nutella burger instead of a bag of fries when we're feeling blue. Where's that petition we need to sign?